Downpours, mudslides, flash flood watch continues
Round #1 of our latest flood event hit southeast Minnesota and western Wisconsin hard overnight.
5 ENE Pickwick [Winona Co, MN] LAW ENFORCEMENT reports FLASH FLOOD at 5:25 AM CDT -- MUDSLIDE AT MILE MARKER 20 OF SOUTHBOUND HIGHWAY 61. TREES DOWN

DE Soto [Crawford Co, WI] CO-OP OBSERVER reports FLASH FLOOD at 7:10 AM CDT -- MUDSLIDE COVERING ONE LANE OF HIGHWAY 82.
Now we brace for the next wave of storms, likely to fire late afternoon and evening close to the Twin Cities metro then sag southward.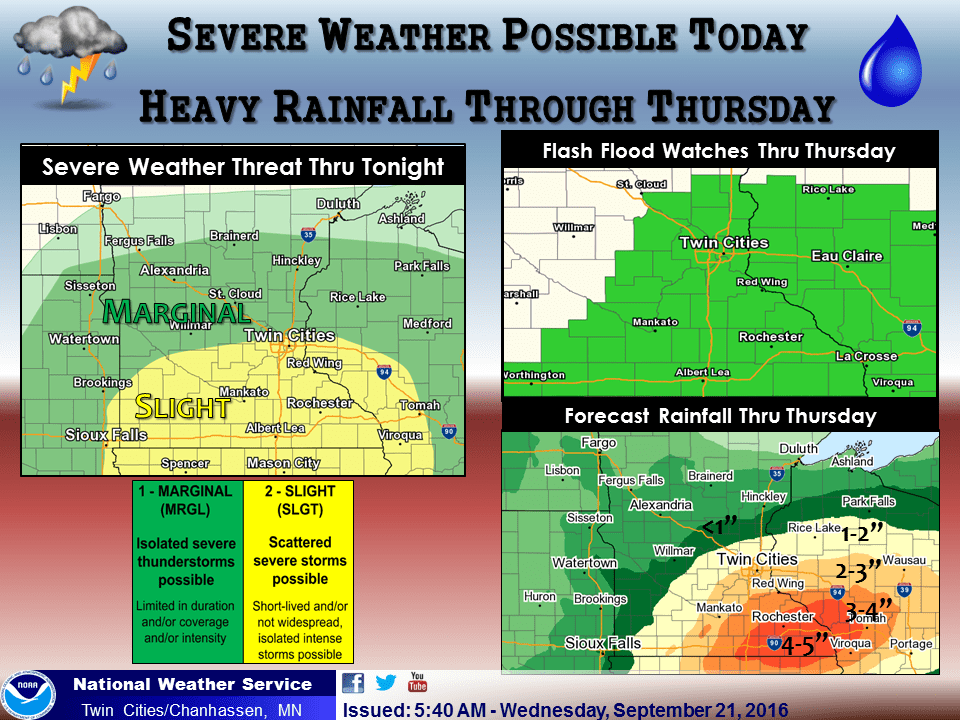 The flash flood watch continues into Thursday morning.
FLASH FLOOD WATCH

NATIONAL WEATHER SERVICE TWIN CITIES/CHANHASSEN MN

359 AM CDT WED SEP 21 2016

...MULTIPLE ROUNDS OF HEAVY RAINFALL WILL BRING AN INCREASING RISK OF FLOODING THROUGH THURSDAY...

A FLASH FLOOD WATCH REMAINS IN EFFECT FOR MUCH OF EASTERN AND SOUTHERN MINNESOTA AS WELL AS WEST CENTRAL WISCONSIN THROUGH THURSDAY. THE WATCH AREA IS ALONG AND SOUTH OF A LINE FROM SPRINGFIELD TO APPLE VALLEY TO EAU CLAIRE.

WIDESPREAD THUNDERSTORMS WILL DEVELOP THIS AFTERNOON THROUGH TONIGHT ACROSS THE ENTIRE WATCH AREA WITH THE POTENTIAL FOR VERY HIGH RAINFALL RATES. A FRONT WILL SAG SOUTHEAST AND FOCUS THUNDERSTORM ACTIVITY FROM SOUTHERN MINNESOTA TO WEST CENTRAL AND SOUTHWESTERN WISCONSIN ON THURSDAY.

RAINFALL AMOUNTS ARE FORECAST TO RANGE FROM 2 TO 5 INCHES ACROSS SOUTH CENTRAL MINNESOTA TO PORTIONS OF WEST CENTRAL WISCONSIN ALONG AND SOUTH OF I-94. TWO TO THREE INCHES SHOULD FALL FURTHER NORTH ACROSS CENTRAL MINNESOTA AND THE REST OF WEST CENTRAL WISCONSIN. LOCALLY HIGHER AMOUNTS ARE LIKELY...PARTICULARLY

ACROSS SOUTHERN MINNESOTA.

CONFIDENCE WITH THE HEAVY RAINFALL POTENTIAL IS FAIRLY HIGH. THE PATTERN FOR MIDWEEK CLOSELY MIMICS SEVERAL HIGH END RAINFALL EVENTS IN THE PAST...INCLUDING SEPTEMBER 23 2010 WHERE RAINFALL TOTALS OF 5 TO 8 INCHES FELL ACROSS ALL OF SOUTHERN MINNESOTA. MAJOR FLOODING RESULTED.
Here's the Twin Cities NWS video briefing on the continuing flash flood threat.
A troubled front
This is what happens when you drape a stalled front over southern Minnesota in September. Deep tropical moisture across Iowa with dew points into the 70s feeds the boundary. Upper level winds blow parallel to the front, causing storms to form then "train" over the same areas with heavy downpours.
Minnesota may catch a break from the heaviest rains Friday as the front slides slowly south into Iowa, but it stalls uncomfortably close this weekend. The next weather system reloads in the northern Rockies.
More multi-inch rains
I still think the the biggest rain wave of this system rolls through tonight into Thursday morning. NOAAs' NAM 4 km resolution model paints another blast of 2" to 4"+ rainfall totals very close to the Twin Cities later tonight into Thursday morning.
Rainfall of 3.13" at MSP with 5"+ just south? It could happen. But keep in mind flash flood systems are like the lottery; one number off and you miss the jackpot. It's meteorologically impossible to say for sure where the heaviest rain bull's eye will be by Thursday morning. You are so advised.
Seasonal transition
The much bigger weather picture? Our atmosphere has been stuck in June monsoon mode all summer. The upper winds are about to go into seasonal transition into fall mode. Like people, many weather forecast models have a difficult time with seasonal change. The models are all over the place with rainfall patterns through next week. Big differences in rainfall forecasts are showing up between the Euro and GFS models. One thing they agree on, it's going to turn significantly cooler next week.
NOAA's GFS drops a closed upper low across Minnesota next week. That would bring a much cooler late October-like air mass with occasional showers.
Here's the European model out put through next week. It cranks out highs in the 50s and 60s  next week, with the best chance of rain for the Twin Cities on Wednesday into early Thursday.
Stay tuned.
Your support matters.
You make MPR News possible. Individual donations are behind the clarity in coverage from our reporters across the state, stories that connect us, and conversations that provide perspectives. Help ensure MPR remains a resource that brings Minnesotans together.