Bob Dylan wins 2016 Nobel Prize in literature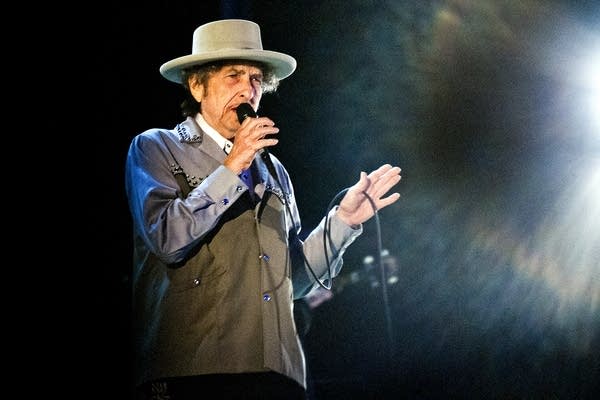 Updated: 7:53 a.m. | Posted: 6:05 a.m.
Singer-songwriter Bob Dylan won the 2016 Nobel Prize in literature on Thursday, a stunning announcement that for the first time bestowed the prestigious award on a musician for "having created new poetic expressions within the great American song tradition."
Jay Gabler of The Current writes:
"It recognizes Dylan's entire lifetime of work, which has been a significant influence on virtually every songwriter since the early 1960s. Dylan has long been mentioned as a dark-horse candidate for the prize — if any rocker was going to take it, it would be him."
Gain a Better Understanding of Today
MPR News is not just a listener supported source of information, it's a resource where listeners are supported. We take you beyond the headlines to the world we share in Minnesota. Become a sustainer today to fuel MPR News all year long.
Reporters and others who gathered at the Swedish Academy's headquarters in Stockholm's Old Town reacted with a loud cheer as his name was read out.
Dylan, 75, is arguably the most iconic poet-musician of his generation. Songs such as "Blowin' in the Wind" and "The Times They Are A-Changin'" became anthems for the U.S. anti-war and civil rights movements of the 1960s.
Dylan is the first American winner of the Nobel literature prize since Toni Morrison in 1993.
The academy's permanent secretary, Sara Danius, said that while Dylan performs his poetry in the form of songs, that's no different from the ancient Greeks, whose works were often performed to music.
"Bob Dylan writes poetry for the ear," she said. "But it's perfectly fine to read his works as poetry."
Danius told The Associated Press that a "great majority" on the 18-member Nobel panel voted for Dylan. She said her personal favorites among Dylan's songs include "Chimes of Freedom" and "Visions of Johanna."
Lyrics from scores of Dylan songs, such as "Blowin' in the Wind," "Stuck Inside of Mobile With the Memphis Blues Again," "My Back Pages" and "It's Alright Ma (I'm Only Bleeding)," have worked their way into the public lexicon over the years, becoming repeated over and over, much in the manner of lines from Shakespearean plays.
Bobby Zimmerman was born in Duluth on May 24, 1941. When he was 6, his family moved to Hibbing to be closer to his mother's family.
He later moved to Minneapolis and briefly attended the University of Minnesota. While in Minneapolis, "he became 'Bob Dylan,' borrowing a surname from the poet Dylan Thomas and a philosophy from Woody Guthrie, the activist singer-songwriter who used folk tropes to address present-day topics," reports The Current.
By his early 20s, he had taken the folk music world by storm. From that time on, he would constantly reinvent himself — often enraging followers in the process — but then later winning them back and adding new admirers. His career was such a complicated pastiche of elusive, ever-changing styles that it took six actors to portray him in the 2007 movie based on his life, "I'm Not There."
Although generally described as a rock musician, Dylan has been influenced by numerous musical styles, including country, gospel, blues, folk, pop, and rhythm and blues. Pursuing them all, sometimes separately and other times simultaneously, he remains a towering influence over music and popular culture.
He won an Academy Award in 2001 for the song "Things Have Changed" and received a lifetime achievement award from the Academy of Recording Arts and Sciences in 1991. In 2008, he was awarded a Pulitzer Prize for his contributions to music and American culture.
Dylan is the most unorthodox Nobel literature prize winner since 1997, when the award went to Italian playwright Dario Fo, whose works some say also need to be performed to be fully appreciated. By a sad coincidence, Fo died Thursday at age 90.
The literature award was the last of this year's Nobel Prizes to be announced. The six awards will be handed out on Dec. 10, the anniversary of prize founder Alfred Nobel's death in 1896.