Record growing season of mixed value to growers
Yet another marker for one of the warmest years on record in Minnesota came Monday: The Twin Cities have now gone 208 days without a freezing temperature, breaking the old record from 1900.
And that record still has a chance of being obliterated, forecasters say, as there's little chance for freezing temperatures within the next week.
Such a trend might sound like welcome news for farmers or gardeners, but the value of a long growing season really depends what you grow and how you grow it.
Tom and Kathy Staffa of Falcon Heights have a massive vegetable garden in back of their house — large enough that they produced 770 pounds of vegetables for their church's food shelf this year.
Grow the Future of Public Media
MPR News is Member supported public media. Show your support today, donate, and ensure access to local news and in-depth conversations for everyone.
But when you look out on the plot, asparagus is the only green thing out there. All the rest has been tilled up. Backyard gardening is a lot of work, and Tom Staffa it's no fun to do cleanup work with snow on the ground.
"I mean, at some point you've got to bring it to closure and just say, 'OK, we're done,'" he said.
So the long growing season didn't have much effect on the Staffas' garden.
"I don't think anybody was prepared for this," said Sarah Woutat of Uproot Farm, a six-acre organic vegetable operation in Princeton, east of St. Cloud.
Uproot Farm produces about 40 kinds of vegetables for farmers markets, restaurants and distribution to community-supported agriculture members. Woutat says she has a pretty good system going with plantings throughout the season to maximize production. The last one was in August, so had she known the growing season would linger, she could have cashed in.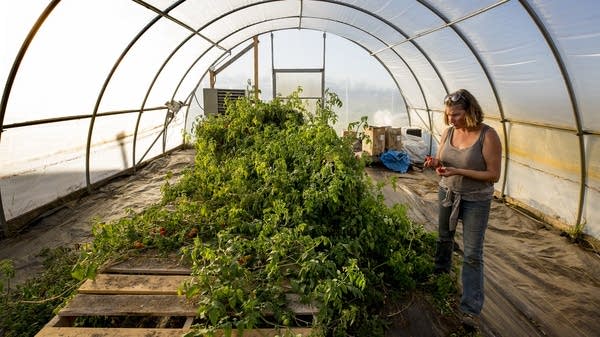 "So what we would have done is planted, say, double or triple that," she said.
Woutat says she still has cauliflower, broccoli and greens in the field. Late-season crops are less labor intensive, she said, because there are fewer weeds at this time of year.
But the good news for Woutat stops there. This year has been one of the warmest on record, and it's also been one of the wettest. And that has brought disease: "We saw black rot on the farm this year, which we had never seen, and we also had a fair amount of disease in our tomatoes."
Minnesota's corn and soybean farmers also had problems with disease in some areas, said Dave Nicolai, a University of Minnesota Extension educator for crops.
But overall, he says the longer growing season coupled with above average rainfall seems to have benefited corn and soybean producers. Soybean yields were 60 or 70 bushels per acre.
"Even as high as 80 bushels per acre soybeans in parts of southwestern Minnesota," Nicolai said. "Now I've been in Extension a long time and I've never really heard of that occurring before. It was almost like we were living in northern Missouri or southern Iowa."
Nicolai says the warm temperatures this fall helped dry out the corn, meaning less propane is needed to artificially dry the crop. So there are a couple things producers are watching.
"One is of course the yield," he said. "The other is the economics and the cost of harvesting that crop and storing it."
Year to year, there's still enough variability that it's tough for growers to fully take advantage of a long growing season like this one. But the experts are looking closely at the records and scratching their heads.
"Fall and winter are really the two seasons that are changing the fastest, especially since 1970," said Kenny Blumenfeld, an assistant state climatologist. "Compared to summer, which is also warming, fall is warming about seven times faster."
One measure Blumenfeld is looking at is how many times this year the day's low temperature was 60 degrees or above.
"The Twin Cities had more 60-degree low temperatures than any other year on record by 10. So it broke the previous record by 10 days," he said.
And meanwhile, with no sub-zero temperatures in sight, the length of this year's growing season is still growing.