Dustup over Civil War art leads to battle of words at Capitol
A state panel declared its support Tuesday for Civil War art inside the newly renovated Minnesota Capitol, but not before Gov. Mark Dayton stormed out of the meeting in a huff, accusing Republicans of distorting his position on relocating the paintings for political gain.
On a divided voice vote, the Capitol Preservation Commission passed a motion stating its preference that six historic paintings depicting Civil War battles remain in the governor's reception room and anteroom. Dayton recently suggested that those paintings should be replaced with "more welcoming" art that represents the "full complexion" of state history.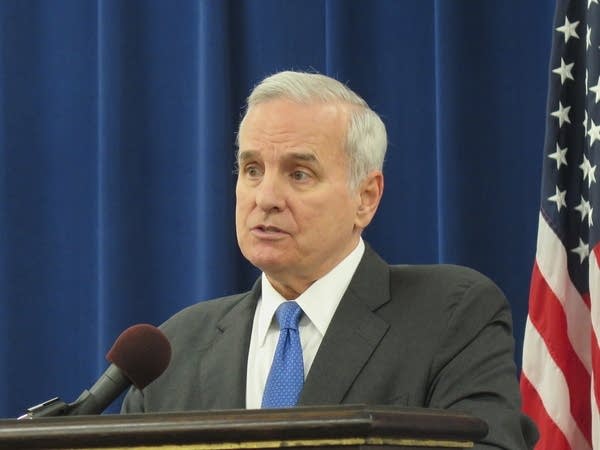 Even before the committee discussion of the paintings could get underway, Dayton lashed out at Rep. Matt Dean, R-Dellwood, for organizing opposition to an art relocation. With veterans and Civil War reenactors looking on, Dayton accused Dean of turning partisan a five-year effort to renovate the Capitol.
"You haven't lifted a little finger for this project in all that time. Now you come in and want to grandstand and distort the issue," Dayton said. "You hijacked the operation of this commission for your own political purposes, for your own 2018 campaign purposes, and I'm not going to be a part of it."
Before storming out, Dayton said he would resign as commission chair if there were any more similar partisan episodes.
Dean, who has been mentioned as a possible 2018 candidate for governor, said he appreciates the governor's passion on the Capitol art issue. But Dean stressed that he firmly believes the Civil War paintings should remain in their intended locations.
"Somebody asked me where the Civil War memorial is on the Capitol mall, and I said you're looking at it," Dean said. "It's the building. I think it's important that if we don't stand up for that who else will."
House Speaker Kurt Daudt, R-Zimmerman, also spoke against relocating the Civil War paintings. Moving the historic art, he said, would be "an absolute tragedy."
"It's very important to me," Daudt said. "I think the Legislature probably wouldn't have appropriated money for this project had they known we were going to remove part of the history of the Capitol."
The Minnesota Historical Society has the final say on all Capitol art. It has already decided to move some paintings depicting Native Americans that critics say are inaccurate and offensive. But it hasn't made a final decision on the Civil War paintings.
Dayton said in news conference after the meeting that he won't try to influence the society and will accept its ultimate decision.
He called the dustup over Capitol art a "forerunner" of the 2017 Legislative session when the House and Senate will be controlled by Republicans, and the state budget, transportation and health care will be major issues.
The cooled-down governor also said he stands by the statement he was trying to make by walking out of the commission meeting.
"I think the question is, do you put all the Civil War in there and nothing else?" he said. "Or do you look and consider what do you want to do to broaden the representation of Minnesota to all sorts of visitors?"