New Ulm, Minn. experiences World War II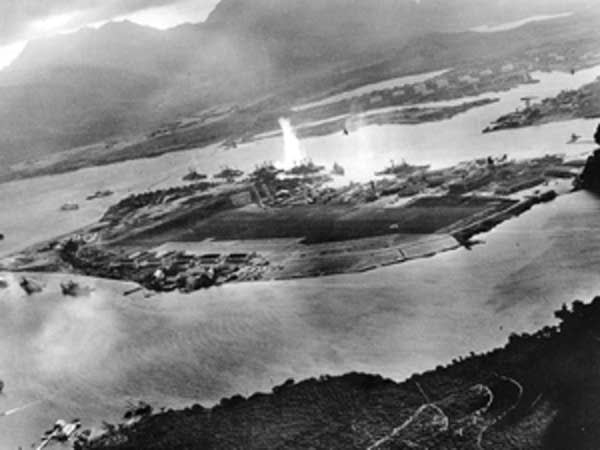 Today, December 7, is the 75th anniversary of the Japanese attack on Pearl Harbor, which drew the United States into World War II.
Do you remember where you were on that day in December 1941?
Most Americans are too young to answer that question, but the ones who are older can probably remember, distinctly, where they were and what they were doing.
That includes several residents from New Ulm, Minnesota.
"I was home on my fist furlough on the day the war started, and of course they called us all back immediately by radio," said Lloyd Marti, who was already enlisted. "I tell you, I got kind of a sinking feeling, and that lasted four years until I was out."
In 1985 former MPR host and documentarian Mark Heistad produced a documentary of Marti and other New Ulm residents' memories of that tragic day and the conflicts that followed in: "We Were the Lucky Ones."
The New Ulm inhabitants shared stories of the draft, ship to ship warfare, the discovery of Nazi death camps, life at home and the formation of a Nazi P.O.W. work camp near New Ulm.
Thanks to the Brown County Historical Society and the Minnesota Historical Society.
To listen to the entire documentary, click the audio player above.
Further reading
• Today: Minnesota Pearl Harbor survivor recalls attack
• 2010: Few Pearl Harbor veterans remain to mark anniversary
• 2011: Last few Minn. Pearl Harbor vets gather to share stories
• Timeline: Before, after Pearl Harbor
• Conspiracy: FDR didn't know the Japanese were going to bomb Pearl Harbor
MPR News presents offers speeches, documentaries and debates — airing weekdays from noon to 1 p.m
Correction (Dec. 7, 2016): Lloyd Marti's name was misspelled in an earlier version of this story.
Your support matters.
You make MPR News possible. Individual donations are behind the clarity in coverage from our reporters across the state, stories that connect us, and conversations that provide perspectives. Help ensure MPR remains a resource that brings Minnesotans together.