Trauma docs urge sledders to wear helmets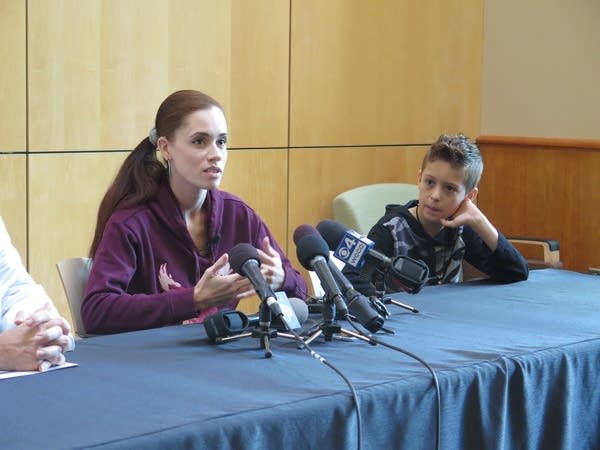 When Shaleah Husted bundled up her children to go sledding last New Year's Day, it never occurred to her add helmets to their pile of gear.
But now she wouldn't go sledding without protecting her kids' heads.
After several runs on a Hastings-area sledding hill that day, Johsaun Tellevik, then 9 years old, veered off course and struck the back of his head on a rock pile.
Husted said she rushed to her son, who didn't respond at first.
Grow the Future of Public Media
MPR News is Member supported public media. Show your support today, donate, and ensure access to local news and in-depth conversations for everyone.
"He finally turns [to me], and he says, 'mom' and he was back out," she recalled. "He was just out cold."
When Johsaun woke up later in the hospital, he was dizzy and had trouble seeing clearly. For several weeks after the injury, Husted said her son needed assistance just walking to the bathroom.
Nearly a year later, he still struggles to overcome an eye disorder caused by the trauma to a part of his brain that controls his eyes.
Husted has thrown her support behind a local push to get kids to wear helmets while sledding.
"You don't think about sledding and the extreme dangers of it," said Husted. "Our goal here is just to make sure other kids are safe."
Some Twin Cities pediatric trauma experts issued a safety alert Tuesday saying they have data showing that sledding-related head injuries are as common as those from skiing and snowboarding.
The analysis is based on a review of emergency department records at four regional hospitals over the past two winters.
The records indicate that head trauma accounts for one-third of all sledding-related ER visits at those hospitals, similar to skiing- and snowboarding-related visits.
Dr. Michael McGonigal, a trauma specialist at Regions and Gillette Hospitals in St. Paul, said the severity of the head trauma was comparable to injuries caused by skiing and sledding.
"It's pretty much the same energy, again depending on how fast you go. And probably deserves the same kind of protection that most serious skiers or snowboarders use already."
McGonigal advises sledders to wear a helmet if they are going faster than they can run.
He acknowledges a helmet may be overkill in some sledding situations. For example, a low hill with no obstructions nearby doesn't pose the same risk as a steep hill with trees.
But parents should always evaluate, said McGonigal.
"You just kind of have to judge the terrain, look for obstructions, drop offs at the end, look for trees or rocks around the edges," he said. "Because if you lose control and head off in that direction, you don't have the protection that you need."