Residents frustrated polluting Mpls. metal shredder could stay open for years
An outline of a settlement that could keep Northern Metal Recycling open in north Minneapolis for more than two years — even after it was found in violation of its permit — angered some to the point of walking out of a meeting Wednesday with state and local officials.
State and city health officials say the ZIP code that covers much of north Minneapolis has the highest hospitalization rates for asthma in the state and the highest rates of lead poisoning among children in the city. The vast majority of people living in the area are people of color, and the median household income for the area is less than $35,000 a year.
Northern Metal Recycling, or Northern Metals as most call it, is far from the only polluter north Minneapolis residents have complained about over the years. There's the Hennepin County garbage burner, a plant that makes roof shingles, other metal recycling companies, and of course, Interstate 94.
Air monitoring a few years ago showed elevated lead levels — a major concern for people raising kids in the north and northeast Minneapolis neighborhoods. The Minnesota Pollution Control Agency and the city of Minneapolis started scrutinizing certain businesses.
Grow the Future of Public Media
MPR News is supported by Members. Gifts from individuals power everything you find here. Make a gift of any amount today to become a Member!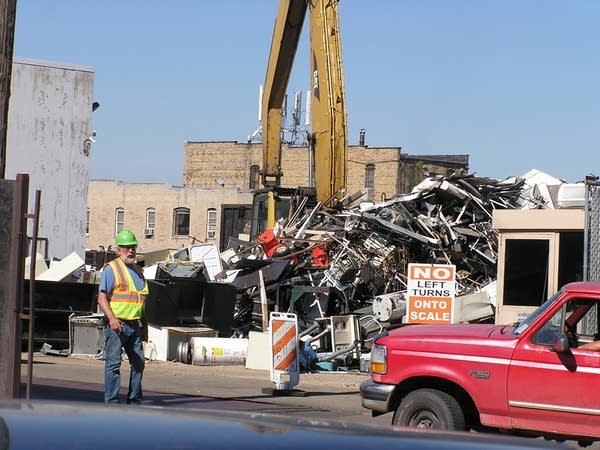 The MPCA concluded Northern Metals was violating its permit. The agency made a rare move to revoke the permit and last year got a judge to order the company to shut down part of its operations.
"The Pollution Control Agency has done a marvelous job on this case," said Dan Huff, director of environmental health for the city of Minneapolis.
The possible settlement would move the metal shredder out of the area within three years. It would also involve money that could go back to the community for public health programs, for example.
Sarah Kilgriff from the MPCA's air section said officials decided to bring the outline of the settlement to community members before signing any agreement with Northern Metals.
"Typically all case information when we're dealing with a case like this is confidential," Kilgriff said, adding that they thought it was important to share the information publicly.
While the crowd applauded the progress made so far, they also had some tough questions that led to tense moments. After they learned the shredder could keep operating, some walked out. Others argued with officials over whether the company could still be held liable, and whether pollution problems would be addressed right away.
Huff, from the city, pointed out that officials had tried to shut the whole facility down before but couldn't legally do so.
In fact, just a few months ago, it didn't look like a settlement was even possible. Northern Metals had hired lawyers to fight regulators in court. The company did not respond to a request for comment, but it appears officials recently took a 180-degree turn with their strategy. State officials say the company hired different lawyers and consultants and started looking for a resolution.
"All of us wish that Northern Metals could be gone tomorrow, but that's just not a reality that's within the realm of possibilities," said Blong Yang, a Minneapolis City Council member.
Both residents and government officials acknowledged that Northern Metals is just one facility, and moving the company out of the area won't solve the air pollution problems.
Lars Morris said he recently spent $700 on an air purification system for his home because his son has asthma. Morris said he never thought he'd have to face air pollution in Minneapolis after he moved here from Scranton, Pa., in 2010.
"That's exactly what I moved away from," he said.
After the meeting, resident Roxanne O'Brien, a mother of three, says it's been frustrating to wait so long for action when she and others have been voicing their concerns for years.
"I'm tired. I'm so tired. I'm tired of the process, I'm tired of the lives and the pushback of actually doing what's right for our community, especially a community that's been overburdened," she said.
State officials hope to finalize the settlement in the coming weeks.