Jason Lewis ditches talk radio past in Congress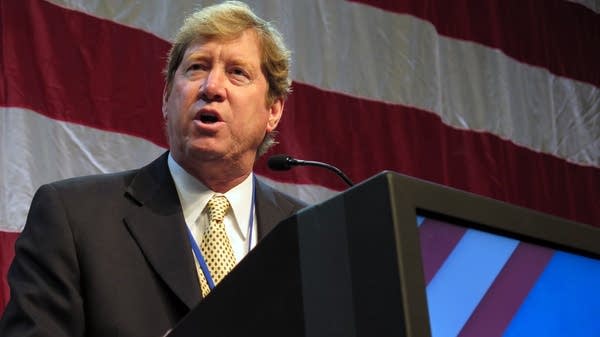 As the nation prepares to inaugurate Donald Trump its new president, the newest addition to Minnesota's congressional delegation is settling into the House of Representatives.
Jason Lewis was a talk radio host for most of his career. Now the self-described "Mr. Right" is sounding a lot less like his know-it-all radio persona.
"Believe it or not, even though I played one of the radio for 25 years, I'm not an expert," Lewis said in a recent interview.
Figuring out how Washington works, from policy to protocol, has been like going back to school, Lewis said. But Lewis said what needs to be done is not complicated at its core.
MPR News is Member Supported
What does that mean? The news, analysis and community conversation found here is funded by donations from individuals. Make a gift of any amount today to support this resource for everyone.
Government is too big, too expensive and too controlling, according to Lewis. He thinks voters sent that message by electing him and other Republicans last year.
Now, Lewis said he and other Republicans are on the cusp of fulfilling what they view as a mandate for big changes.
"We are going to take this opportunity to do what we think the voters want us to do," Lewis said. So, as I say, 'Fasten up.'" It has already begun with the Affordable Care Act.
Lewis said his family's premiums have increased three-fold in recent years.
The best way to bring down prices, he said, is to bring more competition into the health insurance market. The government should remove mandates about what every plan should cover and allow people to buy less expensive insurance that kicks in only if they have a health catastrophe, he said.
Under a plan like that premiums would become so affordable Lewis believes the ACA's mandate that people get coverage could be dropped.
Gutting Obamacare should be just the beginning, Lewis said.
"I certainly hope we get a flatter, fairer, simpler tax code," he said. "I certainly hope we get regulatory relief. That, as much as anything, is responsible for the stagnating growth."
Lewis has taken over the 2nd District Congressional seat from John Kline, who served in Congress for 14 years. Kline backed another Republican to replace him, but he now says he thinks Lewis will do a good job.
Though Kline said his successor has been a quick study, he cautions that even with Republican control of the presidency and both houses of Congress, Lewis and other Republicans cannot force through legislation that Democrats oppose.
"I think there will be some frustration on the part of the members of Congress and the public, particularly the Republicans in the public, when they expect things to get done because it's often quoted that the Republicans have all of the levels of power," Kline said.
In reality, Kline pointed out, enough Democrats remain in the Senate to block legislation.
Democrats thought they could flip the 2nd District when Kline announced he would not seek reelection. But their strategy to derail Lewis by bringing up controversial things he said as a radio talk show host failed.
DFL Party Chairman Ken Martin said Democrats will focus more on policy as they try to hold Lewis to just one term.
"It certainly will be a huge target for national Democrats and, of course, for us here at the DFL," Martin said. "It's still on paper a 50-50 district."
Republicans in the 2nd District are excited about Lewis.
"We have passed the torch to a more conservative approach to the 2nd District," said Lloyd Cheney, who chairs the district's Republican Party.
Cheney said he believes Lewis will be more likely to cut the size and scope of government than was Kline, and he's excited about that.
Lewis helped his friend Congresswoman Michele Bachmann launch her presidential campaign, but he says he has no intention of pursing a high profile in Washington like Bachmann did.
"You know there's a difference between a talk show host and a politician," Lewis said. "I don't have the luxury of the former anymore. This is serious, solemn business."