Snow! Winter's strongest storm takes aim
You knew the other shoe would come crashing down with a thud.
More record highs
We smashed more record high temperatures Tuesday across Minnesota. The Twin Cities topped out above the April-like 60-degree mark. That soundly defeated the previous record of 59 degrees.
Winter storm watch
Just as temperatures soared to 62 degrees at Minneapolis-St. Paul International Airport, winter storm watches ran up the flagpole at the Twin Cities National Weather Service office in Chanhassen.
URGENT - WINTER WEATHER MESSAGE

National Weather Service Twin Cities/Chanhassen MN

330 PM CST Tue Feb 21 2017

...POWERFUL WINTER STORM TAKING AIM AT THE UPPER MIDWEST THURSDAY NIGHT THROUGH FRIDAY EVENING...BRINGING HEAVY SNOW...STRONG WINDS...AND BLOWING SNOW...

What could be the strongest winter storm of the season is expected to track across the Plains Thursday, to Iowa Thursday night, and Wisconsin by Friday. Rain will develop across southern Minnesota Thursday afternoon and early evening before changing to heavy snow Thursday night through Friday. Snowfall rates of 1 to 2 inches per hour are likely within the intense snow band, which could persist for several hours.

Snow accumulations of 6 to 12 inches are likely from southwest to east central Minnesota and west central Wisconsin, with amounts of over a foot possible.

The Friday morning and afternoon commutes are expected to be significantly impacted.
I concur with the Twin Cities NWS that this could be the strongest winter storm of the season to hit the Twin Cities and southern Minnesota.
If current track forecasts hold, this has a chance to rival or exceed the biggest snowfalls of winter in the Twin Cities.
MSP airport picked up a 7.1 inches of snow on Dec. 10-11, and 6.1 inches on Dec. 16-17. This storm appears to have the potential to put down 10 to 18 inches in the heaviest snow band.
Storm track
All weather is local. So it's (always) all about the storm track. The latest model trends favor a more northerly storm track that brings the heaviest snow bands close to or into the southern Twin Cities metro. Southeast Minnesota likely enjoys a rain-ice-snow sequence of events.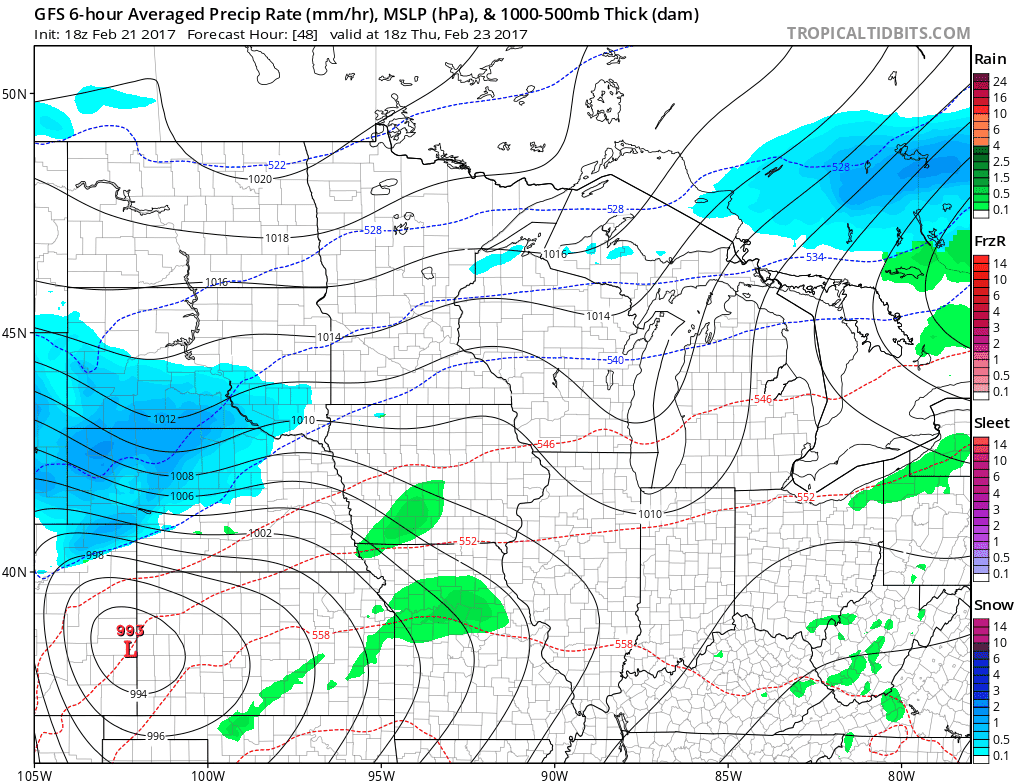 Snowfall totals: A foot plus?
The recent trend toward a slower storm is concerning. More hours of accumulating snow favors heavier snowfall totals. If the storm stalls during the mature phase near the Twin Cities, snowfall totals could pile up quickly Friday.
Many forecast solutions now suggest a foot or more in the heaviest snowfall band. I could see some 18- to 20-inch totals locally. The big question is precisely where that band will set up. The smart money continues to suggest that may be close to the southern Twin Cities and the counties just south of MSP.
Here's the National Oceanic and Atmospheric Administration's Global Forecast System model snowfall layout. Fifteen to 19 inches just south of MSP? I'm not counting that out, or in, just yet but it could happen.
The Canadian GEM model still favors a slightly more southerly track, but still brings some respectable 11-inch snowfall totals into the south metro. GEM snowfall forecasts taper snowfall quickly in the north metro.
High end potential?
The old wisdom on snow events in Minnesota is to take the model average and cut it in half. That technique would yield about 4 to 8 inches of snow for this storm.
But that technique doesn't always work. And this storm definitely has higher end snowfall potential. I'm not yet ready to rule out a system that produces 10- to 20-inch snowfall totals in the heaviest bands. And those bands may get very close to the Twin Cities.
Bottom Line: A major winter storm now looks likely Thursday night and Friday. A mix of rain, ice and snow develops Thursday afternoon across southern Minnesota. Rain changes to snow Thursday night. Snow will be heavy at times through Friday. Widespread snowfall totals of 6 to 12 inches are likely, with 12 to 18 inches-plus possible in the heaviest snow band with this storm.
Prepare for winter storm conditions Thursday night and Friday.
California deluge
Our Friday storm is part of the same series of storms hammering California this week. A fire-hose of moisture is streaming atmospheric rivers from deep in the Pacific toward the California shore.
Even the extensive and well laid out California reservoir system is not capable of handling the record rains this winter.
Water, water everywhere. Interstate 80 is down there somewhere.
From four years of extreme drought to the wettest year on record? Welcome to the new normal.
It's downright nasty and dangerous trying to cross Donner Summit these days. I-80 is closed.
Wind gusts at the Sierra summits have been incredible.
And another 5 inches of rain in some areas.
We're getting off easy in Minnesota. Until Friday.
Your support matters.
You make MPR News possible. Individual donations are behind the clarity in coverage from our reporters across the state, stories that connect us, and conversations that provide perspectives. Help ensure MPR remains a resource that brings Minnesotans together.