Fufu and Frosted Flakes: St. Paul ethnic market moves beyond niche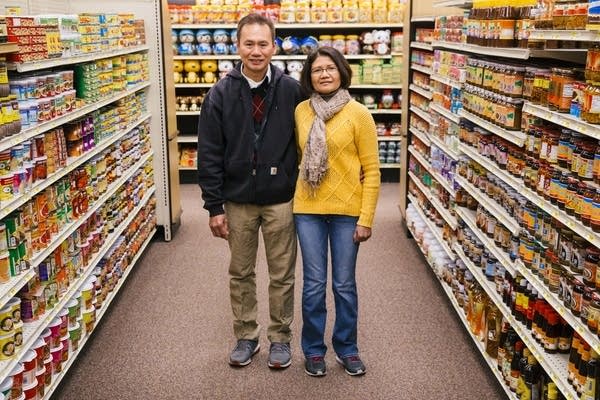 Cashiers at Ha Tien market on St. Paul's east side are ringing up worlds of flavors as shoppers file through checkout lanes. Quail eggs. Makok. Fufu.
But the market also stocks Hamburger Helper and Frosted Flakes. 
With the population growth of people color in the Twin Cities twice the rate of white residents, traditional groceries are dedicating more shelf space to international ingredients. At the new Ha Tien, it's a bit of the reverse.
Owners Ne and Son Daos have added traditional American fare to their wider selection of foods from abroad. 
"We don't want to concentrate on one group; we want everybody. We are an international market. We hope we can welcome for everybody," Son Dao said.
Ne Dao is a Cambodia native. Her husband, Son, emigrated from Vietnam. They took over Son's parents' grocery business in 1996, moving it on University Avenue, and naming it after Son's birth city.  
It catered to the Hmong population, carrying Asian foods. But with changes in Minnesotans' taste, the market's deli began attracting a more racially diverse crowd. The couple poured $800,000 into renovations during the lull of the Green Line light rail construction. They'd hoped the makeover would be a draw for new customers.   
The new east side location — a former Lunds & Byerlys — is even more ambitious. The Daos paid $4.8 million for the 49,000 square foot store, one of the largest Asian-owned supermarkets in the state. Ne Dao says they've never been busier.
"We still amazed ourselves that we're here. We've gotten to this spot.  But it's a lot more work.  We can't stay tired; we can't have any day off for now. So we're proud," she said.
The Daos want the new store to be a one-stop for customers of all ethnicities. 
They expanded their imported food offerings beyond Asia with more than 10,000 products. Including goods from West Africa, the Caribbean, as well as South and North America. 
"Just like Cub Foods carry, we have most of it already. They don't need to go anywhere else, save the trip and just get everything here," Ne Dao said.
The store's in an east side neighborhood that's 40 percent white and 60 percent people of color. 
It's also situated off Interstate 94. The Daos hope to draw shoppers in from places like Woodbury, Oakdale and across the border in Wisconsin. 
Ethnic groceries nationwide are increasingly taking the place of failed traditional supermarkets and diversifying their customer base in the process, said retail analyst Burt Flickinger.
"Small neighborhood green grocers have become massive super stores, attracting both Asian American, as well as African-American, Latinos, Caucasians, people of all backgrounds and origins," he said.
Ethnic grocers do well in the Twin Cities. But their growth potential is capped by only serving niche markets, said Concordia University economics professor Bruce Corrie.
"This is a typical experience of a lot of ethnic-based business, they can grow up to a size limit based on just their market but if they want to be a large scale business, a multi-million dollar business, they've got to think about mainstream customers," he said.
But he warns it's a delicate balancing act changing to appeal to mainstream customers, while preserving cultural attributes familiar to the core ethnic customer base.
The Daos are especially proud of its modern, polished look. They said it counters negative stereotypes they think some people have about Asian markets.
"A lot of people they have in their thinking that it's dirty, it smells, but we try to avoid that for everyone to be able to come and shop."
The Daos are awaiting final permits to open their deli and bakery, but they remain optimistic. Ne Daos said the store's regulars already reflect the neighborhood's diversity.
They view it as an early sign their new business model is working.