St. Paul police kill man while responding to domestic violence call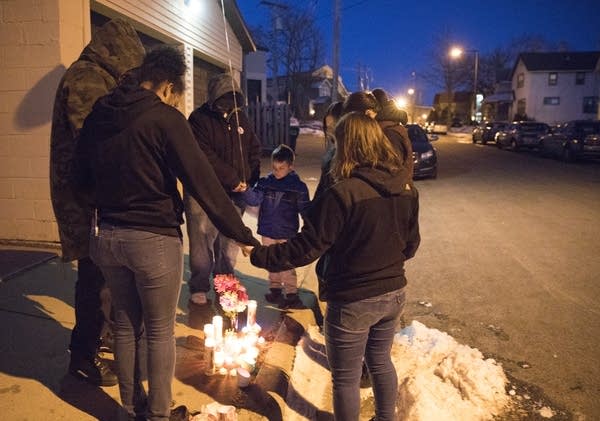 Updated: 6:31 p.m. | Posted: 5:52 a.m.
St. Paul police shot dead Cordale Handy, 29, early Wednesday morning while responding to a domestic violence call, the state Bureau of Criminal Apprehension said.
The BCA is investigation the incident, and all three officers involved are on standard administrative leave.
Officers were not hurt in the incident, which happened near the intersection of E. 7th and Sinnen streets, near Metropolitan State University, just east of downtown St. Paul.
St. Paul police spokesperson Steve Linders said officers were called at 2:20 a.m.
Radio traffic just before the shooting indicated an east side police squad was dispatched to 795 E. 6th St., where a caller reported hearing a female screaming for help, "and it sounds physical," the dispatcher told the squad.
The same squad minutes later reported a man running north toward East 7th Street, possibly with a gun and a dog. The officer later reported someone at East 7th and Sinnen streets "laying on the ground."
Within moments, the officer reported shots fired with what sounded like gunfire in the background during the radio transmission. A woman's screams can be heard in the background as officers call for paramedics after the shooting.
Police wouldn't confirm any of the details from the traffic between police at the scene and dispatchers at the county's emergency communications center.
"At some point shots were fired and the male was struck," Linders said. "Officers immediately called for St. Paul fire medics to respond to the scene. They did and they pronounced the man dead."
De'Andre Gatewood, who lives near where the shooting occurred, witnessed some of the incident from his apartment window.
He said it was too dark to see exactly what happened, but that he did see a woman outside his building who was pleading with someone on the street.
"She was saying, 'The gun isn't loaded. Put the gun down. Please don't shoot.' She was also telling the guy to put his hands up, 'Just put the gun down. Put your hands up. Don't do anything.' And I guess the guy wasn't listening to them," Gatewood said.
Gatewood said he saw the muzzle flash from as many as six shots being fired.
African-American leaders in St. Paul appealed for calm Wednesday, urging the public to let the BCA and the St. Paul police to do their work. They expressed hope that the BCA's preliminary findings would be available in the next two days.
The Rev. Darryl Spence said he had faith in St. Paul Police Chief Todd Axtell, who "has shown himself to be worthy of our trust."
Leaders, he added, would respond if necessary but he urged caution until the BCA's initial analysis was complete. "We don't want to fall off the deep end," Spence said.
"We want the community to know we have our hands and eyes on this," added Tyrone Terrill, president of the African American Leadership Council. "We can't ignore when someone is shot in your community, particularly when it's another young black man."
Handy is from Waukegan, Ill., according to the BCA. On Wednesday afternoon, Terrill said community leaders were still working to contact his family.
"It's sad. It hurts," Terrill said. "I have a 26 year old son... It could be my son... A life is gone."
Reports show the building, 795 E. 6th St., has received more than 100 police calls over the past two years.
Asked if police had found a weapon at the scene, Linders said that would be determined by the BCA investigation. St. Paul police announced in January of 2016 that they were ending internal investigations of serious shootings involving their officers and turning the work over to state investigators.
An MPR News analysis found since 2008, St. Paul officers fatally shot more suspects than any other department across the state. Of the 86 fatal shootings in Minnesota, 16 involved St. Paul police.
This is the third shooting by St. Paul police in a year. Two men were killed in exchanges of fire with police last May. Officers in both of those incidents were cleared of any wrongdoing.
Officers shot and killed 29-year-old Eugene Smith on May 26 last year. Police were searching a home on the 2011 block of E. Minnehaha Ave., following a series of drug-related arrests when Smith opened fire with a 20-gauge shotgun in a bedroom there.
The Ramsey County attorney determined that the shooting was justified. Officers also shot to death a man May 9, in a confrontation following a report of a man with a gun at a North End towing yard.
Jaffort Demont Smith, 33, shot a 49-year-old woman nearby and was killed after what authorities said was a gun battle with police. Officers were cleared by a Washington County grand jury in that case.
Your support matters.
You make MPR News possible. Individual donations are behind the clarity in coverage from our reporters across the state, stories that connect us, and conversations that provide perspectives. Help ensure MPR remains a resource that brings Minnesotans together.