Path to mastering English? Schools say students' home language is key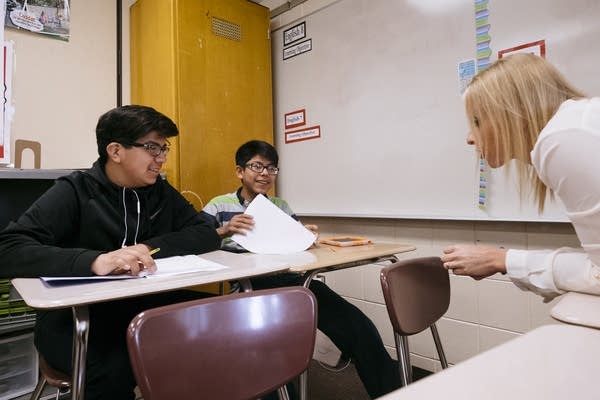 Shakopee teacher Amanda Marek said it all started when her school district noticed a problem: some of the district's students who grew up speaking Spanish were not doing very well in Spanish class. They were also falling behind in classes taught in English.
The students spoke conversational Spanish, but most hadn't had much formal education in the language. They were bored in Spanish class, yet they didn't necessarily have a firm grasp of Spanish literacy skills, like grammar and reading. Without those skills, they were having a hard time learning to read and write in English.
So Shakopee started a class called Spanish for Native Speakers. It's much like a typical language arts course, except in Spanish. Marek took over the class at West Junior High School seven years ago.
"Bilingue. Es una ventaja grande ser bilingue." Marek gave a spelling test first thing on a recent Monday morning. Her example sentence translated to, "It is a great advantage to be bilingual."
Grow the Future of Public Media
MPR News is supported by Members. Gifts from individuals power everything you find here. Make a gift of any amount today to become a Member!
Research backs up the idea. Basic skills like reading and writing can transfer from one language to another. Studies show becoming fully literate in their first language helps students get better at English.
The district doesn't have comprehensive data on the impacts of the course. Anecdotally, though, Marek said she's seen double-digit gains on state tests from students in her class.
But here's the catch. Although a growing number of school districts are offering these "heritage language" classes, as they're often called, the majority are in Spanish.
Meanwhile, Minnesota students speak a stunning variety of languages at home. In total, students have 252 different home languages, according to the state department of education.
For example, 18 percent of non-English speakers use Somali at home. Those students are lucky if they find a course like the one freshman Hamze Ahmed is taking at Minneapolis South High School.
Teacher Ahmed Yusuf handed copies of a Somali folk tale to Hamze and his classmates on a recent morning. Their assignment: summarize the first paragraph of the story.
Hamze said the Somali for native speakers class is his favorite "because I don't want to forget my first language."
Yusuf said heritage language courses help bridge the gap between home and classroom.
"The more [students] know about their language, the more they will be interested in the historical context of where they originated. And then maybe transfer that to other subjects that they are taking in school," Yusuf said.
But Yusuf is a rarity. Minnesota just doesn't have enough teachers who speak Somali or Hmong — let alone those 250 other languages — for widespread adoption of heritage language programs.
"Our very small numbers of teachers of color and multilingual teachers of color means that it's very uncommon to have teachers who are available to teach heritage language courses in, for instance, Somali or Vietnamese or Hmong," said University of Minnesota doctoral student Jenna Cushing-Leubner, who studies heritage language classes.
Heritage language classes are also often in a precarious position because they're usually electives, and they can get cut when funding is tight.
Students who do find heritage classes in their native languages say academic benefits aren't necessarily their only, or primary, motivation.
Hamze Ahmed said he needs Somali to talk to his mom, who doesn't speak English.
Osseo Area school district sophomore Gao Lee said she often has to translate for her Hmong-speaking parents. Like 15 percent of non-English-speaking Minnesota households, Gao and her family speak Hmong at home.
Gao helped push successfully for a new Hmong heritage language course set to start next year at Park Center High School in Brooklyn Park. The course already has 160 students signed up, and it will include lessons on Hmong history and culture.
Gao almost choked up when she talked about what that will mean for students like her, who she said don't get to learn about their culture in school.
"I just want to tell students that it's OK to not know who you are and not be embarrassed about it. If you want to know who you are, just ask. You will learn," Gao said.
Gallery
3 of 3
1 of 3
2 of 3