Black leaders back 'Rondo' for Minneapolis police chief
A coalition of African American church and community leaders are demanding that Medaria Arradondo — or Rondo, as many refer to him him — be appointed as Minneapolis' next police chief, succeeding Janeé Harteau.
Some of the leaders worked directly with Arradondo when he represented the police department over a decade ago on the Police Community Relations Council, or PCRC. The council was tasked by the Justice Department to implement a 2003 federally-mediated agreement designed to address historic tensions.
Rev. Ian Bethel served with Arradondo on the PCRC. Bethel said it is important that Arradondo become the first black police chief in Minneapolis history. But he said the acting chief has also spent much of his career reaching out to communities of color.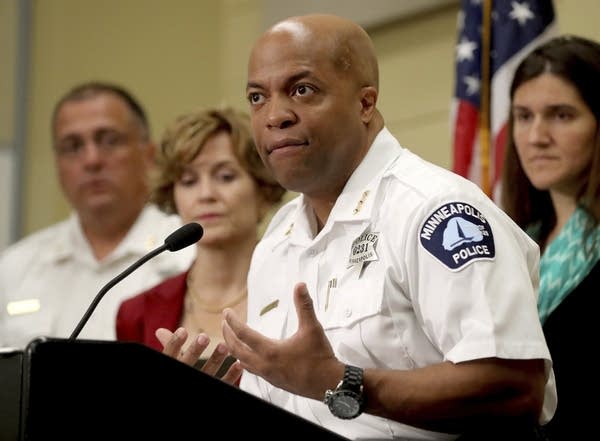 "He is qualified for the position," said Bethel. "And we need not look anywhere else outside this area because he understands the community. He understands all of the communities."
The PCRC disbanded in 2008 after the city declined to renew the mediation agreement.
Debbie Montgomery also spoke in favor of Arradondo's appointment. In 1975, she became the first woman recruited by the St. Paul Police Department. She retired in 2003. Montgomery said Arradondo has important leadership qualities.
"I've known him. I've worked with. I know he's engaged. And everybody says his commitment to community, his engagement, has been well received," said Montgomery. "And that's what it is about — community building and policing. It's being engaged with community and understanding the issues that are out there."
Rev. Jerry McAfee of New Salem Missionary Baptist Church says Arradondo is a strong choice to lead the department during a time when many people of color have little trust in police officers.
"Let me say clearly, 100 percent, that chief Rondo has our support," said McAfee. "However, that being said, I still think that the Minneapolis Police Department needs to be put in receivership."
McAfee and others have long called for federal oversight of the police department which they say has shown a pattern and practice of discrimination against African Americans.
Mayor Betsy Hodges said she wants Arradondo to serve the final 18 months of Harteau's term. At least one council member, Linea Palmisano, has suggested opening up the search process to outside candidates.
Harteau was forced to resign after a Minneapolis officer shot a 911 caller to death. The shooting is still under investigation by the Minnesota Bureau of Criminal Apprehension.
The city council will have the final say on the mayor's choice.