Climate Gone Wild: Climate connections to fire, smoke, flood, and 175 mph Irma
There's regular news. There's weather news. There's climate change.
Often it seems they're all different. But today it's clear that you can draw clear connections between all the crazy major weather stories and climate change.
'Super Typhoon' Irma?
Let's start with Hurricane Irma.
Grow the Future of Public Media
MPR News is supported by Members. Gifts from individuals power everything you find here. Make a gift of any amount today to become a Member!
Irma intensified into an "extremely dangerous" Category 5 hurricane overnight. This storm is just plain scary to look at on satellite. It's extremely well organized. It has a compact eye wall structure and shows near perfect symmetry. The ragged outer bands add that classic "buzz-saw" structure.
With top sustained winds at 150 knots (175 mph), Hurricane Irma has now achieved "super typhoon" strength. Here's the definition of a super typhoon from the U.S. Joint Typhoon Warning Center.
"Super-typhoon" is a term utilized by the U.S. Joint Typhoon Warning Center for typhoons that reach maximum sustained 1-minute surface winds of at least 65 m/s (130 kt, 150 mph). This is the equivalent of a strong Saffir-Simpson category 4 or category 5 hurricane in the Atlantic basin or a category 5 severe tropical cyclone in the Australian basin.
Latest intensity forecasts
Hurricane Irma remains in the almost ideal warm water, low wind shear environment to assure Category 4 or 5 strength at landfall. Irma is likely to have catastrophic level winds of at least 150 mph as she approaches landfall.
Latest track forecasts
The overnight model runs did not do Florida any favors. We are now just three to four days away from likely effects from Irma in Florida. Tropical storm conditions could arrive as soon as Friday night.
The spaghetti plots do not look good for Florida and the southeast U.S. this weekend.
Track forecasts can still change. Here's a look at the evolution of the National Hurricane Center's  official track.
It's worrisome that two of our most reliable models (The European Centre for Medium-Range Weather Forecasts and the National Oceanic and Atmospheric Administration's Global Forecast System) continue to track Irma toward Florida this weekend.
The overnight European mode run trended slightly west, but still did not do Florida any big favors.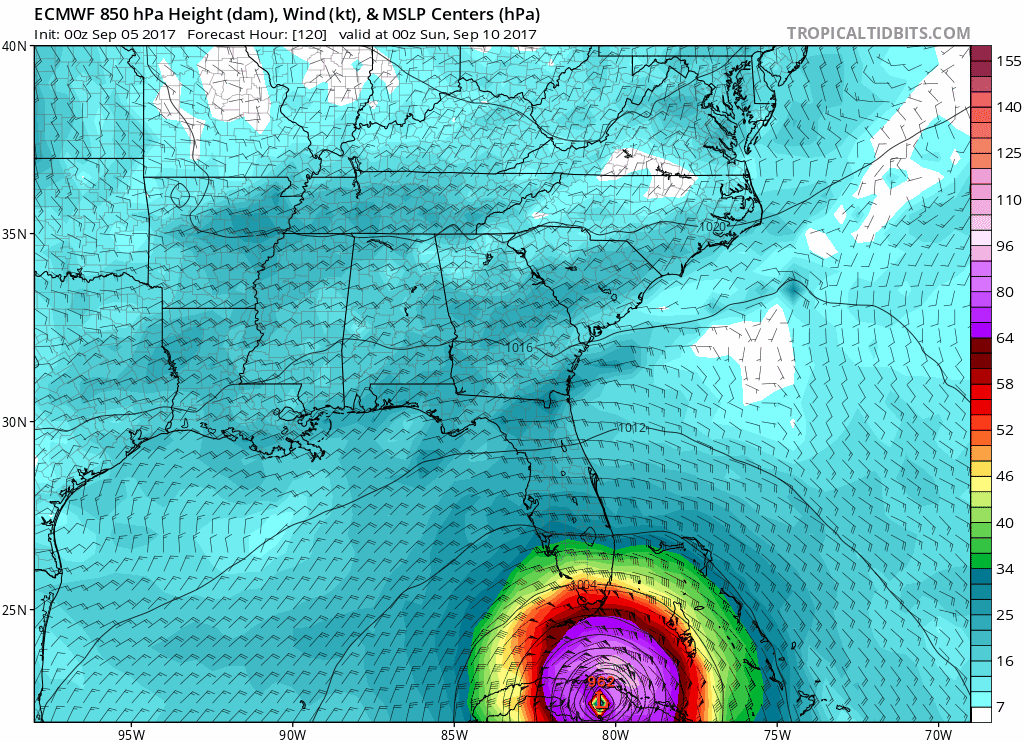 Bottom line: Irma is now among the strongest hurricanes in in Atlantic history. Irma's 175 mph wind speed ties for the 3rd strongest in Atlantic history. Irma is a major threat to Florida and the southeast U.S. this weekend. People in Florida and the southeast U.S. should be in calm but extremely focused hurricane preparation.
Irma's climate connection
What can we say about Irma and climate change? All hurricanes feed off warm water. Ocean temperatures are measurably warmer in recent decades as earth's climate warms. Ocean temperatures in the tropical Atlantic are indeed warmer than average as Irma tracks westward.
As we saw with Hurricane Harvey, a super-heated ocean fuels rapid intensification with hurricanes. There is strong evidence to suggest Irma is stronger because of warmer waters in the Atlantic. Climate scientists draw a strong link between warmer oceans and stronger hurricanes.
Climate links: Hurricane Harvey and the Texas flood
The Houston area is still in full recovery mode from massive flooding after Hurricane Harvey. Again, warmer oceans likely played a role in Harvey's rapid intensification. A more tenuous link under study is a slower jet stream and stalled weather pattern that kept Harvey swirling in place for several days.
Weather Underground hurricane and climate expert Bob Henson and I discussed Harvey's attributable climate connections last week on the MPR News Climate Cast.
Portland area wildfires
In case you missed it in all the hurricane news, significant wildfires are burning just east of Portland, Ore.
Smoke is so thick in Eugene, Ore., it's reached hazardous levels.
The Eagle Creek Fire is raining ash on Portland.
Wildfires: The climate change connection
Wildfires have always burned in the west. But the number of large fires is showing a strong and measurable trend int he past 40 years. The best climate science finds an attribution link to climate change.
Smokey skies
I can't remember a summer where we've seen this many smoky sky days over Minnesota and the Upper Midwest.
Sunday's smoke plume stretched across the length of the United States.
As the number of fires in the western U.S. and Canada continue to grow in a warmer climate, we can expect to see more wildfire smoke drifting east in the prevailing winds aloft. That smoke will mix down to ground level at times as it did this past weekend.
Houston is heavily damaged. Florida and the wider southeast U.S. are bracing for a possible devastating hurricane strike. Portland is choking on dense wildfire smoke. And massive smoke plumes are visible over much of the USA.
As you follow seemingly unrelated weather news events like Harvey's floods, Irma's intensity, Oregon's wildfires and see smoke overhead, realize there is likely a climate change connection to all of them.