Block that click! High school sports go digital
While their classmates kick soccer balls, shoot hoops or participate in a club during school activity period, senior Mula Lay and 30 other students at St. Paul's Washington Technology Magnet School play video games.
The students are part of an e-sports team that started at Washington this year.
E-sports, or competitive video gaming, is gaining traction at high schools in Minnesota and around the country.
Students at Washington mostly play a video game called "League of Legends." They compete on teams in tournaments with teams from other schools. They practice every day.
"For my school to be recognizing that the game I love can be played competitively and is being played competitively is just indescribable," Lay said.
Competitive video games might bring to mind images of kids in headphones, absorbed in their own little worlds. But Washington's practice is not that at all. Players shout about their positions in the game and celebrate when things go well.
"It gets intense when you're the only one alive and you beat a five-v-one, so you're the only one against five other people," Lay said.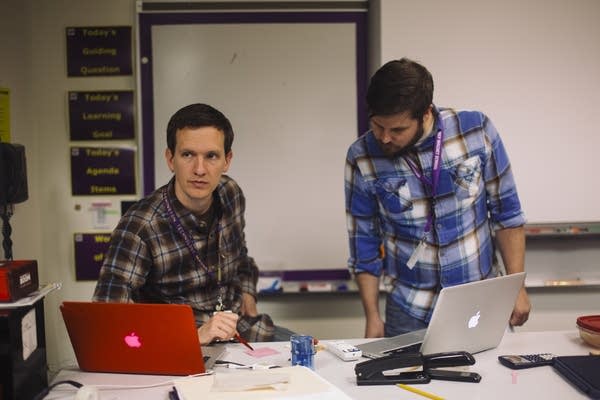 Washington had more than 100 students show up at tryouts for the team.
Lay also plays on the school tennis team, and he disputes any implication that e-sports is not "real" sport. Both require skills and practice, Lay noted. In e-sports, the skills are reaction time, decision-making and time management.
"Soccer, football and tennis started as a game," Lay said. "As a sport gains popularity, clubs are formed, teams are formed and professional leagues are formed. That's what's happening with e-sports now."
Video games can be addicting, which makes time management another crucial skill, said junior Kong Pheng Thao. "If you can balance out your life and gaming, then it would be same thing as you balancing out a sport and your life," Thao said.
E-sports are gaining recognition at colleges and high schools around the country. A variety of organizations run leagues for competitive play. The Connecticut Association of Schools recently announced a partnership with one of those organizations for school competitions starting this spring.
In Minnesota, e-sports is still a district-level pursuit. The state Department of Education said the program doesn't count as an interscholastic or intramural activity, so there's no data on how many schools offer it. The Minnesota State High School League said it hasn't been asked to sponsor e-sports competition.
Other schools in the Twin Cities metro area offering e-sports include Farmington Senior High School and the charter Academy for Sciences & Agriculture in Vadnais Heights.
Some colleges have begun to recruit e-sports players. The small, private Stevenson University in Maryland recently contacted the Washington team to recruit, although athletic scholarships for e-sports aren't available at the school yet.
Washington e-sports coach Ross Mau said for some students, the chance to play video games competitively is a key that makes the rest of the school day more engaging.
"We've got some kids out there that, you know, school's not their thing. They're not the best at school," Mau said. "Now there's a part of school that, 'Oh I'm good at, I'm getting recognized for this.'"
Correction (Oct. 18, 2017): Kong Pheng Thao's name was misspelled in an earlier caption. It has been updated.