Dayton, Fischbach discuss succession plans over walleye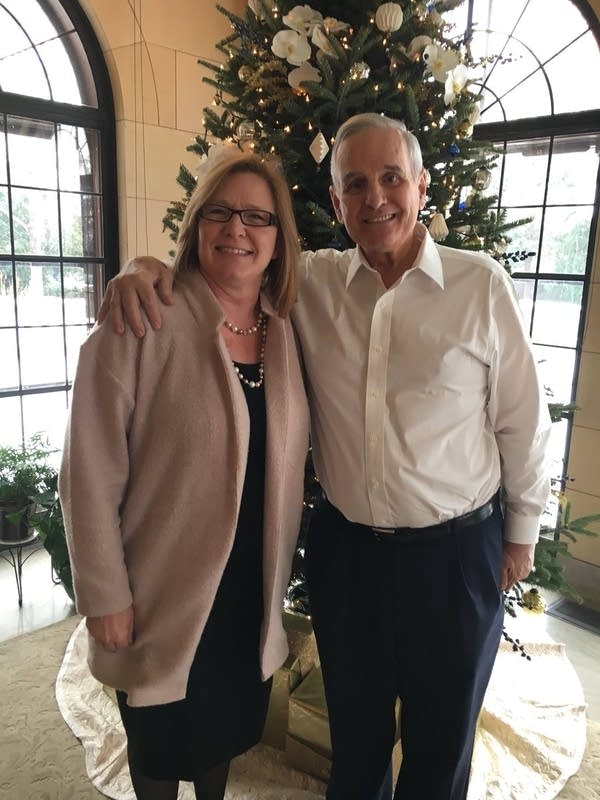 DFL Gov. Mark Dayton says he had a "cordial" lunch Friday with Republican state Sen. Michelle Fischbach to discuss her new role as lieutenant governor.
There was no press access to the governor's residence lunch or its participants, but Dayton later issued a statement that said they ate walleye and hot fudge sundaes, and Fischbach gave him a gift of homemade banana bread.
Also on the menu: a discussion of Fischbach's pending move into the lieutenant governor's office, once Tina Smith leaves to replace Sen. Al Franken. The state constitution requires Fischbach, as senate president, to fill the vacancy.
Fischbach contends she can also keep her job in the state senate. Dayton disagrees, but he said he told Fischbach that her standing in the senate is beyond his purview. That's why he asked for an opinion from the attorney general.
"I said that it has been my office's consistent practice not to proceed to call for or schedule a special legislative election, unless or until we receive a formal letter of resignation from the incumbent legislator," Dayton said.
In a separate statement, Fischbach also touched on the issue.
"I look forward to fulfilling my constitutional duty of ascending to the role while maintaining my responsibilities to the constituents of Senate District 13."
Despite their political differences, Dayton said he is fully prepared to work with Fischbach as lieutenant governor. He said she will be an "independent constitutional officer" who is "entitled to express her own views" on policies and procedures.
"We also agreed to look for areas where we could work cooperatively together, and she suggested elder care," Dayton said. We will explore that and other opportunities to work together further in the weeks ahead."
MPR News is Reader Funded
Before you keep reading, take a moment to donate to MPR News. Your financial support ensures that factual and trusted news and context remain accessible to all.