What is MNLARS and what does it mean to you?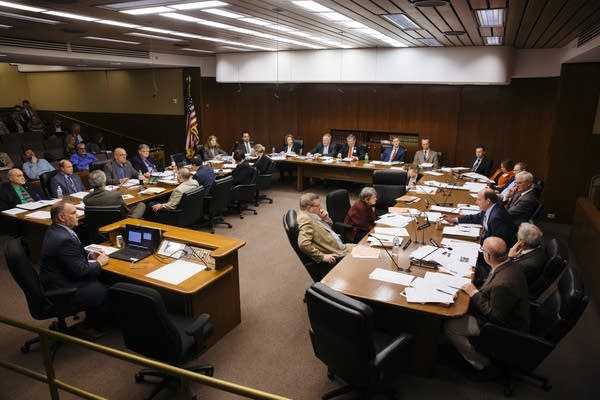 Updated: March 19, 8:05 p.m. | Posted: March 07, 2:45 p.m.
If you haven't had to update your vehicle registration in a while, you likely haven't experienced the turmoil surrounding the Minnesota Licensing and Registration System, or MNLARS, that is giving lawmakers and motorists headaches.
The multimillion-dollar system for processing license plates, tabs and titles has been plagued with problems since it was put online in late July 2017, to replace 30-year-old technology.
Grow the Future of Public Media
MPR News is supported by Members. Gifts from individuals power everything you find here. Make a gift of any amount today to become a Member!
The local offices that process these transactions have reported numerous delays and inaccuracies.
Though state officials previously pointed out that the number of transactions completed through MNLARS in August 2017 were greater than the same month in 2016.
The system was extensively tested before its 2017 launch but Tom Baden, commissioner of Minnesota IT Services, said in hindsight more time should have been spent reviewing those test results.
Who is affected?
Anyone looking to purchase license tabs, renew vehicle registration or transfer a title may have had to wait much longer than usual. Auto dealers have complained about paperwork backlogs as well as customers when processing titles.
Deputy registrars have said they remain unable to complete some basic transactions, including specialty license plate transfers. Officials are hiring an outside vendor to work on the next phase of the project, which includes Real ID-compliant driver's licenses. The REAL ID Act, passed by Congress in 2005, established minimum security standards for license issuance and production.
How much has it cost taxpayers
State officials have spent more than $90 million in taxpayer money on MNLARS over eight years.
Who's to blame?
Dayton accepted blame for the problems with the rollout. But he said legislators must now share the responsibility of getting it fixed.
What's next?
State officials said in January they would need another $43 million to get the system back on track this year. That proposal includes $37 million for system fixes and $6 million to upgrade customer service capacity at the Department of Public Safety. They asked for $10 million to be approved by March 1. Otherwise, contractors working to fix the system would have to stop working.
On March 19, Minnesota House and Senate passed legislation to fund the fix, but because the bills need to be reconciled it will still take some time before more money can be spent. The Senate bill allocates $9.65 million of the $10 million originally requested, while the House bill provides $10 million and requires DFL Gov. Mark Dayton's administration to cut an equal amount of spending from executive branch budgets. Dayton opposes the House approach.
Minnesota IT Services, the state agency that helped rollout and works on MNLARS' operation, is working with several outside contractors to fix it.
Though just recently state officials sent 30-day layoff notices to those contractors after lawmakers missed the March 1 deadline for funding.