A quest for an absent father becomes a no-holds-barred show on masculinity
A boxing club in northeast Minneapolis becomes a dance venue this weekend, when an acclaimed African choreographer and dancer uses the ring to perform a piece called "Portrait of Myself as My Father."
It's a bare-knuckled examination of society's attitudes and expectations of African and African-American men. It has so many layers that creator Nora Chipaumire says it's tough to describe succinctly.
"One sentence that I thought was provocative, and slightly misleading, was 'post-colonial boxing match,'" she said.
That's someone else's line, but she likes it for the questions it raises. "Portrait of Myself" began with questions.
Chipaumire grew up in Zimbabwe. Her father deserted the family when she was just 5. He died in 1980.
As an adult, Chipaumire left Africa and settled in Brooklyn. But she remained curious about her father.
"And wanted to understand, really, what happens with black men?" she said. "What happens with black families? What happens with black African families?"
She started imagining how she would tell her father what had happened to his family in his absence. But in time she began thinking about what he could have been, eventually casting him as a superhero.
"So it ends up in a boxing ring, because I said, 'What greater theater, what greater arena, have black men dominated?'"
During a rehearsal at the Walker Art Center, Chipaumire used a boxing announcer's microphone suspended from the ceiling to welcome audience members. "Good people of the land of the many, many, lakes! Of Minnesota!" Chipaumire called out.
She is one of three dancers in the show. The other two are men. She is attached to one of them by a long cloth tape for the entire program. Both of them are tethered by other tapes to points hidden in the darkness high above the ring.
"So this tethering is reckoning with the fact that regardless of ... what I may have felt about my father, I have his DNA," she explained. "He is me, I am him, I am tethered to that forever."
As they dance, the tethers twist and entwine, restricting movement. Chipaumire says they also represent history and culture of Africa and the United States, and the way those forces shape black masculinity. Those competing influences are represented by the show's music and the words in many languages that accompany the action.
"There is Swahili, there is Shona, there is English, there is French, there is Wolof, there is Jamaican patois," said Chipaumire. "And a great deal of the time, people are not sure what they are listening to, or if they should be understanding something."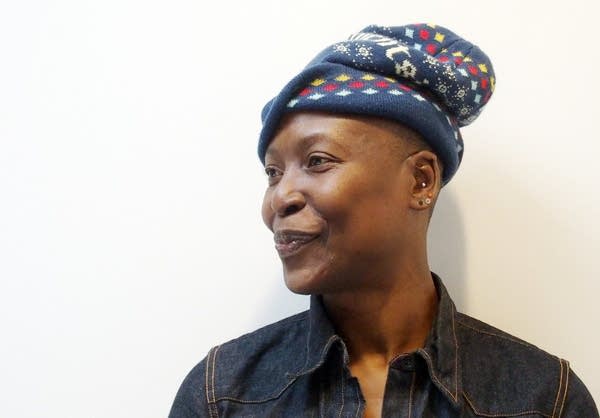 The dance draws on African styles, jazz dance and street steps. There are boxing moves and moves from the clubs.
"Portrait of Myself as My Father" is not an easy show. It deals with ugliness and stereotypes through movement and language. There's humor and sensuality, too. The boxing ring is a symbol of opportunity, but it's also a cage.
The music can be loud, and Chipaumire describes some of the lighting as an assault. She says she wants to shock people into paying attention.
"The passive kind of polite audience is not necessarily my goal," she said. "I would really like to provoke a physical reaction from the audience."
The show has been performed all over the world, but this weekend's presentations at the Uppercut Gym in Minneapolis are only the second time Chipaumire has used a real boxing ring. In theater shows the night ends with the destruction of the ring, but real rings are built tough, so that's not going to happen this time.
But Chipaumire said a boxing-gym crowd, even if it includes dance fans, comes with different expectations. She's excited to see what happens.
Your support matters.
You make MPR News possible. Individual donations are behind the clarity in coverage from our reporters across the state, stories that connect us, and conversations that provide perspectives. Help ensure MPR remains a resource that brings Minnesotans together.