Family of Minnesota gymnast reacts to $500 million settlement in Nassar case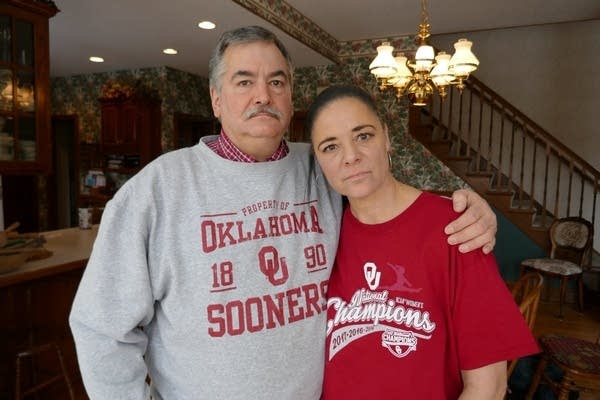 Michigan State University agreed this week to pay $500 million to settle a lawsuit brought by 332 victims of Dr. Larry Nassar.
Maggie Nichols, an elite gymnast from Little Canada, Minn., is among those women.
Now a national champion gymnast and sophomore at the University of Oklahoma, Nichols was the first athlete to report sexual abuse by Nassar to another organization, USA Gymnastics, in 2015.
Her family has since blasted the organization for not responding quickly enough and not doing more to stop Nassar from assaulting more young women. Nassar began serving an effective life sentence in federal prison in January.
  According to a joint statement from the plaintiffs' attorney and Michigan State University, this week's $500 million settlement includes $425 million for the 332 victims who have come forward. It also sets aside a $75 million trust fund for any additional victims who may come forward in the next couple of years.
The settlement will be divided up after weighing many factors, including the date and victim's age when the sexual assaults occurred and the impact it had on their lives, lawyers say.
Nichols' mother, Gina Nichols, said she can't reveal how much money her family will get from Michigan State. But she said it's never been about money, but rather about exposing wrongdoing by those who employed Nassar.
"When you pay out that much money you are saying, 'Yes, we were wrong ... we were negligent and that is why this happened,' " she said.  "So, we are being acknowledged that they are accountable for what has happened to the victims, but there is still a lot of work to be done."
Gina Nichols said her family is still part of other lawsuits against USA Gymnastics and the U.S. Olympic Committee.
This week, ESPN announced the survivors who spoke out against Nassar will be honored with the Arthur Ashe Courage Award at the 2018 ESPYs.
It's an honor Gina Nichols says will mean a lot to her daughter, who publicly revealed her connection to the case only a few months ago.
"She wasn't sleeping and it was really stressful for her and then she's at school and without her family support, but she gets a lot of support from Oklahoma," Gina Nichols said. "But it was really stressful for her to have to come public with that and she was a big key part of the story ... She has a lot of strength ... more than I have."
Gina Nichols says her daughter will join more than 100 women on stage to accept the ESPY award on July 18.
Dividing the settlement
The role of determining how much each victim will receive from this week's settlement probably will fall to one or two former judges or experienced mediators who will be selected by lawyers to oversee the process, said John Manly, who represents about 200 victims in the worst sexual abuse case in sports history.
"This can be wrapped up in four or five months," he predicted.
Simple math says $425 million divided by 332 people would be $1.28 million each. But it's not "share and share alike," said attorney David Mittleman, whose Lansing-area firm represents 111 victims.
Indeed, claims must be evaluated in many ways. Manly said some people could receive "substantially" more than $1.28 million while others get much less. Attorneys will also get a share of any award under agreements they have with clients.
"The age of the abuse, the duration of the abuse," Manly said, listing the likely factors. "Treatment in the future and the past. Have you lost earnings? Are there things about a particular case that are aggravating or mitigating."
Mittleman said the dates of the assaults will be important. Older abuse probably will be worth less because without the settlement, Michigan State could have been shielded by a statute of limitations.
Michigan State was accused of ignoring or dismissing complaints about Nassar, some as far back as the 1990s. The school had insisted that no one covered up assaults, although Nassar's boss was later charged with failing to properly supervise him and committing his own sexual misconduct.
In a statement Thursday, his first since the settlement, Michigan State President John Engler apologized, calling Nassar an "evil doctor" whose assaults "shocked our campus and the nation." The former Michigan governor was hired as interim leader after Lou Anna Simon's sudden resignation in January.
Michigan State hasn't disclosed how it will pay for the settlement besides leaning on insurance companies. Engler told reporters in Lansing on Thursday that he doesn't plan to ask state lawmakers for money.
Dianne Byrum, a member of the school's governing board, said Michigan State likely would borrow money, tap savings, delay big projects and consider budget cuts. She said a tuition increase tied specifically to the Nassar case is unlikely.
The deal surpasses the $100 million-plus paid by Penn State University to settle claims by at least 35 people who accused assistant football coach Jerry Sandusky of sexual abuse, though the Nassar agreement covers far more victims.
The Associated Press contributed to this report.