Heavy rains swamping SW Minnesota; flood warnings out
Updated 4:42 p.m. | Posted 9:17 a.m.
Roads were closed and warnings posted for swaths of southwestern Minnesota after heavy rains overnight Monday triggered flash floods Tuesday. Some areas got 6 to 8 inches of rain with one report of 11 inches.
Authorities warned drivers to take great care in Lyon and Redwood counties.
"It is what looks like to be a 1,000-year storm in this area," said Mandi Lighthizer-Schmidt, a Minnesota Department of Transportation spokesperson.
In Marshall, Minn., flooding led to intermittent power outages, including one at the water and wastewater treatment plants and lift stations. Residents were told to only use water when absolutely necessary to help conserve water until power could be restored.
MPR News is Reader Funded
Before you keep reading, take a moment to donate to MPR News. Your financial support ensures that factual and trusted news and context remain accessible to all.
Former Minnesota House Minority Leader Marty Seifert tweeted a photo showing flooding dangerously close to his Marshall home.
In Redwood County, the rains flooded basements and closed roads. County highway engineer Keith Berndt said he'd heard reports of up to 7 inches of rain.
"We're seeing a lot of runoff, we're seeing a large number of county roads that have water flowing over them as well as some of the state highways," said Berndt.
Much of the ground was already saturated from previous heavy rains, so much of Monday night's precipitation ran off, he added.
Berndt said he drove through the community of Wabasso. "I could see their streets were full up above the curb and up into the yards."
MnDOT posted a no-travel advisory for all of Murray County, where the rising water is getting close to some homes on Lake Shetek.
The sheriff's office had boats ready if needed to help people, said Murray County community relations coordinator Christy Riley.
It's the second round of heavy rains for the Lake Shetek area in the past week. A no-wake zone is in effect for all lakes in the region.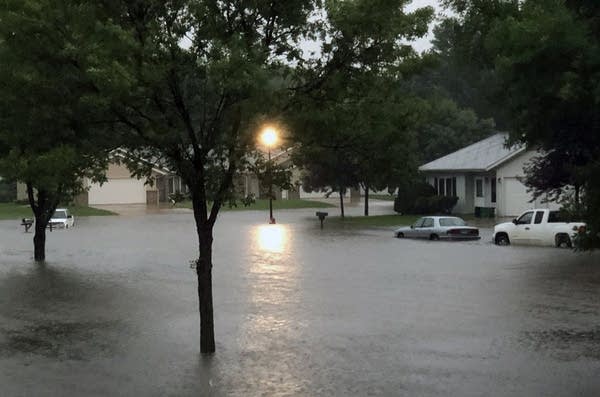 "We've got water going over roads that in my 60 years I've never seen," said Steve Illg, who lives about a quarter mile from the lake.
The American Red Cross unit in southwestern Minnesota opened an evacuation shelter at the Murray County Fairgrounds in Slayton, Minn.
In Tracy, Minn., flood waters overwhelmed sewer and drainage systems, said city administrator Kris Ambuehl. Roads east and west of town were closed and some residents reported 2 to 4 feet of water, she noted.
Heavy flooding was also reported between Luverne, Olivia and Bird Island. MnDOT said Minnesota Highway 19 at the intersection of County Road 5 to Marshall was closed along with U.S. Highway 14 from Tracy to Walnut Grove.
MnDOT warned drivers not to drive through water, noting that vehicles can be swept away in only several inches of moving water.
The Redwood River rose fast Tuesday near Redwood Falls — up 6 feet since 2 a.m., according to the National Weather Service.
By mid-morning, it had topped 17 feet at Marshall, a record, and more than 3 feet above flood stage.
Marshall is in Lyon County, where commissioners Tuesday declared a state of emergency as the county copes with the widespread flooding and related road and other damage.
Pipestone and Renville counties have also declared a state of emergency, according to a tweet by Minnesota's Department of Public Safety Division of Homeland Security and Emergency Management.
About 20 motorists had to be rescued after they drove on to flooded roads, said county emergency manager Tammy VanOverbeke.
The county got 5 to 7 inches of rain overnight, with the southern part of the county getting hardest hit. Some power lines went down there, VanOverbeke said.
"Don't travel in Lyon County unless you have to. If there's a barricade up, it's there for a reason and please do not drive around it," she added. "Please respect that barricade and if a water for road has water over it, please turn around. You don't know what's underneath that water."