Dispatches from Cape Town: Learning new music in a soccer stadium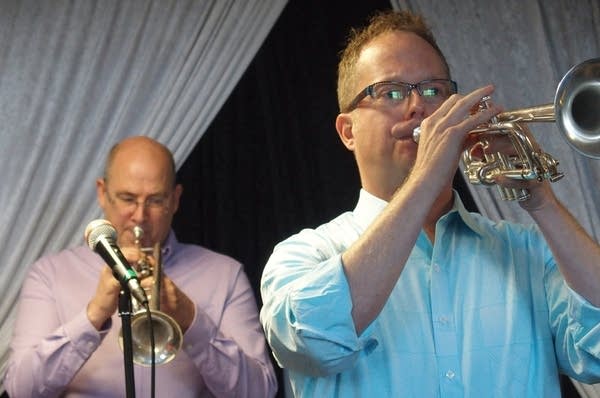 The music associated with soccer stadiums tends to be anthems, representing a nation or the camaraderie of rabid fans. But the Minnesota Orchestra Brass Quintet brought — and found — very different genres of music at the Athlone Stadium in Cape Town Thursday.
They traveled across the city to the cluster of offices and classrooms in the stadium that the students and teachers of the Cape Music Institute have operated out of for the last dozen years.
The group — trumpeters Charles Lazarus and Doug Carlson, French horn player Michael Gast, trombone player Doug Wright and tuba player Steve Campbell — is traveling throughout South Africa as part of the Minnesota Orchestra's two-week trip to mark the centennial of Nelson Mandela's birth.
The musicians were mildly concerned at the beginning of the stadium visit because only Lazarus had brought his own instrument. The orchestra arrived in South Africa from a concert in London earlier this week — but their gear, including instruments, was shipped separately, via Luxembourg and Johannesburg, and is still making its way to Cape Town.
Musicians at that level get used to using their own instruments, and while the quintet members were able to borrow similar trumpets and other brass from local friends, they worried they wouldn't be up to snuff for the students.
Carlson thought things would be OK. "All I need is three valves that work," he said.
Climbing up into the stadium, the musicians were led into a small room packed with young people. They didn't learn until later that the students had come in on a holiday to hear them. Local buses are on strike, too, so for some, getting there had not been an easy trip.
The students greeted the Brass Quintet with song, launching into "Welcome to Cape Town," a rollicking piece lauding the city, its people and its natural beauty.
Then it was the Quintet's turn.
Any worries about instruments quickly fell away, as the Minnesotans launched into pieces by composers as varied as Bach, Bernstein and Piazzolla.
The students roared with approval when Lazarus pushed his trumpet to the limit on a jazz piece he'd composed called "Kilauea's Fountains."
Then it was the students' turn, and they gave every bit as much as they received. As a band with a revolving cast of musicians played, the other students sang local songs, as the quintet musicians leapt to their feet.
The session lasted about two hours — and it was clear, by the end, that the quintet members, with their decades of experience, learned as much from the students as the students did from them. The orchestra plans several more of these educational exchanges during the rest of its time in South Africa.
Gallery
3 of 3
1 of 3
2 of 3