Governor candidates differ on opioids, marijuana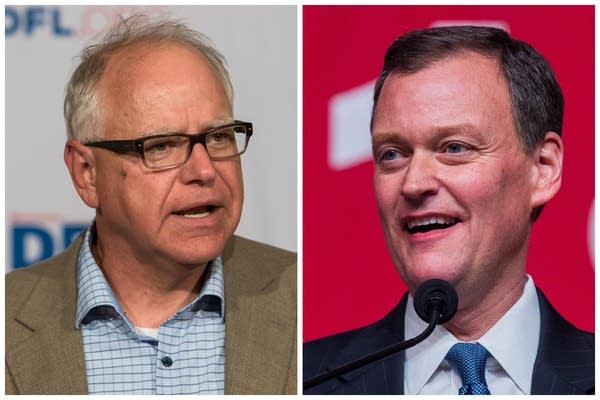 Minnesota's two contenders for governor split Friday in their approaches to tackling the opioid overdose crisis and to expanding the availability of legal marijuana.
The topics arose during and after back-to-back appearances by Republican Jeff Johnson and DFLer Tim Walz at a conference focused on substance abuse, particularly opioids.
Johnson and Walz agreed on this: Addiction to prescription painkillers and other opiates is a significant problem and the state needs to respond.
More than 400 Minnesotans died as a result of opioids last year, according to the Health Department. The state also says the number of children put into foster care because of a parent's addiction has increased sharply in recent years.
MPR News is Member Supported
What does that mean? The news, analysis and community conversation found here is funded by donations from individuals. Make a gift of any amount today to support this resource for everyone.
"As I travel around the state, people know about the opioid epidemic," Johnson said in his remarks to the "Pathways & Partnerships: Addressing The Opioid Crisis" event staged by the Hazelden Betty Ford Foundation. "But a lot of them don't understand it. They don't know even what it means."
Johnson said he's been part of the fight as a Hennepin County commissioner and helped fashion the local response. He said a comprehensive approach is necessary, one that focuses on both the drug supply and treatment for those caught in the grip of opioids.
"We can punish people all we want, but if we don't treat them for an addiction, nothing is going to change," he said. "It's a never-ending cycle."
Johnson said he's not ready to rule out higher licensing fees on drug makers to help pay for the opioid response. But he told the conference that he generally believes money can be shifted from other areas of the state budget to cover those costs.
Johnson opposes the penny-a-pill tax charge has been on the table. Pharmaceutical companies helped defeat that plan in the last legislative session.
During his turn on stage, Walz said that the drug makers need to step up.
"I would certainly still hope that those very same companies would be at the Legislature this year advocating for partnerships to make this work rather than seeing an adversarial situation," Walz said.
He favors the penny-per-pill proposal.
The southern Minnesota congressman said he's also mindful of the benefits of responsibly managed pain medication, as he emphasized in his remarks to the audience and to reporters after.
"I have not gone out of my way to demonize the pharmaceutical industry," Walz stressed, saying pain medication in many cases "improves people's lives."
Walz and Johnson also differ on how to approach marijuana.
Walz supports letting Minnesota join the nine states where adults can legally purchase marijuana for any use.
"Prohibition has not worked," he said. "We are certainly not encouraging people to do this no more than we are encouraging people to drink or drink in excess. I think it just makes more sense with regulation, with education, with the taxation that goes with that. It just brings something we all know is out there into the open and does a better job."
Walz said he's sensitive to concerns about addiction and will hear out opponents if a bill proceeds.
"It's not as if all of those problems are not already happening, but we have no benefit of a legalization side to have some say in what's happening," he said.
Another conference participant, state Sen. Chris Eaton, DFL-Brooklyn Center, said she's against legalization.
"I just don't think another addictive substance is what we need right now," Eaton said. "I certainly will express my disagreement and vote against it in the Senate."
Johnson said he also opposes full-scale legalization of marijuana in Minnesota. He's concerned about fostering new addiction problems by making marijuana too readily available.
"It creates new costs and new problems in society. There's a liberty benefit to it," Johnson said. "That's part of who I am. However, you still have to weigh the costs versus the benefit, and I think that's one of the potential costs."
Voters will have two other gubernatorial candidates to choose from on their ballots. Both Libertarian Josh Welter and Grassroots-Legalize Cannabis candidate Chris Wright want to authorize marijuana for recreational use.
Johnson said he is open to expanding the state's medical marijuana program, which permits people with certain conditions to buy cannabis in pill or oil form. He said he'd consider letting enrolled patients buy it in plant form for smoking.
"As long as it doesn't become a backdoor way to essentially make recreational use legal because I don't think that's good for the state," he said.