Taconite built America, but can it fill potholes? Duluth gives it a shot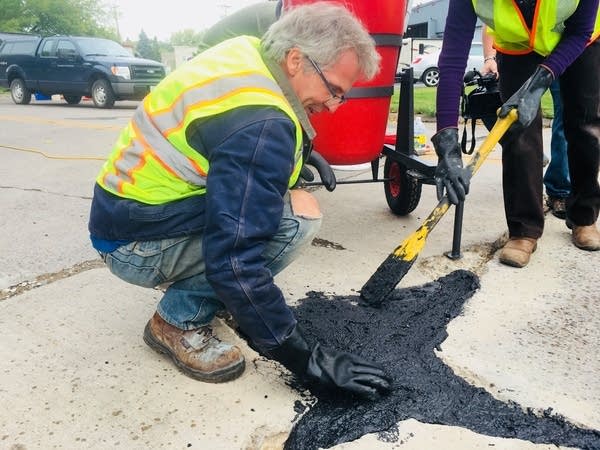 The city of Duluth, along with University of Minnesota researchers, is testing out an innovative fix a notorious Minnesota problem: It's hoping to use a plentiful local waste product to patch the axle-busting potholes that pop up on local roads every spring.
The new road repair recipe puts to use something that's long been thrown away in northeast Minnesota: taconite tailings, the waste rock left over from the iron ore mines on Minnesota's Iron Range.
Researchers believe the new mix could offer two key advantages over typical repairs, which are often made with asphalt: It lasts significantly longer, and it can be applied more easily in winter.
Scientists at the University of Minnesota-Duluth's Natural Resources Research Institute have been fine-tuning the recipe for over a decade.
This fall, the city of Duluth offered up some of its potholes for testing the newest iteration of the recipe.
"It's one thing to do it the lab, but we really need to get it out and have traffic and weather get on it and see how it holds up, said NRRI senior minerals researcher Larry Zanko.
MPR News is Reader Funded
Before you keep reading, take a moment to donate to MPR News. Your financial support ensures that factual and trusted news and context remain accessible to all.
In a red mixing barrel, Zanko combined a dry mixture of taconite tailings and other minerals with a liquid chemical activator that prompted an exothermic reaction to heat up the mixture.
He poured it into a good-sized crack in Truck Center Drive in Duluth's Lincoln Park neighborhood, smoothed it out and stuck a thermometer in the warm sludge.
The temperature quickly rose above 90 degrees, and within 15 minutes it had hardened to rock-solid — so solid that Zanko could rap his knuckles on it.
"We're very hopeful with this product," said Greg Guerrero, Duluth's street maintenance manager. So far, he said, potholes that the city filled earlier this summer with a previous version of the taconite-based mix have held up well.
Typical pothole repairs with asphalt last only 12 to 16 months, he said. Water and salt seep into tiny cracks in the fill material, and the freezing and thawing forces them to inevitably pop out again.
"If we can get a two- to three-year run out of this new material, we're money ahead. It will be good for us," Guerrero said.
For more than a decade, Zanko has been studying ways to use taconite tailings as a potential pothole solution. MnDOT, which is backing Zanko's research, has also been investigating other innovative pothole repair techniques, including using a microwave mounted on a truck to heat up a patch so it bonds better with the surrounding pavement.
Zanko said his taconite solution is promising because there are huge, consistent quantities of the material available to use from the mines. And environmental testing of the taconite tailings used in potholes, he said, has shown they're safe.
Still, there are challenges to scaling up the technology. Larger equipment will be necessary for adapting it on a larger scale. Asphalt is popular because crews can drive around in a truck, apply it, and quickly move on to the next pothole within minutes.
"We lay it, we roll it, we're done," said Guerrero. And speed is of the essence, when his small crew has to cover 550 miles of roads and alleys in a summer. "We're lucky to get through the city one time," he said.
But if this new solution lasts significantly longer, Guerrero said, the longer time it takes to apply may be worth the wait: "As of right now, the material looks very promising."