Red Lake Nation completes first survey of Franklin-Hiawatha encampment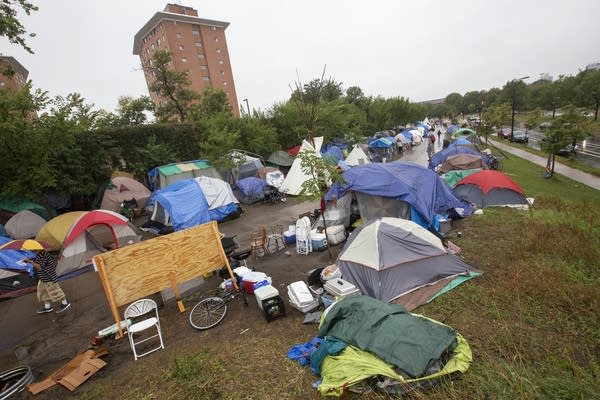 Nearly 200 people are living in tents at the homeless encampment at Hiawatha and Franklin Avenues, according to the first in-depth survey of the camp's residents. The survey was commissioned by the Red Lake Nation.
Over the course of seven days two surveyors went tent-by-tent to gather demographic and medical data about residents of the encampment. They also asked residents to describe the services they need.
Surveyors were able to reach 191 people living in 103 tents at the encampment at the time of the survey ending on October 1. Since the survey was completed, five more tents have gone up. The survey found 73 percent of the occupants are adults, aged 18-54. Eighteen percent are minors and eight percent are 55 or older. There are slightly more women than men.
Red Lake is currently providing on-site medical care through a partnership with the Native American Community Clinic and Livio Health Group. Sam Strong, the tribal secretary for the Red Lake Nation, says they were able to complete the survey because of the trust they've built with people at the encampment.
Grow the Future of Public Media
MPR News is supported by Members. Gifts from individuals power everything you find here. Make a gift of any amount today to become a Member!
"The tribe took an aggressive approach. We saw people dying, and we wanted to serve their health care needs at the site," Strong said. "We're going into the site, we're gathering people's data [and] we're coming up with solutions for their medical problems... so we're acting as a navigator for our people."
Around 80 percent of respondents at the encampment said they are Native American. The largest number of people said they were enrolled Red Lake members or descendants followed by Leech Lake, White Earth, Standing Rock and Mille Lacs.
Half of the occupants said they would like to move into their own apartments; 20 percent said they would like to find a sober living environment; 17 percent said they would like to enter inpatient treatment. Surveyors also asked about temporary shelter preference. The vast majority of respondents said they would prefer a Native-American specific shelter.
Red Lake is withholding survey data it gathered related to medical information to protect the privacy of residents, but said many are struggling with addiction, mental health issues and other chronic health conditions.
The data was analyzed by the city of Minneapolis and will be used by various government and non-profit agencies to plan their short and long-term response efforts.
"We have a better sense of the types of services they would like to see, whether that is chemical dependency services or whether they need family housing," said Minneapolis city coordinator Nuria Rivera-Vendermyde. "The county is now thinking about how to match whatever they have at their disposal, the state is looking at the non-profits they may fund as well as to partner with the tribe and MUID (Metropolitan Urban Indian Directors) to figure out how do we match what we have now with people at the encampment."
The tribe is also working with the city of Minneapolis to build a so-called "navigation center," or temporary shelter, on land owned by Red Lake near the encampment. Surveyors did not ask everyone if they would move to the navigation center, but among the people they did ask, everyone said the would be willing to relocate.
Red Lake plans to continue to provide medical care to people while they, and other government and non-profit groups, work on finding people permanent housing or treatment. They hope to have the shelter ready by early December.
Correction (Oct. 5, 2018): A previous version of this story reported an incorrect demographic statistic of people living in the encampment.