Urgent warnings for Minnesota in U.S. climate report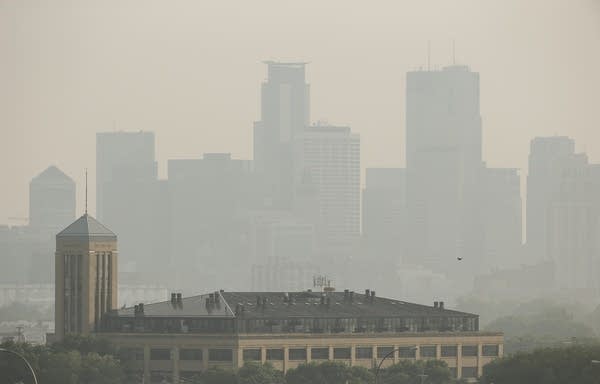 Climate change is already wreaking havoc in Minnesota — from making people sicker to threatening the wild rice crop.
That's according to the latest National Climate Assessment, a congressionally mandated report released last Friday. Thirteen federal agencies worked on the document, the fourth of its kind, to analyze the best available information into an over 1,000-page document.
The report is packed full of pressing climate issues. Here are some of the big takeaways for Minnesota:
Grow the Future of Public Media
MPR News is supported by Members. Gifts from individuals power everything you find here. Make a gift of any amount today to become a Member!
Climate change is a major risk to human health.
Extreme heat isn't good for people — causing illnesses like dehydration and heatstroke — and we're in for a lot more of it.
Overall, the Midwest will experience greater warm-season temperature increases than any other region in the U.S., a reality that will lead to more temperature-related premature deaths, the report says.
Extreme heat can cause "dangerous living conditions" in the Twin Cities, the report adds, noting that rural populations in the Midwest have also had high rates of heat-related illness.
Heat's just the beginning. Air quality will continue worsening. Minnesota already experiences high levels of ozone pollution and a longer allergy season.
Then there are the bugs.
The report explains the well-documented trend of disease-carrying insects expanding their range as the climate warms, bringing new infection risks with them, including hundreds more West Nile virus cases in the Midwest by 2090.
And as water temperatures warm and runoff into water bodies increases, so will the prevalence of harmful algae blooms. These cyanobacteria put people at risk of getting sick from water they drink or swim in. Toxic algae blooms have been blamed in at least 20 dogs' deaths since 2004 in Minnesota.
Native American populations are feeling climate change pains first.
The report says Native populations' "culture, sovereignty, health, economies, and ways of life" are under attack from climate change. Largely, it has to do with natural resources traditionally used by tribes shifting out of treaty land boundaries and reservations.
For example, the report notes, a "family sugarbush" — a forest stand used for maple syrup — "cannot be replaced culturally, spiritually, or economically if the sugar maple range were to shift outside of treaty or reservation boundaries."
It also says tribal reservations are often isolated in rural areas and could have issues getting emergency services during climate-influenced natural disasters, like flooding.
The researchers say further research is necessary to study how climate change will affect tribal populations.
It'll be tougher to grow grains and other crops in Minnesota.
Corn and soybeans grow on 75 percent of farmable land in the Midwest, the report says, and both staple crops are at risk as the climate warms.
High temperatures across the region — from northern Minnesota to southern Missouri — will likely pass optimum growing temperature for corn and soybeans by the middle of the century.
The warmth will also make for more pollination failures. Overall, climatic trends will likely make for reduced corn and soybean yields within the next 30 to 40 years.
It's especially worrisome for wild rice, Minnesota's state grain. Wild rice needs stability, and climate change gives it the opposite.
Increased floods and invasive species already threaten the wild rice harvest. Plus, warming temps could shift the crop's range northward, according to the report.
"Declines in production are expected, related to increases in climate extremes and climate-related disease and pest outbreaks as well as northward shifts of favorable growing regions," the report says.
Having diverse ecosystems is key to fending off climate change.
Biodiversity — the variety of plant and animal life — has decreased across the Midwest in the past few decades.
There are many causes, but the dominant ones in the Midwest are clearing land for agriculture and cities.
Loss of biodiversity means loss of ecosystems that can mitigate climate change. Clearing and draining a wetland for farming, for instance, increases the area flood risk.
Restoring ecosystems like forests, prairies and wetlands will be crucial moving forward, the climate assessment concludes. It also notes the importance of natural climate solutions, citing a city of Minneapolis project using trees along the street to reduce stormwater runoff.