Prosecutors seek new murder charge against ex-Mpls. cop in Ruszczyk killing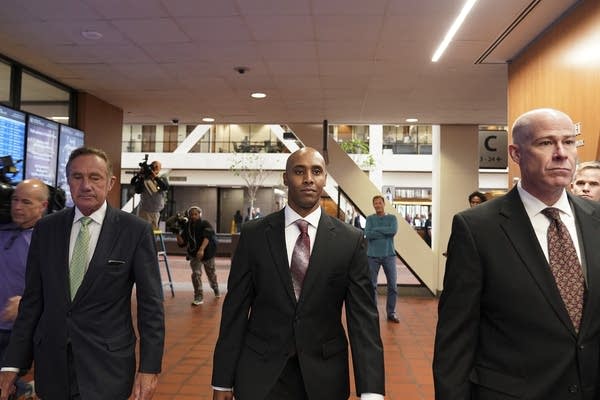 Updated 4:30 p.m. | Posted 1:28 p.m.
Hennepin County prosecutors are seeking to add a more serious charge against ex-Minneapolis police officer Mohamed Noor, who shot and killed 911 caller Justine Ruszczyk in July 2017.
Noor currently faces second-degree manslaughter and third-degree murder charges for the killing.
Authorities are now arguing there is evidence to support a second-degree murder charge, saying in documents filed with the court that Noor "intended to kill" Ruszczyk when he aimed and fired.
Prosecutors argued in a court document filed Thursday a jury could convict for third-degree murder if it concluded Noor "had no idea who or what he shot."
But they said that Noor knew what he was doing when he fired at close range across his partner at the time, Matthew Harrity.
Noor shot Ruszczyk, also known as Justine Damond, when she approached his squad after she called 911 to report a possible assault behind her home in Minneapolis.
"A single gunshot, fired at vital organs at close range, is sufficient to show an intent to kill," prosecutors wrote. "He fired at Ms. Ruszczyk from no more than six feet away. He fired with tragic accuracy, managing to send a 9 millimeter bullet across his partner's body and through the narrow space of the open driver's side window."
In the latest filing, prosecutors are using some of Noor's own defense arguments against him.
In arguing to dismiss the case, Noor's attorneys previously said he was not negligent because he acted within his training as a police officer to shoot at a potential threat.
Now the prosecution is using that assertion to back up its request to expand the charges based on Noor's alleged intent to kill, which "can be formed in an instant."
Hennepin County District Judge Kathryn Quaintance will ultimately decide whether the second-degree murder charge can be added to the counts.
If the complaint is amended, second-degree murder carries a maximum sentence of 40 years in prison, while third-degree murder carries a maximum sentence of 25 years. The penalty for second-degree manslaughter is 10 years or a $20,000 fine.
Noor's attorneys, Thomas Plunkett and Peter Wold, have not responded to a request for comment.
The Hennepin County Attorney's Office says lawyers on both sides of the case are prohibited from commenting on it to the media.
Noor's next court date is March 1. His trial is set for April 1.
Your support matters.
You make MPR News possible. Individual donations are behind the clarity in coverage from our reporters across the state, stories that connect us, and conversations that provide perspectives. Help ensure MPR remains a resource that brings Minnesotans together.