Comey: Russia investigation initially looked at 4 Americans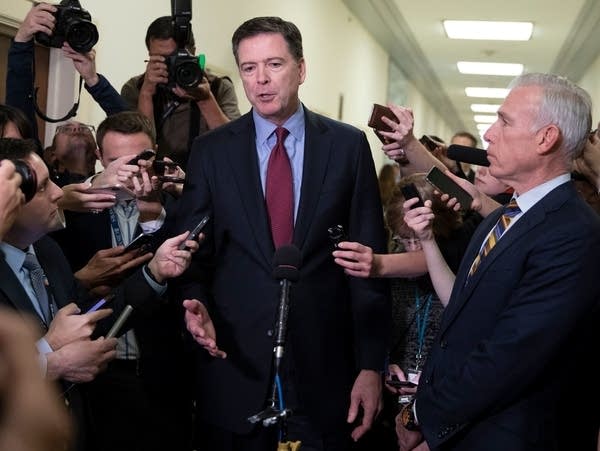 The FBI's counterintelligence investigation into potential ties between the Trump campaign and Russia initially focused on four Americans and whether they were connected to Russian efforts to interfere in the 2016 presidential election, former FBI Director James Comey told lawmakers during hours of closed-door questioning.
Comey did not identify the Americans but said President Trump, then the Republican candidate, was not among them.
The House Judiciary Committee released a transcript of the interview on Saturday, just 24 hours after privately grilling the fired FBI chief about investigative decisions related to Hillary Clinton's email server and Trump's campaign and potential ties to Russia. The Russia investigation is now being run by special counsel Robert Mueller, and Comey largely dodged questions connected to that probe — including whether his May 2017 firing by Trump constituted obstruction of justice.
The Republican-led committee interviewed Comey as part of its investigation into FBI actions in 2016, a year when the bureau — in the heat of the presidential campaign — recommended against charges for Clinton and opened an investigation into Russian interference in the election.
MPR News is Member Supported
What does that mean? The news, analysis and community conversation found here is funded by donations from individuals. Make a gift of any amount today to support this resource for everyone.
The questioning largely centered on well-covered territory from a Justice Department inspector general report, Comey's own book and interviews and hours of public testimony on Capitol Hill. But Comey also used the occasion to take aim at Trump's public barbs at the criminal justice system, saying "we have become numb to lying and attacks on the rule of law by the president," and Trump's suggestion that it should be a crime for subjects to "flip" and cooperate with investigators.
"It's a shocking suggestion coming from any senior official, no less the president. It's a critical and legitimate part of the entire justice system in the United States," Comey said.
In offering some details of the investigation's origins, Comey said it had started in July 2016 with a look at "four Americans who had some connection to Mr. Trump during the summer of 2016" and whether they were tied to "the Russian interference effort."
He reiterated that the investigation was not prompted by a Democratically funded opposition research — often referred to as the "Steele dossier" — but rather contacts former Trump foreign policy adviser George Papadopoulos had with an intermediary during the campaign, a finding confirmed by House Republicans.
The investigation was prompted by "information we'd received about a conversation that a Trump foreign — campaign foreign policy adviser had with an individual in London about stolen emails that the Russians had that would be harmful to Hillary Clinton," Comey said.
Papadopoulos was released from prison on Friday after serving a brief sentence for lying to the FBI about that conversation.
"It was weeks or months later that the so-called Steele dossier came to our attention," he added.
He also said that President Barack Obama never ordered him to have the FBI surveil or infiltrate the Trump campaign.
Comey said that by the time of his firing, the FBI had not come to a conclusion about whether the Trump campaign coordinated with Russia's efforts to sway the presidential election.
He insisted that the FBI would recover from the president's steady attacks on the bureau.
"The FBI will be fine. It will snap back, as will the rest of our institutions," Comey said. "There will be short-term damage, which worries me a great deal, but in the long run, no politician, no president can, in a lasting way, damage those institutions."