School bus driver shot on I-35W in Minneapolis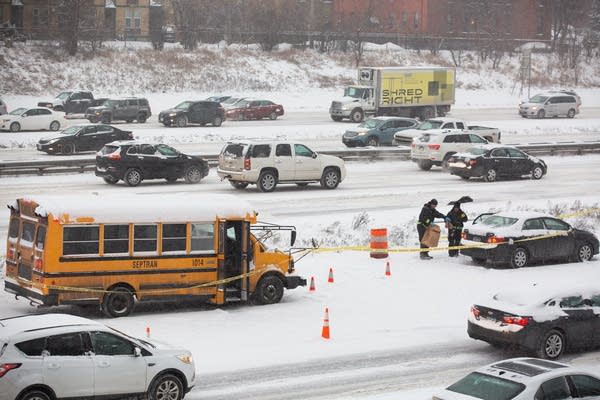 Updated: Wednesday 6:00 a.m. | Posted: Tuesday 3:05 p.m.
A school bus driver was shot as his bus was stopped next to a busy section of interstate in Minneapolis on Tuesday afternoon, while a student sat in the back. The student was not injured.
The driver is in the hospital with non-life-threatening injuries, a Minneapolis police spokesperson said.
The incident happened around 2:20 p.m. where Interstate Hwy. 35W runs next to Interstate 94 under Chicago Avenue in south Minneapolis.
Police say the bus and a car pulled to the side of the highway after a crash. More calls came into 911 after a man allegedly started shooting at the bus.
"One individual was shot at what appears to be the conclusion of a motor vehicle crash, that individual received what appears to be a non-life-threatening gunshot wound, and was transported to Hennepin County Medical Center," said Minneapolis police spokesperson John Elder.
Elder said Minnesota State Patrol troopers arrived within minutes and took the man into custody along with a handgun. He's now in the Hennepin County Jail.
Police say the man was arrested for second-degree assault but has not been formally charged.
They say the elementary school student was sitting in the back of the bus at the time and has been reunited with family members.
The bus driver drove for Septran, which has a contract with the Minneapolis school district. A statement from the company said it will not identify the driver.
This is a breaking news story. Check back for updates.
The Associated Press contributed to this story.