Ya, sure, you betcha! Another April blizzard likely by Thursday?
"April is the cruelest month..." ― T.S. Eliot
Keep that snowblower handy this week.
The weather maps are insistent on another major April winter storm event late Wednesday into Friday morning.
All major forecast models have been consistent for several days driving a deep low-pressure storm cold enough for heavy snow into central and southern Minnesota this week.
Throw in high winds gusting to 50 mph and you have a growing potential for yet another April blizzard in southern Minnesota Thursday.
This could be April blizzard déjà vu all over again.
The system
Low pressure gathers in northeast Colorado Wednesday, then tracks east toward Des Moines, Iowa, Thursday. Cold air on the system's northern edge appears adequate to drive a band of heavy snowfall across southern Minnesota.
There has been some slight model shift south, but the models have been remarkably persistent in laying out a heavy snowfall band from the Twin Cities south Thursday.
A rain-snow mix likely moves into southern Minnesota early Wednesday. Precipitation likely then changes to all snow Wednesday.
The National Oceanic and Atmospheric Administration's Global Forecast System model run from early Monday morning is typical of recent forecast model trends.
A winter storm watch is already up for most of South Dakota into southwest Minnesota just west of the Twin Cities. They will likely be expanded east to include the Twin Cities Monday.
The storm core moves into Minnesota Wednesday night and Thursday. Heavy snowfall rates of 1-2 inches per hour, lightning, thunder and wind gusts over 40 mph may create blizzard conditions in southern Minnesota.
Roads in southern Minnesota may be bad to impassable by Thursday morning.
Including the cities of Morris, Glenwood, Madison, Benson,

Montevideo, Willmar, Litchfield, Granite Falls, Olivia,

Hutchinson, Gaylord, Redwood Falls, New Ulm, and St Peter

414 AM CDT Mon Apr 8 2019

...WINTER STORM WATCH IN EFFECT FROM WEDNESDAY EVENING THROUGH

FRIDAY AFTERNOON...

* WHAT...Blizzard conditions possible. Total snow accumulations of

at least 8 inches and ice accumulations of a light glaze

possible. Winds could gust as high as 40 mph.

* WHERE...Portions of central, south central, southwest and west

central Minnesota.

* WHEN...From Wednesday evening through Friday afternoon.

* ADDITIONAL DETAILS...Travel could be very difficult to

impossible. Areas of blowing snow could significantly reduce

visibility. The hazardous conditions could impact the morning

or evening commute.
How much snow?
Forecast model snowfall output has been nothing short of dramatic. Keep in mind that early estimates of snowfall are sometimes overdone. But this storm looks impressive no matter how you slice it.
If current forecast model trends hold, we could be looking at 1 to 2-plus feet of snow for some locations in southern Minnesota by Friday morning.
This can and will likely still change, but here's NOAA's GFS model snowfall output from the overnight run.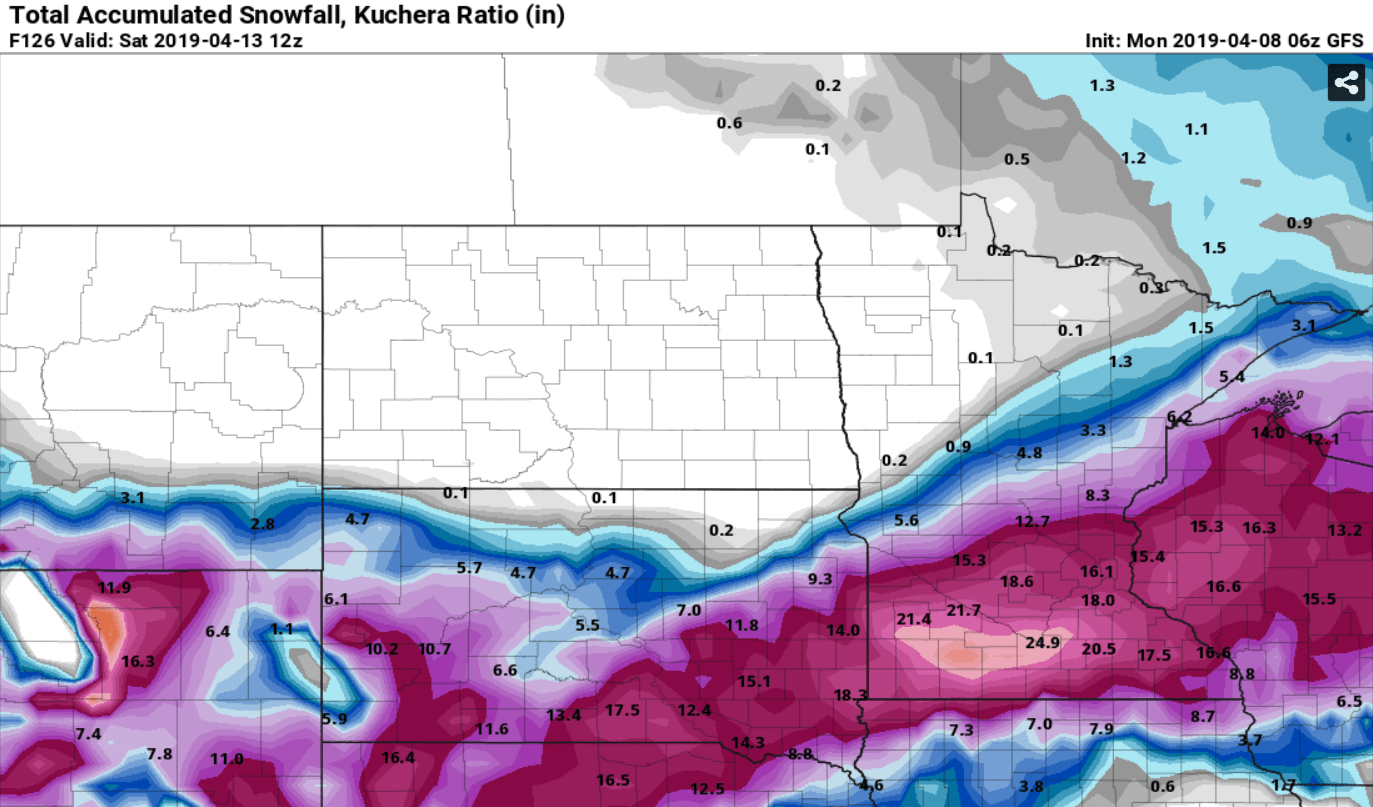 Back to back April blizzards? 
Minneapolis-St. Paul International Airport picked up a record 15.8 inches of snow with last April's blizzard. Snowfall totals reached 20 inches at some locations.
If current model forecast trends hold, we could make a run at that number again. That would be unprecedented in the Twin Cities climate record.
Here's more on last April's record blizzard from the Minnesota Department of Natural Resources State Climatology Office.
An extreme, late-season winter storm struck Minnesota from April 13-16, 2018, producing everything from thunderstorm wind damage to prolonged blizzard and whiteout conditions.The storm came in three distinct rounds, each separated by anywhere between four and eight hours.

This round was the "main event" of the storm for all but northeastern Minnesota, with lightning, thunder, multiple consecutive hours of heavy snow, and winds gusting again above 40 mph, creating whiteout conditions throughout southern Minnesota, including in urban areas.

The severity of the storm prompted the National Weather Service to expand Blizzard Warnings through the entire Twin Cities Metropolitan Area for the first time since the infamous Halloween Blizzard of 1991.

After producing 8-14 inches of snow on top of what had already fallen on Friday, the snow from this round began to wind down from south to north on Saturday evening.

In the Twin Cities, the snowfall total of 15.8 inches was the largest to occur so late in the season, broke the storm-total accumulation record for April, and made April of 2018 the snowiest April on record.
It won't last
The good thing about April snow? It melts fast. Temperatures likely return to the 50s in a few days and may hit 60 again next week.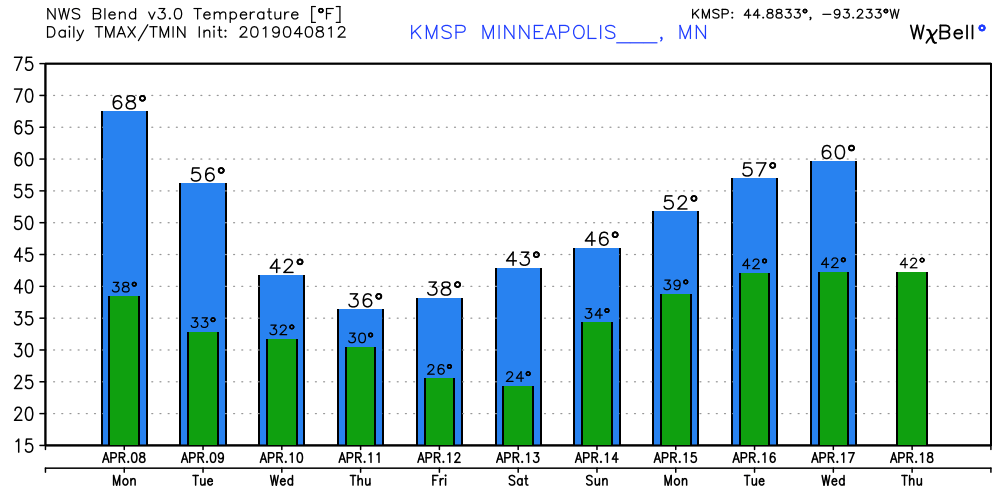 Stay tuned as we track possible changes in storm track, temperature profile and snowfall totals.