Minnesota's bears are out, and they're hungry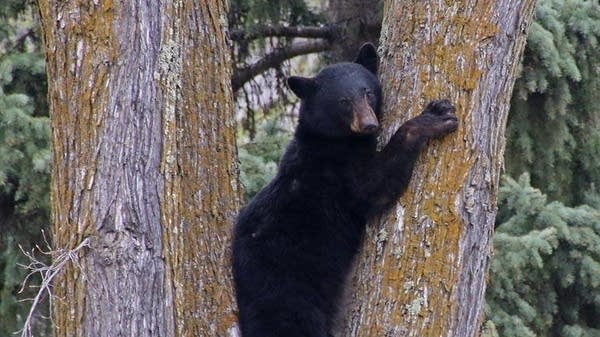 Minnesotans of all shapes and species are rushing out to enjoy the spring. That includes black bears, which have begun stumbling out of hibernation and onto your bird feeder.
As their metabolisms ramp up, the bears will start looking for food at a time when berries and green vegetation can be scarce, the Minnesota Department of Natural Resources said Monday as it implored citizens to bear-proof their homes and yards.
"Bears are roaming around now with the loss of snow and warmer weather, so interactions with people have started in many areas of Minnesota," Eric Nelson, the DNR's wildlife damage program supervisor, said in a statement.
Property owners should secure bird seed, garbage, livestock feed or compost to reduce potential conflict, the DNR said, noting that it does not relocate problem bears.
And while black bears are usually shy and flee when encountered, the DNR wanted to remind people that because of the potential danger, they should "never approach or try to pet a bear."
Gain a Better Understanding of Today
MPR News is not just a listener supported source of information, it's a resource where listeners are supported. We take you beyond the headlines to the world we share in Minnesota. Become a sustainer today to fuel MPR News all year long.