Capitol budget talks break down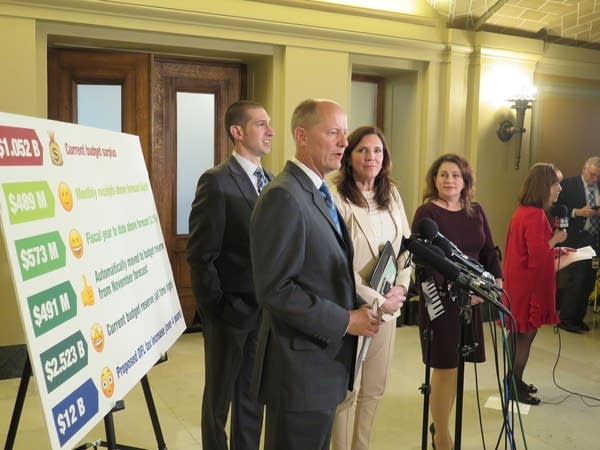 There's still no budget deal at the Minnesota Capitol with the clock ticking toward adjournment of  the legislative session. DFL Gov. Tim Walz and top legislative leaders returned to the bargaining table Monday, and even traded some offers aimed at resolving their budget impasse. But they failed to make any meaningful progress and remain far apart on spending and taxes.
At one point in the negotiations, Senate Republicans agreed to spend $100 million more on education and public safety. Walz and House Democrats agreed to reduce their 20-cent gas tax increase to 16 cents. It was some modest movement that didn't last long.
"I won't hide that I'm disappointed. I truly felt we were making progress," Walz said after a pair of Senate offers left him flummoxed.
One would take $2.5 billion from state budget reserves and allow the 2 percent tax on medical providers to expire as scheduled at year's end. The other would move money from the health care access fund to general fund spending.
Walz said the offers amounted to a radical departure that left the two sides further apart.
"They do not have the capacity to fill the needs that their communities are asking for. They've taken rigid pledges of no new taxes, and to try to fix that, they are willing to put health care at risk, our fiscal stability and dive into our rainy-day fund."
Before you keep reading ...
MPR News is made by Members. Gifts from individuals fuel the programs that you and your neighbors rely on. Donate today to power news, analysis, and community conversations for all.
Walz and House Democrats want to extend the health care provider tax, and their budget plans rely heavily on that revenue continuing. But Republican Senate Majority Leader Paul Gazelka said, from his perspective, the provider tax is not on the table, and never was. He says the same goes for a gas tax increase.
"We've always said the gas tax is not an option."
Gazelka said there are plenty of existing resources to use, including the budget reserves. He also pointed to the budget surplus and recent reports that this year's tax collections are running ahead of projections.
"We're saying we don't need taxes to do it, and the governor is. That's why it's such a difficult place where we're at. I'm suggesting that we all focus on 10 budget spending targets. Let's see where those are and let's see what a budget looks like, so we know how to get to the finish line."
DFL House Speaker Melissa Hortman said House Democrats have their own red lines. She said they won't stand for spending reductions in health care or education. Hortman said Senate Republicans had moved the budget talks in a disappointing direction.
"Instead of going up and putting a serious offer on the table, they went and played with emojis and created a big poster board for you all to look at. So that tells us a lot about how serious Senate Republicans are about negotiating a deal that's in the best interest of Minnesota."
One key point legislative leaders agree on is the amount of time they have left for a smooth finish. They say a deal on budget targets is needed by Wednesday to allow sufficient time to draft the big budget bills.