Children's Theatre drops claim against assault survivor for court costs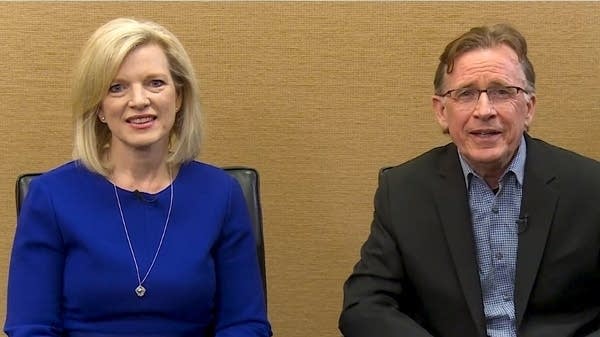 Updated: June 1, 12:45 p.m. | Posted: May 31, 12:58 p.m.
Days after starting proceedings to collect nearly $300,000 from a former student who was sexually assaulted by a staff member, Children's Theatre on Friday reversed course and apologized.
"Last week we failed in our commitment to be empathetic and respectful in our handling of our legal obligations," theater leaders said in a video statement directed to actor Laura Stearns, one of 17 people who filed civil suits alleging abuse suffered as children while students in the theater company's school.
Stearns' case was the first to go before a jury. She claimed the company was negligent in hiring Jason McLean, the actor and teacher who raped her at his home in 1983.
A Hennepin County jury found the theater company "generally negligent" during the time period leading up to her assault, but not specifically negligent for hiring McLean. However, the jury decided that McLean, not the theater, should pay Stearns $3.68 million in damages.
Before you keep reading ...
MPR News is made by Members. Gifts from individuals fuel the programs that you and your neighbors rely on. Donate today to power news, analysis, and community conversations for all.
That led the theater to file an application for "taxation of costs." That's what happens when the winner of a lawsuit asks the loser to pay for costs associated with the lawsuit, not including legal fees. The application listed $295,000 in expenses, including more than $214,000 for an expert witness.
Once it was made public, the move led to a widespread outcry against the theater, with some warning it was designed to have a chilling effect on all the other former students who have filed suits. Stearns called for a boycott of the theater.
On Friday, Children's Theatre retreated, saying it believed survivors' stories.
In the video, managing director Kim Motes and artistic director Peter Brosius apologized directly to Stearns, saying the theater company never intended for her to pay the organization's court costs and that "under no circumstances will we seek to recover any costs from you."
The theater leaders reiterated that they will continue to work with the survivors who have filed lawsuits and "will work towards settlements that give them the help and healing they need as an initial step."
Reached Friday afternoon, Stearns said she still needs time to absorb and reflect on the video. For now, she said, her only comment is: "It's a start."
In a Facebook post Saturday, Stearns wrote that "though I appreciate the gesture, I don't know if CTC truly understands the depth of harm they have caused to me and the other survivors in the past three and a half years of legal proceedings since I brought my case forward, or the theater community and community at large."
Stearns also wrote that "apologies are only words unless actions are taken to make amends. A lot of words were spoken by Mr. Brosius and Ms. Motes, but they are simply words until true action is taken to move this litigation process with ALL of the survivors into a place of completion so that the healing they claim they want us to have can really start."
Artists and patrons have been very vocal ever since the news of the "taxation of costs" broke after a May 24 court hearing. And many said Friday's apology is too little, too late.
Marya Hart, a teaching artist at Children's Theatre Company, noted that in apologizing Brosius had said, "We never intended for you to pay this cost." If that's true, she asked, why did the theater file for costs?
Hart said she and other teachers are both heartbroken and furious that management has used the artistic staff's good work as an excuse for dodging responsibility.
"What they've said all along is that we need to keep this institution going," she said. "We need to protect the fine work that we have been doing here and that's why we need to pursue the legal course that we have been pursuing. It's because of me, or because of other teachers, or because of the scenic artists or the ticket takers, that they've had to do these things. That's not true."
Hart spoke acknowledged that she could get fired for talking to a reporter. At least three of her colleagues have resigned over the past week's news, she said, and still others are wrestling with what to do.
And Friday morning, before the apology was posted on the web, a director who is supposed to be working on a CTC show this summer said she had met with management to express her concerns and put a freeze on auditions. At that time, Shá Cage said she was waiting to hear more before deciding whether to continue working with the organization.
Correction (June 10, 2019): An earlier version of this story said 17 people had filed suit against Children's Theatre in connection with abuse suffered when they were students at the theater's school. One of those suits, however, was filed against an individual and not the school. This version is correct.