Grim economics wallop ethanol and corn producers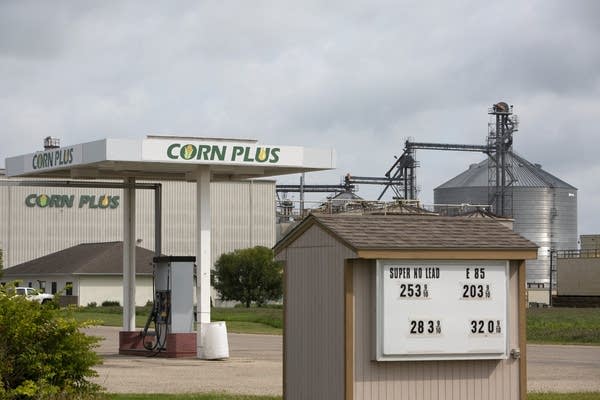 Standing in the front office of Corn Plus, Sheila Helland gazes at a wall with photograph of the plant's employees. In a few days, most will be out of a job.
"It's been rough, it's been rough," she said. "It's affecting a lot of people — a lot of people's lives."
Helland, who has been with the ethanol co-op since it opened 25 years ago, is the plant's human resources manager and was involved in late August with breaking the news to 37 Corn Plus workers that they were being laid off because the plant is closing indefinitely.
Located in Winnebago in south-central Minnesota, Corn Plus is one of Minnesota's first ethanol production facilities. Farmers pooled money to build it, and when it opened in the 1990s, it stood as an early symbol of the corn-based renewable fuel's ascendance in southern Minnesota.
Grow the Future of Public Media
MPR News is supported by Members. Gifts from individuals power everything you find here. Make a gift of any amount today to become a Member!
The closure of Corn Plus is just the latest blow to the region's agriculture industry. A combination of bad weather, low commodity prices and an ongoing trade war with China have taken a toll on most crop and livestock producers in this part of the state.
Helland said employees were aware the challenges could lead to layoffs.
"It wasn't a real big shock to anybody," she said.
Board chair Lawrence Sukalski said the ethanol market is saturated right now. And even though farmers and rural communities are a key part of President Trump's base, administration policies are shrinking demand for ethanol.
That includes the ongoing trade war with China. But Sukalski also points to last month's announcement that 31 small oil refineries won't have to blend ethanol into their gas.
"That's the tough one to swallow," he said. "And the combination of the two: We used to ship 20 percent of our ethanol to China. And now it's nearly zero."
Corn Plus has had its share of financial troubles over the years. The company was repeatedly fined — totaling hundreds of thousands of dollars — by state and federal regulators for failing to comply with environmental regulations.
About five years ago, the plant launched an $11 million investment to increase its efficiency.
Sukalski said at the time, the market indicated those investments would pay off.
"The last time we made money was about two years ago," he said. "We made around $1.5 million in six weeks. So, we knew we could do it."
After that, prices dropped. Sukalski said the plant has been bleeding about $100,000 a week ever since.
"We're kind of building a perfect storm," said Jason Ward, managing director of Northstar Commodity, a Twin Cities firm that helps agribusinesses manage risk.
His firm tracks ethanol profit margins weekly, and they've been negative for more than 12 consecutive months. Ward said he has never seen such a bad run in his nearly 20 years doing this job.
He said the ethanol industry recently had some productive years, which boosted demand and prices for Minnesota's corn crop.
"And then all of a sudden, you get a year like 2019. You get a trade war with China, which creates problems. You get some exemptions for refiners, and that creates problems," he said.
The weather has also been an issue, said Ward. Corn farmers in Minnesota and much of the Midwest have had to contend with a very wet couple of years. The weather has led to some temporary jumps in the price of corn. For ethanol producers, that's meant more expensive supplies.
Thirty miles west of Winnebago in St. James, Minn., Harold Wolle farms about 1800 acres of corn and soybeans. He said weather damaged his crop significantly this year, and he'll be relying on crop insurance to get by for the first time in a long time.
3 of 3
1 of 3
2 of 3
But weather isn't the only source of the financial pain Wolle is feeling. Corn prices have been low in general, and ethanol markets, which have helped support prices in the past aren't providing relief.
Wolle said what the market needs most is a trade deal with China and more access to other export markets.
"We have excess ethanol production capacity in this country, and the relief valve are exports," he said. "There is tremendous export potential. We need to make some breakthroughs on the political, so we are allowed to market there as well."
Back in the front office of Corn Plus, human resources manager Sheila Helland said she's hopeful ethanol prices will bounce back and the plant will reopen. In the meantime, she has no plans to take down the employee pictures on the wall.
"I'm going to leave them there," she said. "So, when we start up again, they'll still be there."