June-tember: Summer warmth and flood risk return
2 to 5 inches of rainfall possible by Friday
Here we go again.
The calendar says September. The weather maps are stuck in perpetual June. Summer warmth and downpours spill into meteorological autumn this week.
Monday's rains were just the appetizer for a soggy smorgasbord Wednesday and Thursday. The potential for heavy rainfall works north across Minnesota this week.
Summer returns Tuesday
September sun heats up a warm, humid air mass to summer levels. It'll feel more like July out there Tuesday afternoon.
Your local National Weather Service Office thermometer flashes 80 degrees in southern Minnesota and the Twin Cities Tuesday. September-like temperatures in the 60s linger across northern Minnesota north of the warm front.
Another multi-inch rain event
The air mass over Minnesota and the Upper Midwest is unusually soggy for mid-September. Dew points in the 60s and even 70s are more typical of mid-summer. That extra moisture is fuel for heavy downpours. Low-pressure waves work through late tonight through Thursday.
The National Oceanic and Atmospheric Administration's NAM 3 km resolution model paints multiple waves of rain and thunder across Minnesota starting after midnight through Thursday.
Flood risk
Several inches of rain will fall across a good chunk of Minnesota by Friday. Many of us will pick up another 2 to 4 inches. That's a month's worth of rain again this week, folks.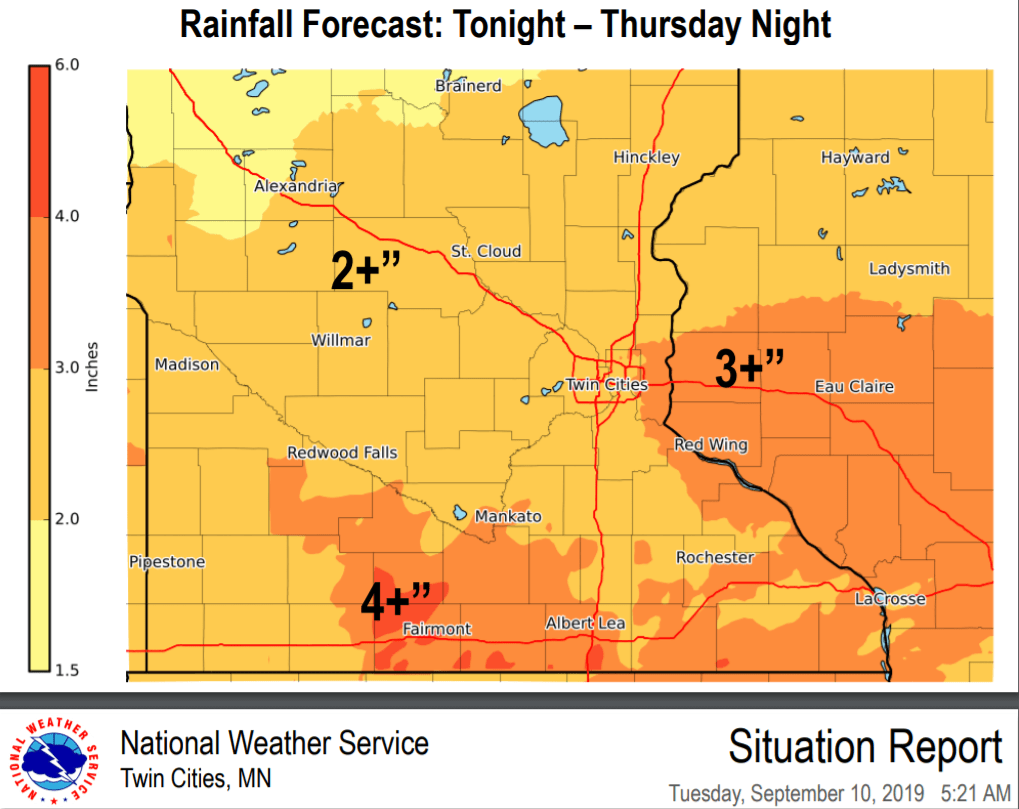 The Canadian model is especially aggressive with heavy rain potential with local totals in excess of 5 inches close to the Twin Cities.
June weekend ahead
This upcoming weekend will feel more like late June. Highs in the 80s linger into next week. Some models suggest highs between 85 and 90 degrees for the Twin Cities and southern Minnesota next Monday and Tuesday.
Right now, I don't see any real sign of true fall until at least the last week of September.
Stay tuned.