September warmth; storm chance late Tuesday
Slight severe risk Tuesday evening
This is a September to remember in Minnesota's weather record books.
The Twin Cities and much of southern and western Minnesota enjoyed seven straight days in the 80s last week. Temperatures this month are running 4.5 degrees warmer than average through Sunday in the Twin Cities.
Warmer than average air hangs around through Tuesday. A cold front blows in cooler air by Wednesday with highs in the 60s Wednesday through Saturday. Overall it looks like we'll run about 2 degrees warmer than average for the last week of September.
Storm chances Tuesday
A cold front cuts into our lingering summery air mass late Tuesday. Forecast models favor scattered storms across northern Minnesota Tuesday, then a developing line of storms near the Twin Cities into southeast Minnesota and Wisconsin late Tuesday afternoon and evening.
Here's NOAA's NAM 3 km model version of events.
NOAA's Storm Prediction Center paints a low to slight risk of severe storms Tuesday evening.
Colder next week?
There are signs of significant pattern changes next week across Minnesota and the Upper Midwest. Monday looks mild, but the upper air pattern favors some intrusions of colder Canadian air as we move into October.
The overall pattern favors a cold west, warm east, scenario in early October with Minnesota riding the boundary.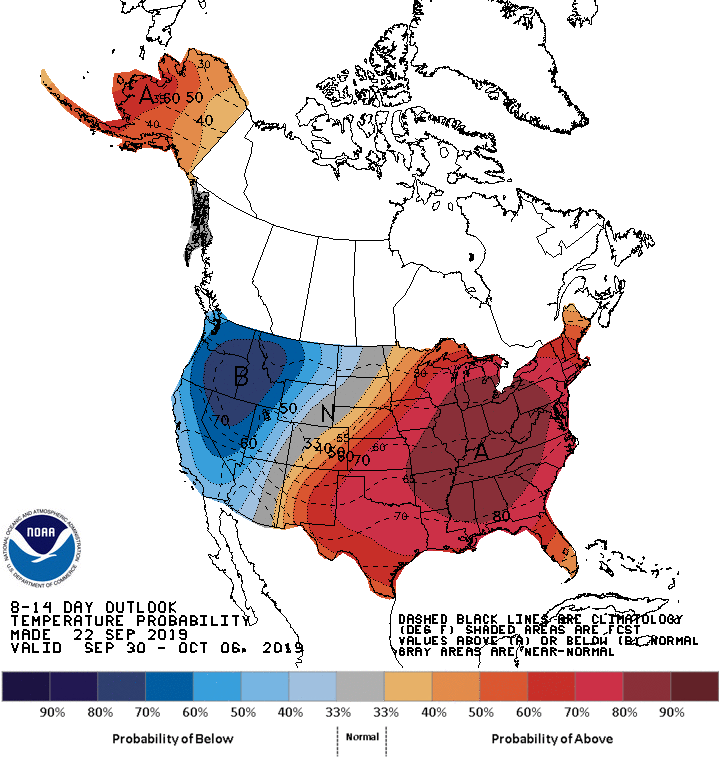 Tropical Storm Kate
Tropical Storm Kate is expected to move generally north the next few days.
The longer-range spaghetti models suggest a possible left turn late this week.
It's still early, but Florida and the east coast will need to watch for developmets this week.