Models gaining consensus on likely snow zone
Blizzard conditions possible in North Dakota
Forecast model consensus is starting to emerge on our late-week storm system. If the model trends are right, this could be an early cold-season blizzard for eastern North Dakota and parts of the Red River Valley.
A winter storm watch is posted for parts of eastern North Dakota and the northwest corner of Minnesota.
Including the cities of Hallock, Karlstad, Lancaster, Cavalier, Walhalla, Drayton, Pembina, Neche, St. Thomas, Grafton, Park River, Lakota, Mcville, Aneta, Tolna, Grand Forks, Cooperstown, Finley, Hope, Valley City, Edinburg, Adams, and Lankin.

414 AM CDT Tue Oct 8 2019 ...WINTER STORM WATCH IN EFFECT FROM THURSDAY MORNING THROUGH FRIDAY MORNING...

* WHAT...Heavy snow possible. Total snow accumulations of 6 to 9 inches possible. Winds could gust as high as 45 mph. * WHERE...Portions of northwest Minnesota and northeast and southeast North Dakota. * WHEN...From Thursday morning through Friday morning.

* IMPACTS...Travel could be very difficult. Areas of blowing snow could significantly reduce visibility. The hazardous conditions could impact the morning or evening commute. Gusty winds could bring down tree branches. *

ADDITIONAL DETAILS...There will be a very tight zone with transition from rain to snow. This will set up near Hallock, Grand Forks and Valley City. Thefore expect large snowfall differences, especially in Grand Forks county with less snow in the city and more snow west of the Air Base.
Minnesota mild for now
For most of Minnesota, we enjoy two more mild days before the weather begins to turn. Highs reach 70 degrees across most of Minnesota Tuesday afternoon.
Temps crash Friday
Thursday marks a temperature transition day across Minnesota. By Friday you'll be reminded of two undeniable facts.
We live at 45-degrees north latitude.

It's October.
Heavy snow and blizzard chances growing
There's no sugar-coating forecast trends for eastern North Dakota and the Red River Valley. Forecast models have begun to cluster around the notion of heavy snow with driving winds across eastern North Dakota and the Red River Valley by Friday.
The National Oceanic and Atmospheric Administration's Global Forecast System model was the far eastern outlier with snowfall accumulations well into northern Minnesota. It has now moved closer to the Canadian and European model solutions.
The model consensus is close enough on the geography of the snow zone I feel comfortable posting a couple of still early model snowfall projections. Focus on the geographic distributions here, and not necessarily on projected totals.
The Canadian model favors the heaviest snows across eastern North Dakota grazing the Red River Valley.
The American (GFS) model places the snow bull's eye across the Red River Valley. The GFS totals are prolific and 40-plus inches may be overdone.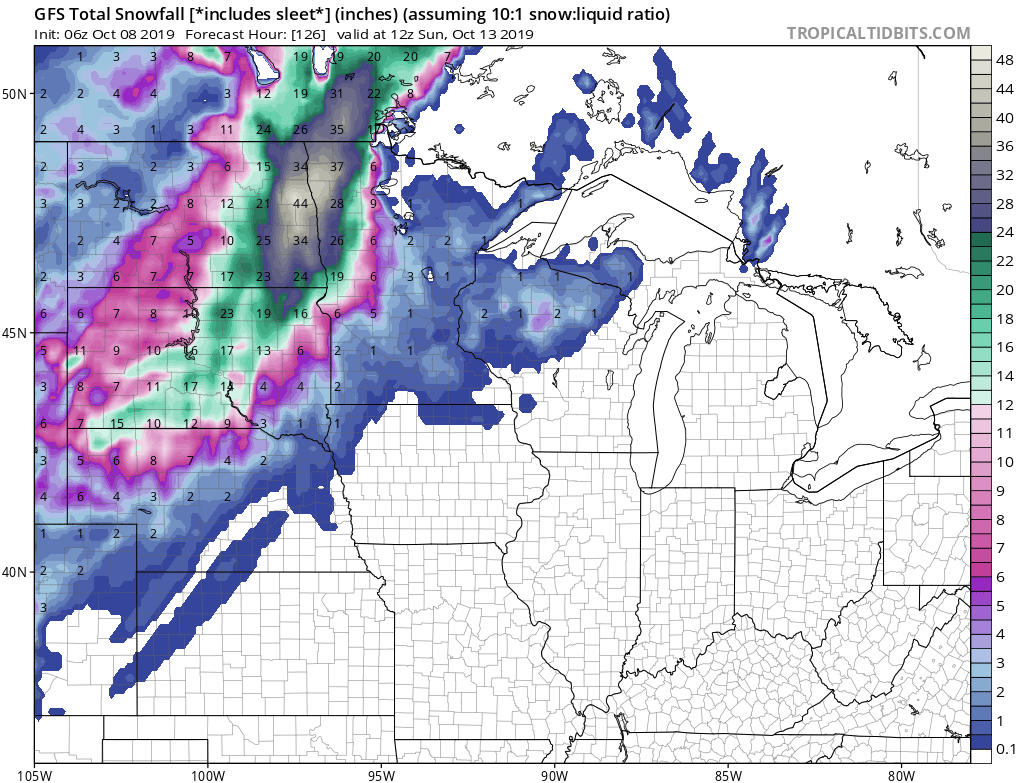 The National Weather Service Grand Forks, N.D., office notes there is still a good deal of uncertainty on the eventual heavy snow zone.
At this point, all scenarios favor only some snow showers for the Twin Cities Friday night and Saturday.
Stay tuned.