Snow delivers; cold next; milder in 2 weeks?
4 to 5 inches near Rochester
Wednesday's snow system delivered pretty much as advertised across southern Minnesota. Morning roads were slick, as predicted, from parts of the Twin Cities all the way to Iowa.
Here are some select Minnesota snowfall totals from Wednesday's weather system, in inches:
Chanhassen, .1

Prior Lake area, .6 to 1.4

Northfield, 2.8

Rochester, 3.9

Austin, 4

Stewartville, 5
1 for 1
When I was getting started as a forecaster in the weather biz at Weather Command in Chicago, a mentor of mine was a veteran Air Force meteorologist named Forrest Archer. For snow forecasts Arch used to say:
"nail the first and last storm of the season for sure. People remember those more."
In the 1980s before all things internet, Arch used to plot snow start times from inbound Alberta clippers as far northwest as Yellowknife on Great Slave Lake in Canada's Northwest Territories. That's 1,700 miles from Chicago.
The lesson? There's no substitute for being painfully thorough in weather forecasting. That lesson still works today.
Interesting to note that the National Oceanic and Atmospheric Administration's upgraded Global Forecast System model handled Wednesday's snow system fairly well.
Fingers crossed.
Cold next
You'll notice those northwest winds kicking up late Wednesday. The first shot of cold lingers into Friday morning. We turn milder Friday afternoon through Saturday before an even colder air mass arrives Sunday.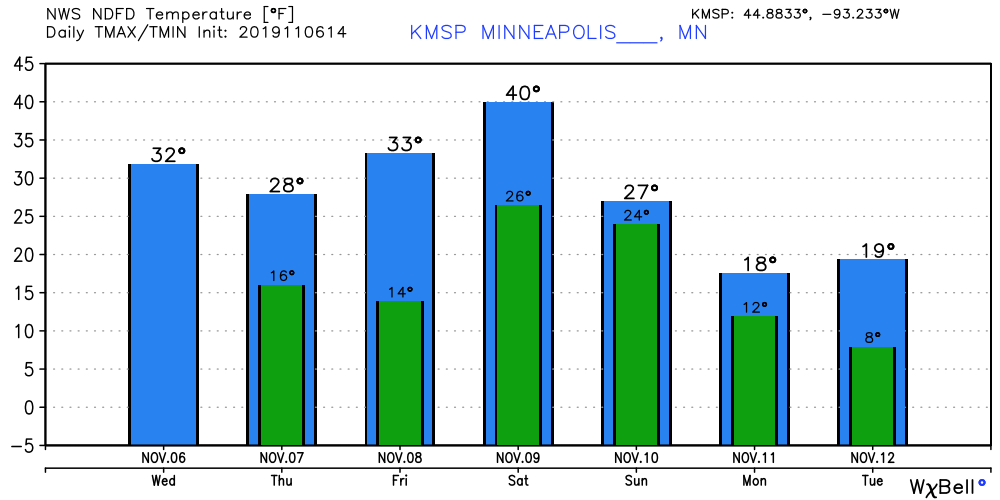 Milder in two weeks?
The medium-range upper-air models still hint at possibly milder air in about two weeks. I'm always skeptical about two-week forecasts. But then again, I'm almost always skeptical.
Large-scale weather patterns often shift every four to six weeks. So it wouldn't shock me to see us shift into a milder phase across the Upper Midwest in late November.
Stay tuned.