St. Paul gives Ford plant site development the green light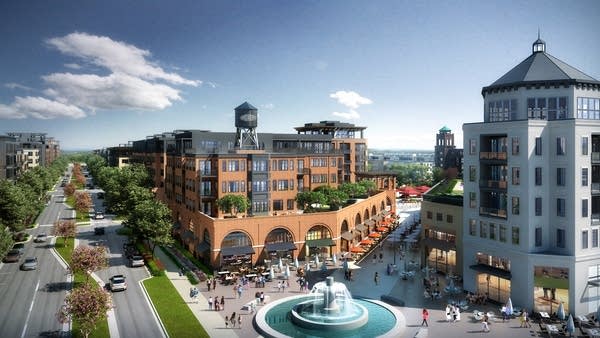 St. Paul has struck a final deal with the developer planning to remake the massive former Ford Motor Company assembly plant in St. Paul.
Mayor Melvin Carter and Ryan Companies on Tuesday announced the agreement on the vacant 122-acre site in the Highland Park neighborhood, promising hundreds of new housing units, more than 13,000 construction jobs and 1,000 permanent jobs on the site.
They also said it would have 3,800 housing units, 265,000 square feet of office space and 150,000 square feet of retail space.
"This is just the beginning," said Tony Barranco with Ryan Cos. "We'll have more conversations with the City Council. "We'd like to get started on construction in the spring."
The deal calls for 20 percent of the housing to be income-restricted, with 760 units affordable to households within 30 to 60 percent of the area's median income.
Carter said his administration planned to present the final development agreement to the City Council for formal approval this year.
More council approvals will have to follow on a virtually block-by-block basis as the site is built out, Ryan Cos. officials said.
The site has been the subject of rancorous debate in the area, as neighbors have called for both increasing residential density in Highland Park, and a stop to development that will add more traffic to neighborhood streets. Opponents tried and failed in 2017 to put the city's plan up for public vote in a referendum.
Developer Mike Ryan said the construction process will be lengthy. He expected it would be three years before the first residents to move into the area, and five years before the infrastructure and public amenities were completely built out.
Carter said it would add $1 billion of value to the city's $23 billion property tax base and said the deal his administration struck calls for at least $53 million in tax increment financing, or TIF, to build out streets and other public infrastructure on the site.
Barranco said he expected the developer would also likely seek more TIF to build affordable housing on the site as construction rolls out. He declined to put a final figure on public subsidy for the project or characterize what proportion of public aid the initial $53 million represented.
The assembly plant in St. Paul's Highland Park neighborhood started production in 1925 and made a variety of vehicles and military equipment over the decades. The plant closed in December 2011, when the last Ford Ranger pickup truck, the factory's only product, ceased U.S. production.
The company has mounted a major cleanup effort in the years since, demolishing the plant and cleaning up pollution left by nearly a century of industrial production.

St. Paul Ford site redevelopment images
4 of 4
1 of 4
2 of 4