Outpouring of donations, scramble to find shelter after Minneapolis fire displaces 250
Firefighters worked for hours to extinguish blaze; 3 people injured
Updated: 7:45 p.m.
A four-alarm fire at a downtown Minneapolis shelter Christmas morning sent three people to the hospital and displaced about 250 residents. The community responded with an outpouring of donations on the holiday, as residents and authorities scrambled to find new places to stay for those displaced by the fire.
Firefighters evacuated residents from the Francis Drake Hotel, which was reported on fire at about 3 a.m. Wednesday, fire officials said. The fire was still smoldering into late Wednesday afternoon at the hotel that served as a temporary shelter for the homeless.
"Luckily, everybody was able to get out of the fire," said Assistant Chief Bryan Tyner.
"I do know that the building was not a sprinkler building," he said. "However, given that everybody was able to escape at that time in the morning, I would have thought that the fire alarms were probably operational."
Photo gallery
7 of 7
1 of 7
2 of 7
Three people were taken to the hospital with minor injuries, Tyner said.
Minneapolis Mayor Jacob Frey took to Twitter to express his concern, calling the fire heartbreaking.
By early Wednesday afternoon, a flood of donations, including clothing, blankets and other supplies, had been dropped off near the hotel.
A Red Cross spokesperson said that at least until it could find housing for the displaced residents the organization had collected enough in-kind donations. It said people could still help by making financial contributions to the organization.
Several organizations and groups were also mobilizing to help those left homeless by the fire — again. The aging Drake served as temporary shelter for the low-income and for the homeless; the building is expected to be a total loss, Tyner said.
Fire crews arrived at the hotel to find heavy fire on the second floor. Firefighters were able to clear the building of occupants and extinguish the bulk of the blaze in four units relatively quickly, Tyner said.
They were unable to prevent the fire from extending into the attic of the three-story building. Firefighters evacuated the building and switched to attacking the fire from the outside.
Fire crews remained at the scene as of Wednesday afternoon.
Drake resident Jason Vandenboom said that when he saw flames coming through a window in the courtyard of the U-shaped building, he started pounding on his neighbors' doors.
"I told my wife we've got to get out now. I mean I didn't even grab my wallet. Because there was smoke in the hallway already starting to come through the building," he said. "And there were a lot of people, it was pretty chaotic. But it was fairly organized chaos, people were pretty calm walking out. I think we got everyone out."
The Red Cross was on site early Wednesday morning, with several Metro Transit buses providing temporary shelter, but its representative said they're working on longer-term solutions.
Vandenboom said displaced residents will need a lot of help.
"I mean, this has been a place for people in need already, to have as some support, you know, and losing this is going to be very, very hurtful for downtown," he said. "We need to get, hopefully, a lot of relief effort involved to help all of us out with this situation."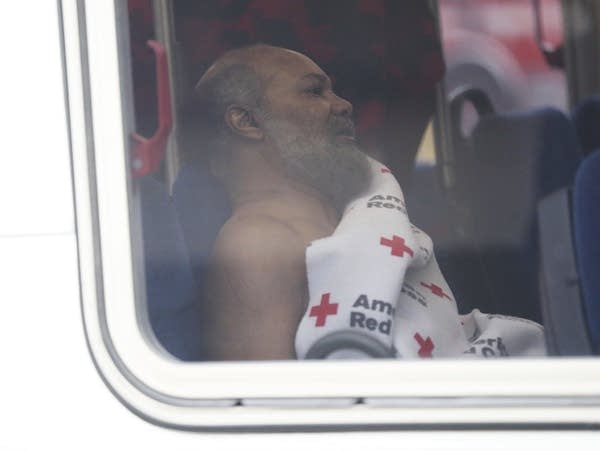 The cause of the fire will be under investigation once the suppression activities have been completed, according to the fire department.
The Drake Hotel opened in 1926 as a luxury hotel. It's still privately owned but has become a residential hotel. In recent years Hennepin County has used it as a temporary overflow shelter.
Your support matters.
You make MPR News possible. Individual donations are behind the clarity in coverage from our reporters across the state, stories that connect us, and conversations that provide perspectives. Help ensure MPR remains a resource that brings Minnesotans together.