Many Minn. companies are sending employees home to work, but it's not an option for everyone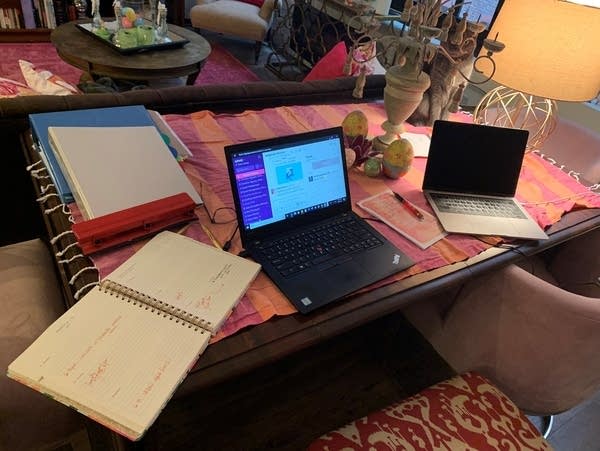 Across Minnesota and the nation, companies that can are telling scores of employees to work from home for the foreseeable future.
But not all work can be done from a worker's dining room with a laptop and internet connection. And some industries are too vital to slow down.
The international medical supply company Medtronic, with its corporate headquarters in Fridley, said Friday it is allowing much of its office staff to work from home starting Monday. It's a precautionary move designed to keep COVID-19 from spreading through the company's workforce.
But Medtronic also makes ventilators, and a whole list of medical products that will become increasingly critical as the novel coronavirus spreads. So, the company has to keep their factories and supply chains going.
Grow the Future of Public Media
MPR's budget year comes to a close on June 30. Help us close the gap by becoming a Sustainer today. When you make a recurring monthly gift, your gift will be matched by the MPR Member Fund for a whole year!
According to a Medtronic spokesperson: "Business-critical employees including those in manufacturing or distribution have been asked to continue to come to work and practice social distancing and public health hygiene guidance, such as frequent hand washing."
Social distancing is a public health approach that encourages people from keep away from large groups and to keep distance between individuals in order to help slow the spread of an illness.
On Friday, Gov. Tim Walz, while encouraging social gathering limits to under 250 people, said his community mitigation steps include strategies for Minnesota companies to adjust their workplace practices.
General Mills is also struggling to "limit exposure to the virus while continuing to safely operate our business," according to the company's communication department. Employees who can work from home have been asked to do so until at least April.
It was unclear how many Medtronic and General Mills employees — or across Minnesota — would begin working remotely and how many would remain in factories, laboratories or offices.

At Minnesota Public Radio, the majority of employees are working from home.
"These precautions are inconvenient and disruptive for all of us," Jon McTaggart, president and CEO of American Public Media Group, said in a note to staff this week. "And they are necessary."
Target, meanwhile, has increased employee hours at all stores. CEO Brian Cornell wrote a company-wide letter, which was updated Thursday.
He said the goal is to keep stores cleaner than ever — disinfecting touch screens every 30 minutes.
And while he said Target is staffing up to provide order pick up and drive-up services, he said that sick employees are encouraged to stay home and the corporation has suspended non-critical travel, as have many other companies. The retail giant also waived its absenteeism policy and extended paid sick leave for employees who are quarantined or are diagnosed with COVID-19.
This is a developing story and MPR News will update.