'This is not grieving': Fires, looting rock Mpls. in Floyd protests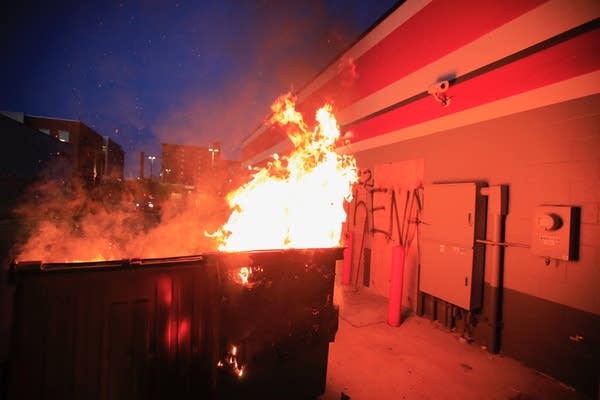 Updated: 3:30 a.m., May 30
In stunning terms typically heard in war zones, not the Twin Cities, Gov. Tim Walz vowed to hold ground, restore order and take back the streets of Minneapolis from what his public safety chief described as an "armed … entrenched group of rioters."
During a 1:30 a.m. briefing Saturday, Walz conceded his administration had underestimated the size of the crowds they expected to face in Friday's protests — as well as their level of aggression and tactics. Police were fired on.
Walz said he would call up another 1,000 Minnesota National Guard soldiers in response, putting more than 1,500 Guard members on the streets — the largest civilian deployment in Minnesota history.
Right now, he said, authorities don't have the bodies to enforce the curfew. "We cannot arrest people when we're trying to hold ground," he said. "There's simply more of them than us."
Grow the Future of Public Media
MPR News is supported by Members. Gifts from individuals power everything you find here. Make a gift of any amount today to become a Member!
'No reason to burn the city'
Walz's remarks came as Minneapolis was rocked by another night of looting and fires as thousands of protesters defied an 8 p.m. curfew intended to keep people off the streets and stem the violence of the past few nights driven by the anger over George Floyd, a black man who was killed Monday while in police custody.
Instead, crowds began massing in Minneapolis soon after sunset, setting the stage for another night of confrontations that rolled from late Friday overnight into Saturday.
Officials the past few days have struggled to balance the rights of protesters to peacefully demonstrate and call out their anger over Floyd's killing with the need to maintain social order in the Twin Cities.
The situation, however, changed dramatically on Thursday night after protesters overran and burned the 3rd Precinct police headquarters, crowds had gathered much of the night around the 5th Precinct station on Nicollet Avenue, south of Lake Street.
By 11:30 p.m. Friday night, Mayor Jacob Frey was imploring people to stay off the streets. "This has gotten incredibly dangerous," he told MPR News. "I understand that people are angry now. But there's absolutely no reason to burn the city down."
Walz said later he fully understood the rage of people over the killing of Floyd and the need to grieve, but said the wanton destruction of property and businesses could not be tolerated. He was especially concerned about small ethnic businesses in Minneapolis and St. Paul.
"This is not grieving," Walz said of what was playing out on the streets.
"Why are we talking about anarchists who are burning down damn buildings that were businesses built up by our Indigenous and black communities, instead of talking about, we had a horrific situation where a police officer murdered and was charged for the death of a black man."
State and city leaders believed the curfew and Guard presence could shift the dynamic. But that didn't happen.
Medaria Arradondo, the city's police chief, said the 5th Precinct would not be overrun. "We will not have another repeat" of what happened at the 3rd Precinct Thursday night, he told MPR News.
There was no repeat, although just after midnight, the Minnesota Department of Public Safety said shots had been fired at law enforcement officers near the 5th Precinct. No officers were seriously hurt but arrests were made. Walz said Minnesota State Patrol troopers held the line at the precinct.
Security for firefighters
There were some peaceful protests Friday, with crowds at one point honoring Floyd around the 5th Precinct station. Conditions hadn't deteriorated into the depth of chaos seen on Thursday when mayhem tore through swaths of the Twin Cities.
Still, looting and fires continued to burn around Minneapolis. And there still appeared to be confusion about the National Guard's role.
Earlier in the evening, assistant chief Brian Tyner told MPR News the fire department wasn't able to get to all of them quickly. He said the National Guard was not assisting fire crews Friday night, that only the Minneapolis police was providing security.
Later, Frey said the Guard had begun providing support and that crews were out fighting fires but their efforts were made more difficult by the number of fires and the thousands of people in the street. "Our firefighters are simply playing whack-a-mole," Frey said.
Walz later tweeted the Guard and Minnesota State Patrol were on the ground and responding.
Late in the evening the Pentagon took the rare step of putting military police on alert to go to Minneapolis, the Associated Press reported.
The mayors of Minneapolis and St. Paul ordered city curfews starting at 8 p.m. until 6 a.m. Saturday, then restarting at 8 p.m. Saturday through 6 a.m. Sunday.
The hope was the cities could avoid a repeat of the past few days where peaceful protests over the killing of George Floyd dissolved into mayhem and looting after sunset.
Protests over the killing of George Floyd in Minneapolis continue Friday
13 of 13
1 of 13
2 of 13
St. Paul
By contrast, there were no reports out of St. Paul of widespread protests after curfew.
Earlier in the day Friday, St. Paul Police Chief Todd Axtell said he's asked for 400 members of the State Patrol and National Guard to help patrol St. Paul, which saw swaths of destruction and looting Thursday, especially in the Midway neighborhood.
"Free speech does not extend to breaking windows," St. Paul Mayor Melvin Carter told reporters.
He said he understood the pain and anger many felt as video surfaced of Floyd pleading that he couldn't breathe while a Minneapolis police officer pressed a knee against his neck. That officer was charged earlier Friday with murder and manslaughter in Floyd's killing.
Carter, though, implored protesters not to use their rage to "destroy our community institutions."
City police said more than 170 business had been damaged or looted overnight but with no serious injuries. Officers made seven arrests and responded to hundreds of calls, including 89 "shots fired" calls.
Fire officials said their squads responded to nearly 300 calls in the city, including 50 structural fires.
During the curfew hours, people are prohibited from streets or public spaces. Police and other emergency responders are exempt. Those caught violating the orders face a misdemeanor penalty and a $1,000 fine.
Axtell admonished those who were "disgustingly looting" Thursday night, drawing a line between peaceful demonstrators and "the people who decide to take this as an opportunity to victimize our community."
Weekend could be worse
Walz and other leaders worked to draw a rhetorical line separating civil demonstrators angry of Floyd's killing and antagonists in the crowds he described as "ring leaders" whose work resembled military operations — at one point mentioning people blocking the road and stopping semitrailers to steal.
This is not about George's death," Walz said of those actions. "This is about chaos being caused."
He said the state's goal was to protect lives, protect as much property as possible "and restore order on the streets."
He also made it clear how much of a challenge that will be this weekend as the crowds are expected to grow.
There are people in the crowds "who want to entice our people into conflict," he said, calling them a "force bent on destruction." Saturday, he said, "will be increasingly more difficult."
Curfews in the Twin Cities metro area
Multiple other cities and counties in the Twin Cities metro area have also announced similar curfews.
Roseville: Overnight curfews will be imposed from 8 p.m. through 6 a.m. for three days starting Friday night.

Bloomington: A nighttime curfew goes into effect Friday night from 9 p.m. through 6 a.m. Saturday and 8 p.m. Saturday through 6 a.m. Sunday.

Maple Grove: A curfew in all public places takes effect from 8 p.m. Friday through 6 a.m. Saturday and 8 p.m. Saturday until 6 a.m. Sunday.

Osseo: A citywide, overnight curfew from 9 p.m. through 6 p.m. starts Friday night and remain in effect for three days.

Richfield: A curfew will be in place from 9 p.m. Friday through 6 a.m. Saturday and 8 p.m. Saturday through 6 a.m. Sunday.

Brooklyn Park: An overnight curfew takes effect from 8 p.m. to 6 a.m. starting Friday night through Monday morning.

Robbinsdale: 8 p.m. to 6 a.m. starting Friday night and until further notice

Brooklyn Center: 8 p.m. through 6 a.m. Friday and Saturday night. The curfew could be extended additional nights.

St. Louis Park: A citywide curfew is in place from 10 p.m. Friday to 6 a.m. Saturday and resumes at 8 p.m. through 6 a.m. from Saturday night until Monday morning.

Dakota County: Countywide curfews will be in place from 8 p.m. Friday to 6 a.m. Saturday and resume at 8 p.m. Saturday until 6 a.m. Sunday.

Anoka County: Overnight, countywide curfews are in place from 8 p.m. Friday to 6 a.m. Saturday, 8 p.m. Saturday to 6 a.m. Sunday, and 8 p.m. Sunday through 3 a.m. Monday.