Sharpton at George Floyd's Minneapolis memorial service: 'Get your knee off our necks'
Hundreds of family, friends, elected officials, celebrities and civil rights activists gathered Thursday at a Minneapolis chapel to honor George Floyd at the first of three memorial services for the man whose killing sparked protests across the nation and world.
As the four former Minneapolis police officers charged in his killing sat in jail cells, speakers — whose words were broadcast live — remembered Floyd as a kind man who was always there for his family. They demanded justice.
"What we saw on that video was torture," said attorney Ben Crump. "What we saw on that video was evil. So, America, we proclaim as we memorialize George Floyd, do not cooperate with evil. Protest against evil."
Crump said justice would mean going beyond prosecuting the four officers: "We seek a broader, more transformative justice. A more just treatment of people of color. A more just criminal justice system. Make the Constitution real for all Americans."
Grow the Future of Public Media
MPR News is Member supported public media. Show your support today, donate, and ensure access to local news and in-depth conversations for everyone.
The mourners included Gov. Tim Walz, Minneapolis Mayor Jacob Frey, U.S. Sen. Amy Klobuchar, Rep. Ilhan Omar, Rev. Jesse Jackson, and activist Martin Luther King III, comedian Kevin Hart and entertainers and activists Ludacris, T.I. and Master P.
Floyd, 46, was killed while in Minneapolis police custody on May 25. All four officers involved were fired. Derek Chauvin, who kept his knee on Floyd's neck for more than eight minutes during the arrest, has been charged with second-degree murder and second-degree manslaughter. The three other officers were charged with aiding and abetting murder and manslaughter.
Gallery
13 of 13
1 of 13
2 of 13
In a fiery eulogy at the service at North Central University, the Rev. Al Sharpton said what happened to George Floyd is symbolic of the long oppression of African Americans.
"We could do whatever anybody else could do, but we couldn't get your knee off our neck," he said. "It's time for us to stand up in George's name and say, 'Get your knee off our necks.'"
"Time is out for empty words and empty promises," added Sharpton, who will also speak at a service on Tuesday in Houston. "We're not stopping until we change the whole system of justice."
Watch the service on video:
Floyd's brother Philonise remembered playing video games and football with George growing up.
"We did a lot of things together," he said. "Dancing with my mom, cooking with my mom. We made banana mayonnaise sandwiches together." When the crowd laughed a little, he added, "It was a family thing."
The service ended with Sharpton asking the mourners present and people watching around the world to stand for eight minutes and 46 seconds, the amount of time Floyd was seen on video laying on the pavement with Chauvin's knee on his neck.
"As you go through these long eight minutes, think about what George was going through," Sharpton said. "We can't let this go. We can't keep living like this."
Floyd's death sparked 10 days of protests, riots and looting in the Twin Cities and across the country. The viral video of his killing, in which Floyd pleaded with officers that he couldn't breathe and called for his mother, has saddened and enraged people throughout Minnesota and the nation and led to immediate action.
In Minnesota, state officials launched a civil rights investigation, and the Minneapolis school district severed ties with the city's police department. In Virginia, Gov. Ralph Northam announced the state would remove a statue of Confederate Gen. Robert E. Lee in Richmond.
As the hearse carrying Floyd's body arrived at North Central University on Thursday, Minneapolis Police Chief Medaria Arradondo — the first African American to serve as chief in department history – kneeled to show solidarity and respect.
Floyd's gold coffin was at the front of the sanctuary surrounded by white flowers. On the screen behind the podium was an image of the mural painted to honor Floyd at the site of his death, at 38th Street and Chicago Avenue.
At the start of the service, the president of North Central University, Scott Hagan, announced the school would establish a student scholarship in Floyd's name to boost young African American leaders. He said $53,000 had already been donated to the fund.
After the Minneapolis service, Floyd's body will then go to Raeford, N.C., where he was born 46 years ago, for a two-hour public viewing and private service for the family on Saturday.
Finally, a public viewing will be held Monday in Houston, where he was raised and lived most of his life. A 500-person service on Tuesday will take place at The Fountain of Praise church and will include addresses from Sharpton, Crump, and the Rev. Remus E. Wright, the family pastor. Former Vice President Joe Biden, the presumptive Democratic presidential nominee, may attend, and other political figures and celebrities are expected as well. A private burial will follow.
Due to the coronavirus, Fountain of Praise will be limited to 20 percent of its capacity and visitors will be required to wear masks.
Floyd's final journey was designed with intention, according to Sharpton's National Action Network. Having left Houston for Minneapolis in 2014 in search of a job and a new life, Floyd will retrace that path.
Clayborne Carson, director of the Martin Luther King, Jr. Research and Education Institute at Stanford University, said that "for a person who was pretty much unknown to the world until just last week, this is unprecedented."
"This has touched a nerve," Carson said. "It's been building up for all of American history. I think that people who are aware of the history of this country understand that there's a lot to atone for and a lot to celebrate in terms of people who stood up for justice."
The size of Floyd's memorial reflects his impact and the need to recognize the widespread grief his death has caused, said Tashel Bordere, an expert on grief and assistant professor at the University of Missouri. It also reflects a tradition particularly in African American communities that large funerals can provide the recognition that a lost loved one struggled to receive in life.
But, she added, "grief goes far beyond the funeral; healing goes far beyond the funeral. Justice is experienced when people feel safe in their communities and in their lives."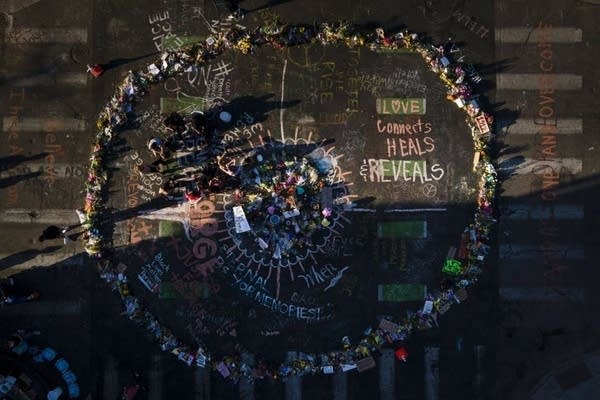 Carson said the impact of Floyd's death would ultimately be measured by changes in how police treat African Americans and the disparate rates at which black men are incarcerated.
"Otherwise, it'll just be the next George Floyd and the one after that," he said.
The Associated Press contributed to this report.