Poll: Reallocate money from MPD, but keep the department
A majority of Minneapolis voters say the city should redirect funding from the police department to mental health, drug treatment or violence prevention programs but many also say the city should keep the department in working order. 
That's according to a new MPR News/StarTribune/KARE-11 Minnesota Poll which takes the temperature of city residents' opinions about city and police leadership, the police union and people's views about race and the criminal justice system. 
The poll sheds new light on residents' views of the police department as a majority of the Minneapolis City Council has pledged to abolish it.
The poll of 800 registered Minneapolis voters conducted by Mason-Dixon Polling found that nearly three-fourths — 73 percent — said Minneapolis should redirect funding from the police department to mental health, drug treatment or violence prevention programs. 
Grow the Future of Public Media
MPR News is supported by Members. Gifts from individuals power everything you find here. Make a gift of any amount today to become a Member!
That opinion was equally shared by respondents from different racial groups.
Zarita Hester is Black and works for a social service agency in Minneapolis. She said organizations like hers compete for a small pot of money. 
"And then you have a large portion of money that's going towards the police," Hester said, adding that putting more money into programs which help people struggling with mental illness or to find housing, will actually help the police in the long run. 
Still, Hester said the police department still needs to be adequately funded. 
"Because there are individuals in our society that — for whatever reason— violence is that answer for them. And so, yes, we need police to be there for that respect."
Most of those polled shared Hester's nuanced view of the police and did not favor reducing the size of the police force. Overall, 44 percent said the force should not be reduced while 40 percent favored reductions and 16 percent said they weren't sure.  
The poll looked closely at the views of Black Minneapolis residents by talking to 500 Black registered voters. Black residents were slightly more likely than whites to oppose reductions in the police force. Fifty percent of Black residents opposed cuts to police staffing, while 44 percent of whites opposed cuts.
When asked how a significant reduction in the size of the force would impact crime, residents tended to believe it would make them less safe. Overall, 48 percent said it would have a negative impact on public safety while 26 percent said it would be positive. Fourteen percent said it would have no effect and 12 percent weren't sure.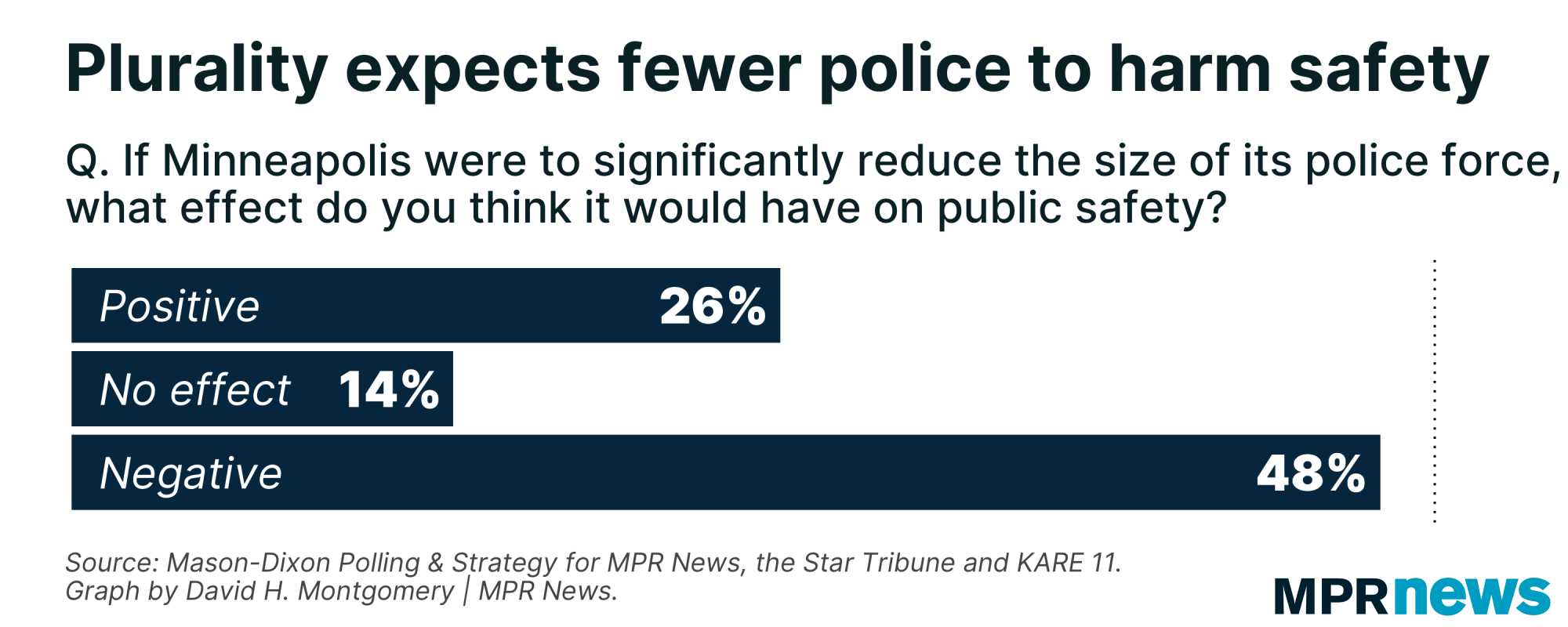 Scott Chumbly is white and lives a few blocks from the intersection of Lake St. and Chicago Ave. where rioters burned and looted several businesses in the aftermath of the police killing of George Floyd. Chumbly said there should be more officers and that any talk about reducing the force right now is ridiculous. 
"I think it's really obvious to any thinking individual; anybody that has any ability to put one thought to another that it would be disastrous," he said. "Crime is already skyrocketing."
Black residents were more likely than whites to say crime is on the rise. The poll found that two-thirds of Black residents and fewer than half of whites say crime has gone up. 
Jasmine Elliston is Black and lives less than a mile from where George Floyd was killed. Elliston said the presence of officers may make some African Americans nervous, but they don't want police to leave.
"I don't think anybody I know personally is like, 'I don't want police in my neighborhood.' I want police in my neighborhood that look at me as a person first, and not a perpetrator."
The poll also measured residents' opinions about Mayor Jacob Frey and the Minneapolis City Council. Overall, residents gave the mayor higher favorable ratings than the council. 
Stephanie Erickson, who is white, said members of the council haven't done a good job of communicating how they want to change the police department. She said the announcement they made in Powderhorn Park about the future of the police earlier this summer wasn't well thought out. 
"Using the term, 'abolish the police' I think freaked out a lot of people. And when you say that you should have a plan in place as to what that would possibly look like," Erickson said.
Regardless of survey respondents' opinions on the size, scope and leadership of MPD, changes are already underway. The chief has pledged to make reforms to police culture. The size of the force has shrunk as more than 100 officers have either taken leave or retired. And council members say they plan to do more to move money from the police budget to other departments during the upcoming 2021 budget process. 
The poll of 800 registered Minneapolis voters was conducted between Aug. 10 and Aug. 12. It has a margin of error of plus or minus 3.5 percentage points. The parallel survey of 500 Black Minneapolis voters was done between Aug. 6 and 12. It has a margin of error of plus or minus 4.5 percentage points.