Trailcam captures busy life on Voyageurs 'wolf and bear highway'
Recently released video by the Voyageurs Wolf Project offers an intimate look at the busy lives of wolves, bears, moose, otters and lynx that call the national park home
Wolves, moose, bears and lynx all call Minnesota's North Woods home — but they can be a little camera-shy.
So when a well-placed trail camera captured all those creatures and more last fall in Voyageurs National Park in a kind of extended wildlife parade, researchers saw it not only as a scientific success but an opportunity for the public to see a part of life that mostly goes unnoticed.
Filmed day and night, "One month on the wolf and bear highway" shows a bear and cub running together across the grass, a curious moose investigating the team's camera, more hungry bears, more moose, a lynx, marten and fisher, a family of otters, cats and wolves exploring their territory.
Footage from the Voyageurs Wolf Project confirmed that a pack the group's been following in the area, called the Whiskey Point pack, produced a litter of pups. At least four were still alive as of October.
Grow the Future of Public Media
MPR News is Member supported public media. Show your support today, donate, and ensure access to local news and in-depth conversations for everyone.
"It was a breeding pair, a mom and dad, basically. And then they produced pups, and now the pack is bigger, and that's really cool," said biologist Thomas Gable, whose team shared the fall footage of the wild animals living and playing in Voyageurs. 
"Whenever a group of wolves takes over a territory, the real question is, are they going to produce pups?" he said, adding that the footage supports their data about how wolf packs grow, and how pups survive into adulthood.
Some of the other wildlife captured was fascinating, too. The lynx is a cryptic animal that can be hard to document, Gable said, and it was an unexpected surprise to see several different moose in that part of Minnesota. 
The bears filmed in Voyageurs are always hungry, said Joseph Bump, an associate professor with the University of Minnesota Department of Fisheries, Wildlife, and Conservation Biology who works with Gable.
"They're trying to maximize their weight gain before that winter slumber," Bump said of the bears. Forests, a lake and a game trail help to sustain diverse wildlife. "It's just neat to think about that whole community," he added.
Funded through the University of Minnesota and Minnesota's Environment and Natural Resources Trust Fund, the Voyageurs Wolf Project examines wolf behavior and ecology.
Researchers used their expertise to pick camera sites that would capture wildlife. Choosing the "highway" paid off. 
"With these remote cameras, and with the technology available now, you can get pretty high definition videos delivered to people's phones," Bump said.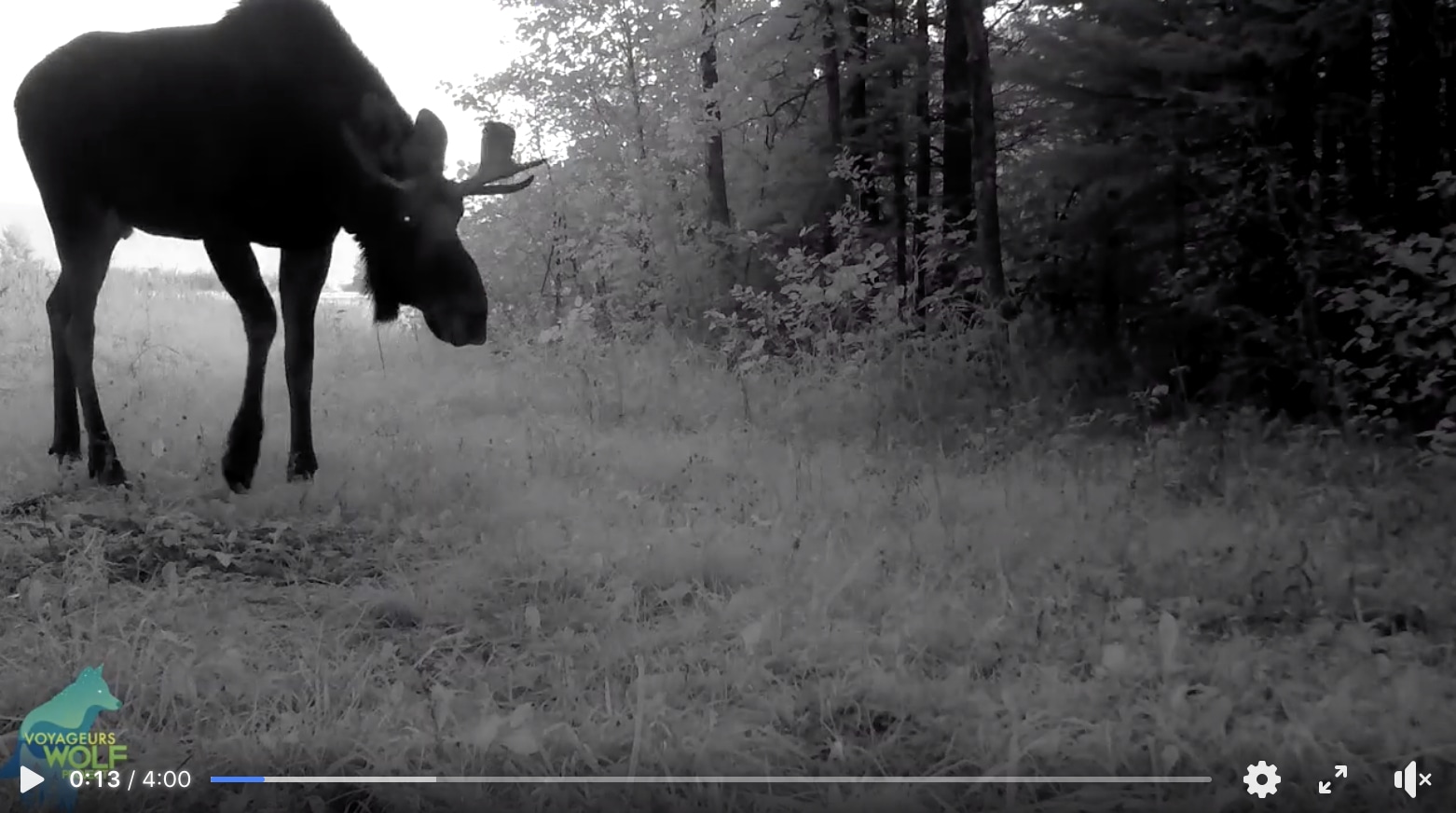 As they continue to follow the wolves and gather data, Bump said they are working to better understand how humans and wolves coexist, and approaches to minimizing conflict between wolves and livestock in the region.
As they share videos like the wolf and bear highway, the team hopes to encourage public appreciation and empathy. 
"Voyageurs National Park and the surrounding area is really a national treasure," Bump said. "And the wildlife that's in it is pretty amazing."