Possible polar vortex signs emerging in February
Medium-range models favor extreme cold potential for Minnesota
File this one under increasingly likely, but not a sure thing.
For a few days now, the medium-range forecast models in the one- to two-week range strongly favor a scenario across the northern hemisphere that could bring the coldest air of winter to Minnesota in February.
Some of the coldest air on planet Earth has been pooling from Greenland westward across north-central Canada to Hudson Bay over the past couple of weeks. Temperatures in northern Canada have been running in the negative 30s.
Polar vortex outbreak late next week?
The National Oceanic and Atmospheric Administration's upper-air forecast charts continue to favor a chunk of that polar vortex spinning southward toward the Great Lakes in about seven to 10 days.
Here's the latest upper air forecast chart for Monday evening Feb. 7. Note the deep upper-level low diving south from Hudson bay toward the Great Lakes.
If this pattern evolves, it will put Minnesota in a bitterly cold northerly flow behind the descending polar vortex lobe. The bitter air masses could come in several swipes. The first one late next week looks bitterly cold. The European, American and Canadian models all bring severe cold into Minnesota by next Thursday morning.
The European Centre for Medium-Range Weather Forecasts model is currently cranking out temperatures in the negative 20s to around 30 below zero across Minnesota next Thursday morning.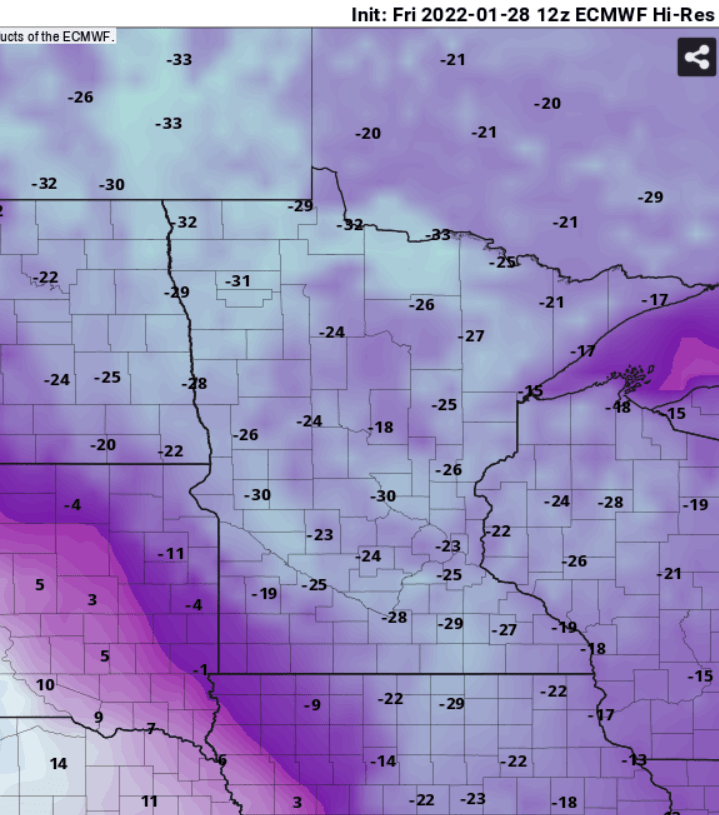 Forecast models also suggest a second push of extreme cold early in the week of Feb. 6. Here's the Canadian model temperature output for Tuesday morning Feb. 8.
Sometimes these temperature outputs can be overly aggressive. It's possible the air masses over Minnesota may not be quite that cold. But with forecast models cranking out 23 to 28 below zero for the Twin Cities in the next seven to 10 days, the odds of the Twin Cities area hitting at least negative 20 are growing.
So far this winter, the coldest temperature recorded at the Minneapolis-St. Paul International Airport is 17 below zero on Jan. 7. We bottomed out at negative 16 on Wednesday morning Jan. 26. So if we make it to at least 18 below zero at MSP Airport in the next couple of weeks, that will be the coldest temperature of winter so far.
Of course, the overall weather pattern in the Northern Hemisphere could change and not be as severely cold for Minnesota in the one to two-week range. But current trends strongly suggest that the coldest air of winter may still lie ahead late next week or in the week of Feb. 6.
Stay tuned.
Your support matters.
You make MPR News possible. Individual donations are behind the clarity in coverage from our reporters across the state, stories that connect us, and conversations that provide perspectives. Help ensure MPR remains a resource that brings Minnesotans together.