Free training attracts more nursing students
When she heard about free certified nursing assistant classes, Glecia Charles thought it sounded too good to be true.
"I'm like, 'no money? You're sure?' I was like making sure," she said.
The 27-year-old single mom of two young daughters had been interested in taking a CNA class for several years.
"And I was so happy because it was the best thing that happened to me, because I couldn't afford to pay [for] a CNA class," she said.
MPR News is Member Supported
What does that mean? The news, analysis and community conversation found here is funded by donations from individuals. Make a gift of any amount today to support this resource for everyone.
She came to the United States after the 2010 earthquake devastated her home country of Haiti.
Charles, who lives in Fargo, N.D., is taking a free CNA class in Moorhead.
"I come here in Fargo because I want better for myself, and I want better for my kids," Charles said.
Charles sees the CNA training as a step toward her ultimate goal of becoming a nurse practitioner.
Elizabeth Maiers was looking for a change when she heard about the free CNA training from a nurse friend.
Maiers enrolled in a class at Ridgewater College in Hutchinson, Minn. The 39-year-old lives in Stewart, Minn., with her husband and two sons, and has worked a variety of jobs in the past.
"I'm kind of a jack of all trades, master of none, and I'm just kind of tired of the run around," she said. "So I definitely wanted a job where I felt I could be compassionate, where I'm just needed."
Maiers had two job offers a couple of weeks in to the training course and she took a job working at a long-term care facility in Buffalo Lake, Minn. She started at $15.50 an hour and her pay will increase to $17.00 an hour when she completes the CNA certificate.
"I definitely wouldn't be where I am if the class wasn't free," said Maiers. "I didn't have money set aside to take a new class. So when my friend told me that this class is offered for free, I jumped on that opportunity. It's made a huge difference."
The fact that the training is free seems to be a key driver of enrollment in CNA classes over the past month, officials said. Classes that had struggled to attract students in recent months filled up.
"What we did with this initiative was really eliminate that upfront financial barrier. And that seems to have made a difference," said Minnesota State HealthForce Center of Excellence Executive Director Valerie DeFor.
DeFor calculates the training cost at just over $1,500 per student, including instruction, books, a set of scrubs and the fee for the state test that's needed to become a certified nursing assistant.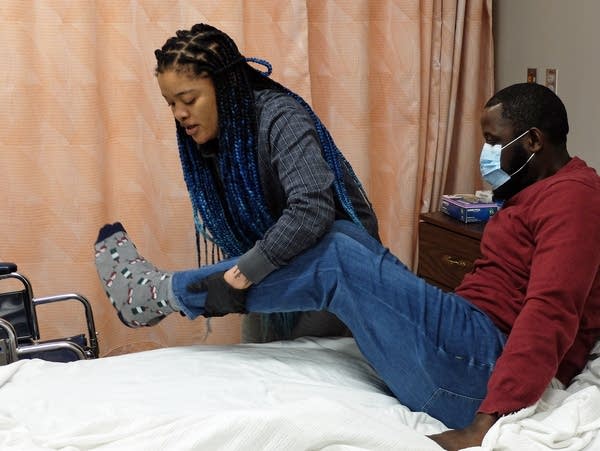 DeFor said there are nearly 800 students in nursing assistant training programs across the state and more than 200 on waiting lists because classes filled up. Currently, 34 classes are offered on 20 campuses across the state, and DeFor said additional classes are being added.
"We honestly might get to 1,000 [students] by the end of the month," she said. "But definitely sometime in February."
One thousand trained nursing assistants is the goal Gov. Tim Walz set last month when he announced the training initiative.
DeFor said meeting that goal would be a success, but 1,000 newly trained workers will still be far from meeting the need for workers in nursing homes across the state.
A recent industry survey found more than 10,000 nursing assistant openings.
"So I do hope that we are able to capitalize on the momentum of this initiative. That could include finding alternative funding mechanisms to make this training free," said DeFor.
"I think the thing we're finding is that paying for something upfront is a real challenge for all kinds of people," she said. "And if we can eliminate that barrier, I think there's people out there who want to enter this field."
DeFor said there are no current plans to extend the free CNA training, but there are ongoing discussions about possible funding sources.
Another challenge will be keeping those newly trained workers on the job.
"Retention is a concern for sure. There is historically a high turnover rate in certified nursing assistants," said DeFor. "What we hope to have happen is that we're getting people into this occupation who want to make a difference. Some of that retention work [also] falls to the skilled nursing facilities themselves."
Recent increases in pay at many facilities and additional state funding for worker recruitment and retention might help keep more workers on the job, she said.
Elizabeth Maiers is confident her training will lead to a long-term career in health care, and she's considering additional training. She's already learned the job is challenging, caring for people in the last stage of life.
"It's difficult sometimes, but it's also very rewarding to hold hands, to make eye contact, to have a resident remember your name, to smile when they see you walk into the room."