Minnesotans with ties to Ukraine feel anxiety, anger over Russian attack
Elected officials from both parties call for sharp and unified response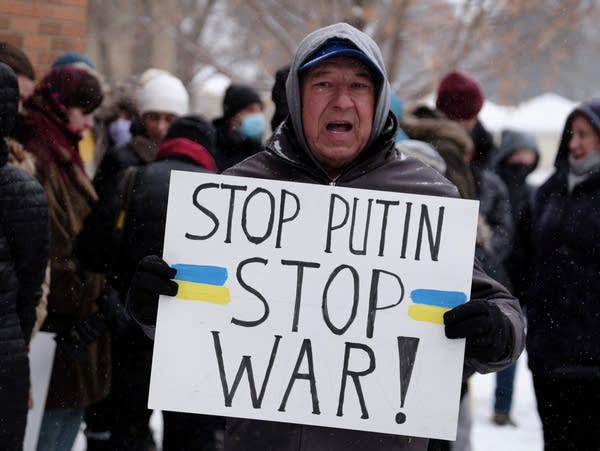 Updated: Feb 25, 6:30 a.m.
Minnesotans with family ties to Ukraine spent the initial hours after Russia's invasion of the country in a mix of shock, worry and anger as they tried to reach loved ones in the embattled nation. Elected officials across Minnesota's political spectrum called for a sharp and unified response.
Stephen Vitvitsky is a second generation Ukrainian American, with family living in Ukraine. Vitvitsky, who serves on the board of the Ukrainian-American Community Center in Minneapolis, described his reaction as "shock; deep, deep sadness; and... some anxiety for my family, relatives, friends and just generally the people of Ukraine who did not wish this."
After talking with relatives in Ukraine, he told MPR News' Morning Edition that there is massive anxiety across the country. He said although it's a very difficult situation, the people in Ukraine have resolve and courage.
Vitvitsky said his family can leave but are choosing not to.
MPR News is Member Supported
What does that mean? The news, analysis and community conversation found here is funded by donations from individuals. Make a gift of any amount today to support this resource for everyone.
"The adults are planning to stay and fight, joining the local self-defense units across Ukraine," he said. "The situation is obviously evolving pretty rapidly so they have to adapt as new information comes in, and as the fighting intensifies and expands across Ukraine."
"Folks have resolve and they have courage, but it's a very difficult situation for them."
Vitvitsky said a rally in support of Ukraine will take place at 5 p.m. Thursday in front of St. Constantine Ukrainian Catholic Church in Minneapolis.
He said he thinks worldwide solidarity is the only thing that will work in response to Ukraine.
"Putin and the Russians ... have invaded Ukraine. They are the bully in this equation, and so the way to stop a bully is to stand up in solidarity against their aggression," Vitvitsky said.
Liliya Kacharova is a chemistry professor at the College of St. Scholastica and at Lake Superior College, both in Duluth. She was born and raised in Ukraine, and came to the U.S. about 20 years ago.
"I didn't sleep well last night," she told host Cathy Wurzer Thursday during the MPR News program Minnesota Now. "And right now I am just checking the news every time, just trying to stay connected to my family, just stay in touch. But it's really stressful."
None of the bombings so far have happened near her family, she said. While it's a scary situation, they have food and utilities, "and they hope the Ukrainian army will protect them."
Kacharova said her relatives are not planning to leave at the moment, but they have packed documents and other necessities just in case. She hasn't yet tried to talk to her two young children about what's happening in Ukraine.
The world needs to step up and take action, she added.
"They have to do something. They have to stop that war," Kacharova said. "And just push more pressure on Russia and help Ukrainians — because Ukraine is only the first country in that war, and I don't know who will be next."
Gallery
11 of 11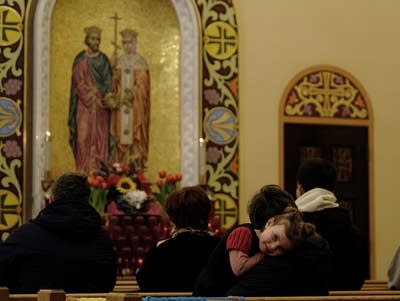 1 of 11
2 of 11
'Stand strong with the Ukrainian people'
Among Minnesota's elected officials, DFL U.S. Sen. Amy Klobuchar on Thursday morning called for swift sanctions against Russian President Vladimir Putin and Russia in the wake of the overnight attack on Ukraine.
"Don't underestimate the power of these sanctions … the effect when all of these countries where Russia has holdings, where Russia does business," Klobuchar told NPR. "It is a major, major gut punch."
While threats of sanctions did not deter Russia from launching an offensive in Ukraine, and while the U.S. and NATO have said they won't send ground troops to defend Ukraine, Klobuchar said she doesn't think Putin expected such a forceful, unified diplomatic response to the military action.
"This is a different diplomacy. And this is a stronger world that has said enough is enough," Klobuchar said. "And we simply cannot allow him to invade democracies around the world like this. And he thinks he can. And I think for once, we're seeing a much stronger, coordinated response."
Among statements from other elected officials from Minnesota, DFL U.S. Rep. Betty McCollum said "the strongest possible sanctions must be imposed on Russian financial institutions, oligarchs, and political leaders by the U.S. and the international community ... (Putin) will not divide us. My prayers are with the Ukrainian people and their struggle for freedom."
Minnesota GOP U.S. Rep. Pete Stauber said "the United States must stand strong with the Ukrainian people and our allies against this aggression, and Putin's actions must have severe consequences. I am praying for the Ukrainian people during their fight for freedom."
DFL U.S. Rep. Dean Phillips issued a statement in response to the attack on Ukraine saying, "You're either for democracy or for authoritarianism. Here and abroad. Shame on anyone who puts politics above principle right now. Let's be America. America leads. We do not resign. We do not ignore. Democracies, no matter nascent nor mature, must protect one another as a matter of principle. Let's get together on this."
GOP U.S. Rep. Michelle Fischbach said "Russia's violation of Ukraine's sovereignty is unjust and unacceptable. We are dealing with a culmination of this administration's failed economic policy, energy policy, and foreign policy. It is past time for the United States to reassert its leadership. America and the rest of the free world must stand together in face of this aggression."
DFL U.S. Rep. Angie Craig said "Vladimir Putin's actions violate the core principles that uphold global peace and security, seeking to change the borders of a sovereign country by force. ... The United States, in coordination with its allies around the globe, must impose severe economic consequences on Russia, support NATO and rally international support for the legitimate, democratically elected government of Ukraine."
DFL U.S. Rep. Ilhan Omar said she supports "sanctions that are targeted at Putin, his oligarchs, and the Russian military, including and especially targeted at their offshore assets. But I will continue to oppose broad-based sanctions that would amount to collective punishment of a Russian population that did not choose this. ... We must direct some of the unity and resolve that we and our partners have shown in this crisis toward the civilians that are in harm's way. This includes making allowances for humanitarian organizations to operate in sanctioned territory, and it also includes preparing to welcome the likely influx of refugees fleeing the conflict."
GOP U.S. Rep. Tom Emmer issued a statement saying "Vladimir Putin's unwarranted invasion of Ukraine is a result of weak leadership on the world stage. Our hearts go out to the Ukrainian people and their families as they bear the brunt of these unlawful actions, and our response to these aggressions must be done in a swift and unwavering manner that holds Russia — and any other nation seeking to violate international law — to account, while restoring American energy and economic dominance here at home."
DFL Gov. Tim Walz said that "Minnesota stands with the people of Ukraine and condemns Russia for this illegal aggression. Leaders across the world must unite and respond to this attack on democracy."