Severe storm risk increases Wednesday and especially Thursday
A marginal risk for severe storms Wednesday. Higher risk Thursday.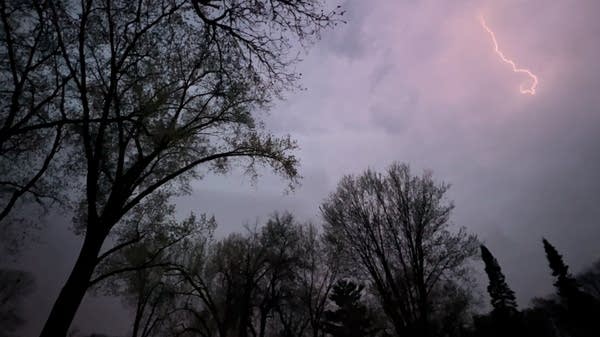 It's that time of year when meteorologists sift through multiple weather forecast models searching for clues and consensus on thunderstorm development, location, and intensity.
Weather terms and acronyms like CAPE, CINH, Theta-E and lifted index get tossed around as we try and pinpoint areas of instability that are likely to trigger storm waves.
Short-range forecast models like NAM, HRRR and WRF take center stage with sometimes hourly updates on storm location and timing.
Then the trick is to figure out which model(s) to believe in and craft a forecast on storm development, timing and intensity.
With that little bit of inside weather baseball, here is the current best estimate for severe storm chances around Minnesota through Thursday.
Severe risk #1: Wednesday afternoon and evening
A weak cold front blows through northern and central Minnesota Wednesday afternoon and evening. NOAA's NAM 3 km resolution model shows scattered storm cells developing from a weak low-pressure wave in northern Minnesota southward along the frontal boundary toward the Twin Cities by Wednesday evening.
Before you keep reading ...
MPR News is made by Members. Gifts from individuals fuel the programs that you and your neighbors rely on. Donate today to power news, analysis, and community conversations for all.
The loop below runs between 4 p.m. and 9 p.m. Wednesday.
The most likely timing for the Twin Cities area for isolated strong to severe storms favors the early evening hours Wednesday between about 5 p.m. and 8 p.m.
NOAA's Storm Prediction Center paints a marginal (low) risk that a few storms could turn severe Wednesday across northern and central Minnesota as far south as the Twin Cities.
Severe risk #2: Thursday PM and evening
A more organized system will bring storms to the Upper Midwest Thursday afternoon and evening. A few scattered storms may fire in the afternoon hours across southern Minnesota and the Twin Cities area. But it looks like a more concentrated line of storms will fire along an advancing cold front in central Minnesota and move toward the Twin Cities later Thursday night.
Again, NOAA's NAM 3 km resolution model shows the trends Thursday afternoon and evening. This loop runs between 3 p.m. Thursday and 1 a.m. Friday.
NOAA's Storm Prediction Center has placed a slight risk (2/5 categories) for severe storms over most of central and southern Minnesota Thursday.
For those who want to dig deeper into what severe weather forecasters think, check out this convective outlook discussion from NOAA's Storm Prediction Center.
Day 3 Convective Outlook NWS Storm Prediction Center Norman OK 0229 AM CDT Tue May 17 2022 Valid 191200Z - 201200Z ...THERE IS A SLIGHT RISK OF SEVERE THUNDERSTORMS FOR EASTERN NE/SD INTO IA...SOUTHERN MN...AND MUCH OF WI...

...Synopsis... A positively tilted mid/upper-level trough is forecast to move across the Canadian Prairies and northern Great Plains on Thursday, in conjunction with a strong upper-level jet and southeastward-moving cold front. A surface low initially over southern AB/SK will move slowly southeastward during the day, while another low is forecast to rapidly deepen along the front and move from the central High Plains into the Upper Midwest.

...Central Plains into the upper Midwest... Richer low-level moisture is expected to spread rapidly toward the central Plains/upper Midwest during the day on Thursday, in conjunction with a northward-moving warm front. Thunderstorm development is possible by late afternoon along the cold front, with storm coverage likely to increase into the evening as moisture return continues along/ahead of the front and a low-level jet strengthens across the region.

Strengthening deep-layer shear will support organized clusters and perhaps a few supercells as storms mature, resulting in a threat of large hail and damaging wind gusts into Thursday evening. Any tornado threat will be dependent on the timing and magnitude of low-level moisture return, which remain somewhat uncertain at this time.
So stay tuned as we watch storms develop with possible severe weather watches and warnings both Wednesday and Thursday afternoons.