Mild Black Friday, a shot at 50s Saturday.
Unseasonably mild air this holiday weekend.
Happy Thanksgiving weekend Minnesota. If you like milder temperatures, we have something to be grateful for this weekend.
Our winds turn southerly once again over the next two days across Minnesota. The milder air mass blowing in from the south, combined with sunshine and snow-free ground in southern Minnesota will boost temperatures as much as 15 degrees warmer than average through Saturday.
Temperatures soared again on Thanksgiving Day as we lost the morning cloud cover. As of this post, we've hit 42 degrees — as noted in the image above — at the Minneapolis-St. Paul International Airport under bright sunshine.
Keep in mind the average high in the Twin Cities is now just 38 degrees.
Black Friday brings even milder temperatures. Highs will push well into the 40s and 50s in southern and western Minnesota in snow-free areas.
Saturday will be the warmest day this weekend. A breezy southwest wind will pump in milder air from snow-free areas of southwest Minnesota. Much of the state will see high in the 40s, with 50s likely from the Twin Cities south and west.
MPR News is Reader Funded
Before you keep reading, take a moment to donate to MPR News. Your financial support ensures that factual and trusted news and context remain accessible to all.
I won't be shocked to see a 60-degree temperature in southwest Minnesota Saturday afternoon!
Sunday brings another cold front, with temperatures falling into the 20s north and 30s south on breezy northwest winds.
Snow chance next Tuesday
Forecast models have been wrestling with a possible rain and snow system next Tuesday. The latest trends suggest a passing system with light to moderate snow Tuesday. The European model shows periods of (mostly light) snow Tuesday.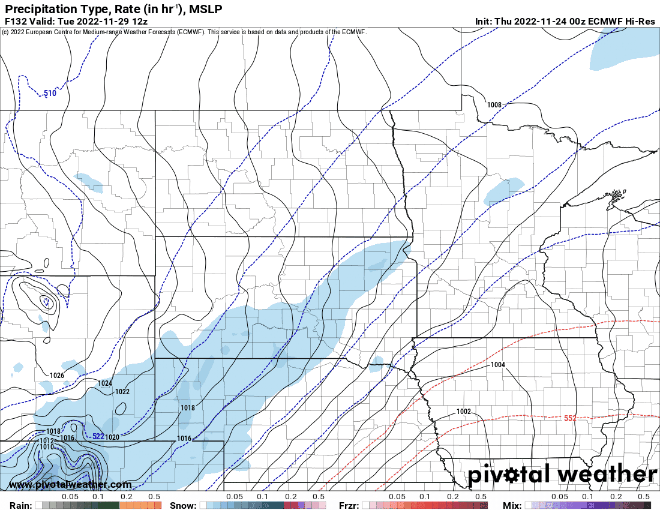 Accumulations with the system look light at this point, but we'll have to watch this next week.
Enjoy the milder weekend!