Tuesday storm totals snowball; cold Wednesday on the way
4-8 inches fell across much of the Twin Cities region
Tuesday was that kind of a day around Minnesota.
Our Tuesday storm delivered plenty of snow to our region.
Monday evening's short-range forecast models — including the National Oceanic and Atmospheric Administration's NAM 3k model and the High-Resolution Rapid Refresh model — won the day over NOAA's Global Forecast System and the European Centre for Medium-Range Weather Forecasts by predicting heavier snow bands setting up over the heart of the southern Twin Cities Tuesday.
Here are some select preliminary snowfall totals as we move into Tuesday evening.
Twin Cities area
Rosemount, 4.3 inches

Fridley, 4.5 inches

Golden Valley, 4.8 inches

Hugo, 5.5 inches

Stillwater, 5.8 inches

St Paul, near University of St. Thomas, 7.5 inches

Savage, 8 inches

Bloomington, 8 inches

Burnsville 8.5"
Greater Minnesota
Gain a Better Understanding of Today
MPR News is not just a listener supported source of information, it's a resource where listeners are supported. We take you beyond the headlines to the world we share in Minnesota. Become a sustainer today to fuel MPR News all year long.
Duluth area, 2.1 inches

Rochester, 2.5 inches

Albert Lea, 3 inches

North Mankato, 7 inches

Brule River, Wis., 7 inches

St. Peter, 8.5 inches
Additional reports will filter in. You can see the updated snowfall reports map here.
Cold next
A wintry air mass blows in behind the system Wednesday. Highs will hover in the 20s across southern Minnesota with teens up north.
We warm gently into Friday when temperatures will soar into the 40s again in the south, with 30s up north.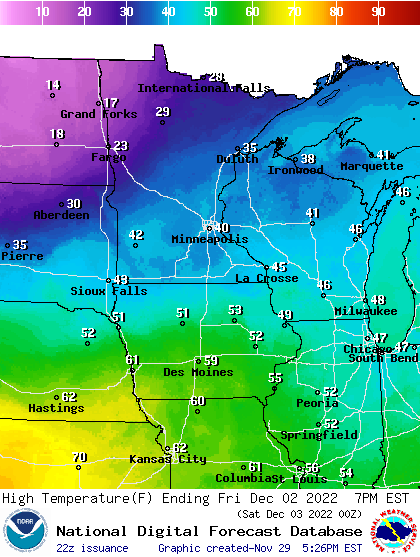 The next significant chance for snowfall arrives early next week. And next week likely brings another shot of colder air that could be subzero in parts of Minnesota as we move into December.